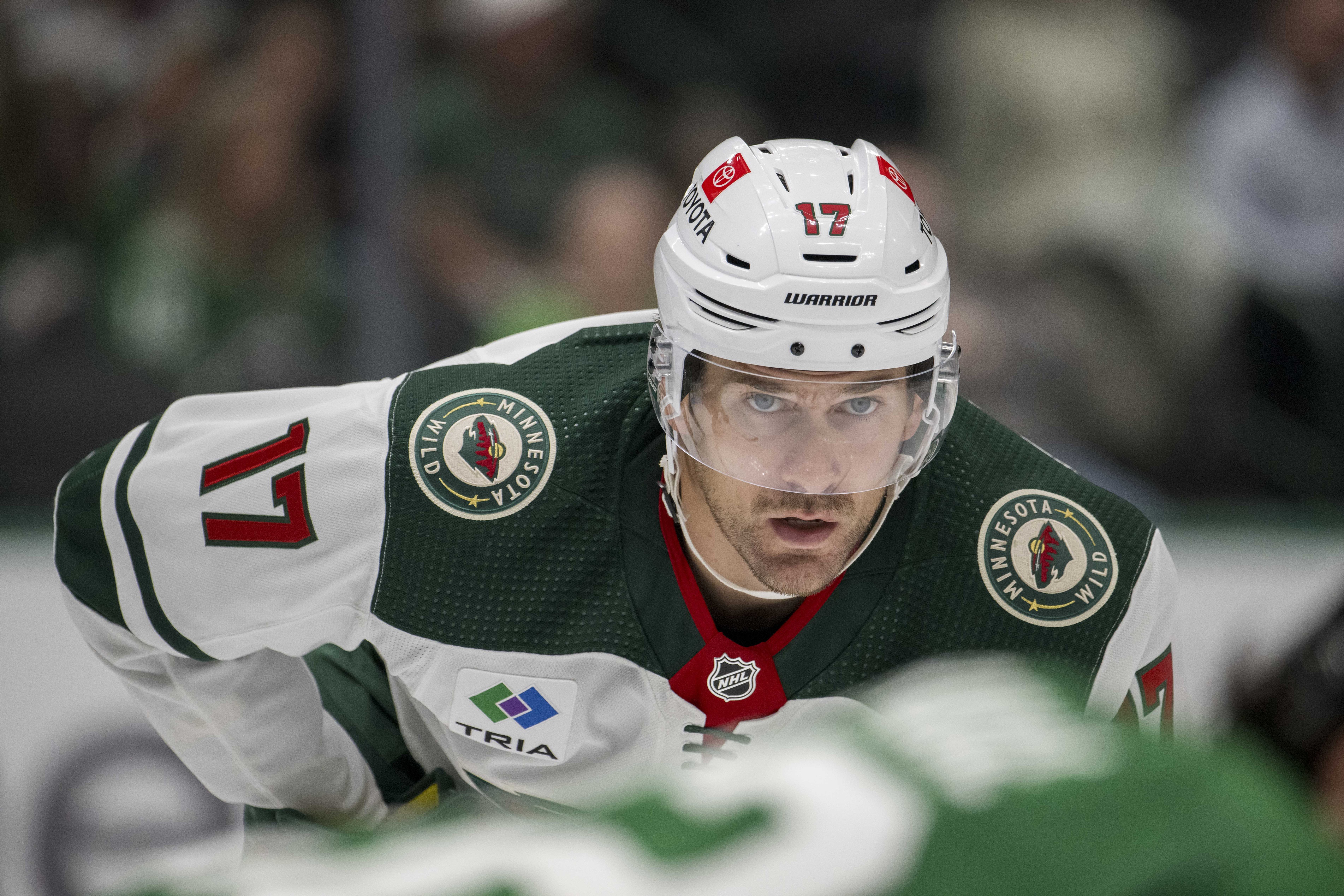 Image courtesy of © Jerome Miron - USA TODAY Sports
Marcus Foligno is two things: A larger than life personality and a fighter. For most role players in the sport, one is enough. The combination of both in one man is not unique to Foligno, but it's also invaluable in the locker room and on the ice. 
Dishing out body checks at car-crash speeds and bare-knuckle boxing for 82 games a year takes a heavy toll on a man's body, especially when stacked on top of the workouts and games of an every-night NHL forward. Foligno has carved out a major role by doing what few players can or will do on a nightly basis. Years into what has undeniably been a successful NHL career, it only gets harder to maintain a high level of play. That will be Foligno's challenge this season. 
32-year-old hockey players live in a twilight zone. They're past their prime, but they can lean on their experience. It's also worth noting that there's a reason that Foligno is still in the league at age 32. He's been a pillar of Minnesota's lineup. 
Older players typically lose athleticism as they age, but their skills improve. Think of late-career Mikko Koivu. He wasn't as fast as he had been in his youth, but his faceoffs, passing, and vision were as good as or better than ever. 
To understand what Foligno brings to the table this season, it's crucial to understand two aspects of aging: 
How drastically do players decline in their early 30s?

Why do players decline with age? 
The first question varies widely on a case-by-case basis. However, that question has been studied statistically according to age curves. Someone who collects statistics on every player for several years can find the year-to-year change. Plot that against the age at which that change happened, and an age curve is generated. 
You can use any statistic to generate an age curve, from simple counting stats (such as goals or points) to complex analytics. The Evolving Hockey team studied how WAR changes as players age in an old Hockey-Graphs.com post, and the results are somewhat encouraging for Foligno. Forwards decline entering their age-32 season, but gradually. The dropoff is nothing compared to a player's mid-to-late 30's.  

The chart above gives a rough estimate of how an average forward declines in all measurable areas of the game. It's not very specific to player archetypes or even positions. The chart above combines the aging curve of a third-line center, Anze Kopitar, and Patrick Kane, even though they are all very different players. 
For this reason, it's best to focus on the aspects of Foligno's game that make him a useful third-liner. Foligno's superpowers are physicality and forechecking IQ. Traditional "defense" statistics such as hits, plus-minus, or blocked shots measure that poorly.
Analytical measures of even-strength defensive impact have existed for over ten seasons. They are calculated based on shot location tracking. Every shot in the NHL is clocked by location, which can give a rough estimate of shot danger. Players that give up less shot danger are presumed to have a better defensive impact. Foligno's defensive impact has been consistently excellent throughout his time in Minnesota. See the age curve for these statistics in the chart below. 


Forwards in their early 30s have a very friendly age curve in terms of their defensive ability. That makes intuitive sense, given how cerebral defense is in hockey. Keeping position and predicting one's opponent is more of a mental task a physical one. 
That's very encouraging for Foligno because he brings his best on-ice impact with his defense. So, to answer the first question – how drastically do players decline in their early 30's? – the best parts of Foligno's game should age gracefully. 
The flip side of this optimism is Foligno's injuries. There's no question that he's incredibly tough, but playing through injuries last year certainly affected his play. His diminished point production from 2021-22 to 2022-23 was expected, but his defensive impact was just average. Note the difference between the left (2022-23) and right ('19-20, '20-21, and '21-22). His defense drops from the 99th percentile to the 81st. 


Remember that defensive impacts are not closely related to age, so that shouldn't be the reason for such a drop. Injuries naturally exacerbate dropoffs in athleticism. Last February, Foligno popped up on the injury report with a knee injury, then two more lower-body injuries in March. The NHL has a reputation for injury reports that contain limited clarity. Given Foligno's extreme durability, these were probably serious enough to affect his play, if they were serious enough to be reported at all. 
Entering camp, Dean Evason confirmed to The Athletic that Foligno is fully healthy. Hopefully, this means that he can return to his excellent form. When healthy, the Moose's analytical impact has been close to Joel Eriksson Ek and Jared Spurgeon. He probably brings even more than they do from an intangible perspective. 
However, analytical models are projecting a tangible drop in play this year. Dom Luszczyszyn's model projects Foligno to bring only $2.8 million of on-ice value, compared to Eriksson Ek at $8.7 million and Spurgeon at $7.9 million. 


One reason for this is that Luszczyszyn's model is weighted heavily on the most recent season and then applies an aging curve. The model is largely blind to Foligno's health. It's possible that the model thinks he's falling off the age cliff when he really just had a poor season due to injury. In that case, Foligno would be primed for another dominant defensive season. 
On the other hand, injuries often drive the relationship between aging athletes and declining play. If Foligno fails to return to his defensive form while healthy, it could be a sign that he's nearing the end of his NHL career. The front office would be faced with some hard truths in that reality. 
That's why health is such a key factor in Foligno's 2023-24 season. It's a tale of two players. When Foligno is fighting through injury, he's a role-playing third-liner. At full health, he's a unicorn of a defensive forward and a top-5 player on the roster. 
Professional sports have a way of giving everything to the men who play the game and taking everything from them in the same breath. Marcus Foligno embodies all the brutality of the sport of hockey. It's woven into the fabric of his play and the way his voice bellows across the ice. He gives his whole body to the sport. First, it was a way for him to get on the ice. Now, it's the only way he knows how to stay on the ice. 
Foligno has always been a fighter, but now he's in a battle against Father Time. If he can last a few more rounds, the Wild have a special player in their midst. 
2