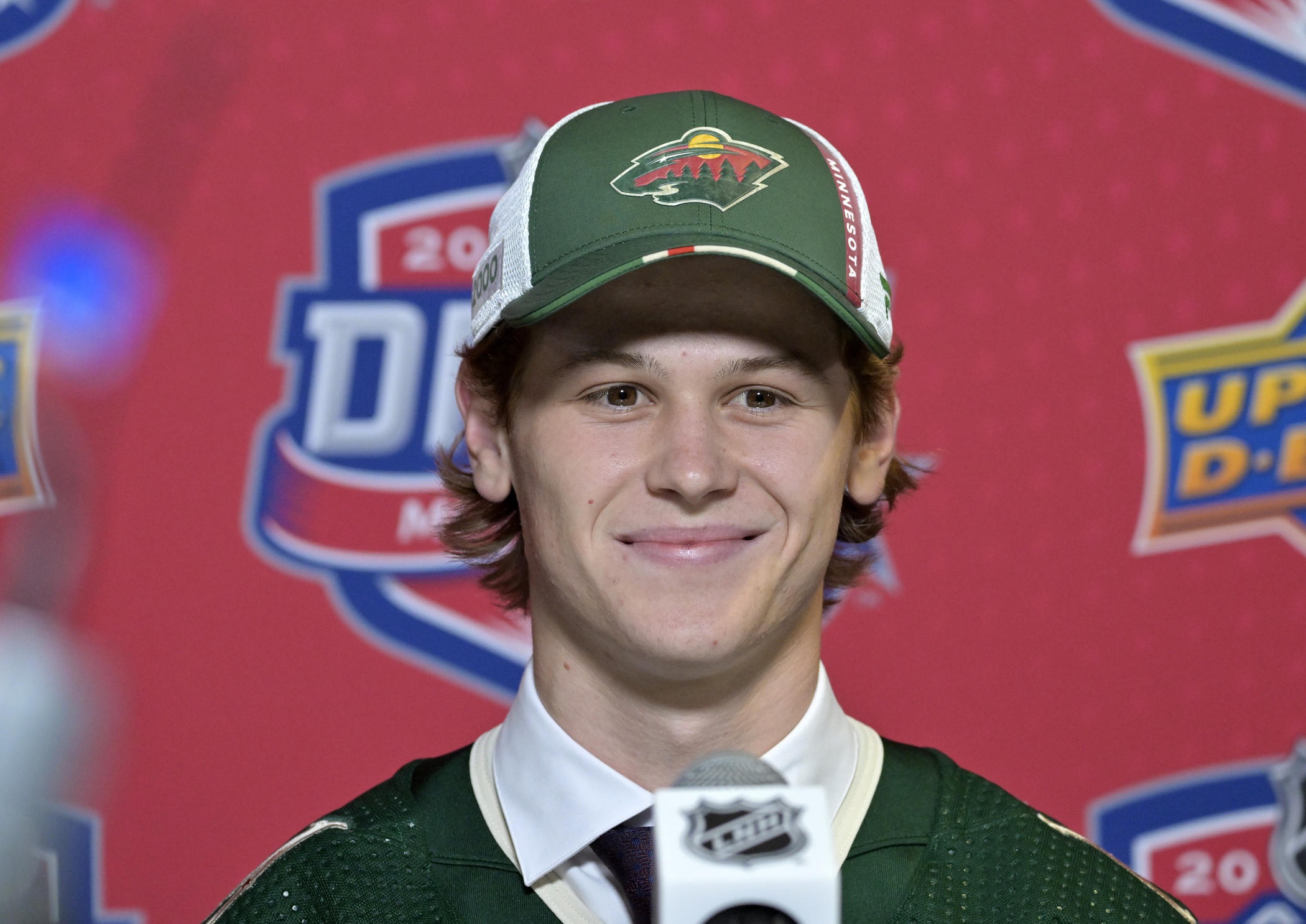 Image courtesy of Eric Bolte-USA Today Sports
If you had any doubts, Hockey Wilderness can clear one thing up: Riley Heidt and Hunter Haight are, indeed, two different people. It's easy to see how they might have previously blended together when looking at Minnesota's depth chart. They're both second-round forwards out of Canadian Juniors. The Wild drafted Haight out of the OHL in 2022 and Heidt out of the WHL a year later. Both players have exemplary puck skills that get fans out of their seats. Heck, they even have similar names.
But this isn't a situation where, for example, no one has ever seen Dean Evason and folk-rock legend and fellow blogger Creed Bratton in the same room. Hockey Wilderness saw the two players on the ice at the same time on Sunday as the Wild prospects took on their Chicago Blackhawks counterparts at the Tom Kurvers Prospect Showcase. We're willing to stake our credibility on this fact.
More importantly, after helping former Gopher captain and current Minnesota Wild roster hopeful Sammy Walker to a hat trick and four-point night in front of a sold-out TRIA Rink crowd, Wild fans should be relieved and ecstatic that there are two of them. 
Haight wrapped up a three-point weekend (scoring a goal on Friday's tilt against the St. Louis Blues prospects) with a pair of assists on Sunday. Heidt didn't find the scoresheet but was a crucial part of his line with Walker and Haight. The center prospect spent his game making crisp passes and setting up scoring chances, even if they ultimately didn't find twine.
Walker got the hat trick Sunday, but that doesn't happen if Haight doesn't absolutely ball out. In addition to setting up two Walker goals, Haight kept finding his captain in prime positions to score with regularity. Here's the first of his two assists:
Haight goes brings the puck from behind the net, surveys his options once he gets to the slot, and slides a deft pass to Walker, who finishes it off. 
Even when the goals didn't go in, he dazzled. We can see this in a first-period chance that just misses becoming one of four Walker goals.
With two large defensemen (2021 first-rounder Nolan Allan and 6'4" Luke Brenton) defending the net, Heidt finds Haight in an undefended patch of ice in front the crease. Haight has the vision to see a streaking Walker, even when turned away from him. On top of that, he has the space and hands to thread a backhand pass that connects for a very dangerous opportunity. 
Dominating on offense at 5-on-5 is impressive, even in a prospect game skating alongside a fairly experienced pro in Walker. But one of the benefits of an exhibition game is getting a look at these players in different spots. Playing an offense-first winger like Haight on the penalty kill? Sure, why not? It almost paid off on a first-period shorthanded breakaway. 
Despite being near the end of his shift, Haight intercepts a pass from Kevin Korchinski, the No. 7 overall pick in the 2022 Draft. Then it's off to the races. Korchinski is a smooth-skating 6'2" defenseman, and he's using his long reach to pressure and defend Haight's chance. It doesn't result in a goal. However, Haight protects the puck while finding the space for a forehand aimed at the five-hole of Rockford IceHogs netminder Mitchell Weeks.
For a scorer, being off the scoresheet can imply invisibility. That wasn't the case for Heidt on Sunday. Re-watching Walker's third goal, it looks like Heidt might have been robbed of an assist. Whether or not he technically met the qualification for assists, he deserves most of the credit for this goal.
Heidt's dogged pursuit on the backcheck lets him beat out 2022 third-rounder Gavin Hayes for a loose puck. Once he gets a hold of it, he turns the play the other way, fighting off two Hawks defenders to get the puck into Haight's hands. Haight's backhanded feed to Walker and Walker's shot will get the attention, but it's an exemplary two-way play from Heidt that makes it all possible.
As a combined three goals and 12 shots would imply (hat tip to Aaron Heckmann writing for Wild.com for the shot total), this line buzzed all afternoon. Heidt was a part of generating those scoring chances, including grinding for a net-front rebound in the first period.
Haight wins a contested faceoff, which Walker collects. In traffic, Walker fires towards the net, which lands on Heidt's stick, where he tries to jam the puck home. The Wild want grittiness on their roster, for now and in the future. The 5'10" center getting in the goalie's face shows he understands the assignment.
The two forward prospects played the entire game as if they had something to prove. For good reason, too: They do.
Another thing these two have in common is that neither are considered at the top of the heap of the Wild's ultra-deep farm system. At least, not yet. Hockey Wilderness ranked Heidt eighth on our list of the Wild's Top-10 Prospects, while Haight hung out in the Honorable Mentions. The thing is, too, it's been tough to argue that either merited a place among the top tier.
This is where Heidt and Haight diverge a little bit in their scouting reports. Heidt boasted crazy production last year, finishing second on a strong Prince George Cougars team in scoring with 97 points. That total was tied for fourth in the entire WHL, and his 1.43 points per game cracked the league's top-15. Yet, concerns about how his toolkit would translate to the NHL game bumped the projected first-rounder down to No. 64 overall, the last pick in the second.
Meanwhile, Haight has that elite toolkit, which was on display this weekend. He has the speed to carry the puck into the offensive zone and the hands to make plays, even under duress. His problem? Getting it to translate to points in the OHL. Haight went from an underwhelming 22 goals and 41 points in 63 games in his Draft Year to a simply whelming 21 goals and 62 points in 62 games in his Draft+1 season. For a supposed offense-first guy, you want to see more than that.

But the bright spot with Haight is that after the Barrie Colts traded him to the Saginaw Spirit, his production finally started reflecting his draft status. His 1.21 points per game after the trade would have made the OHL's top-25 scorers, which is encouraging. Doubly so if this weekend's momentum propels him into a big season in his final year of OHL play.
For 60 minutes at TRIA, these Haight and Heidt looked like a big part of Minnesota's future. Will that come to pass? We can't say here in 2023. But being able to put up this kind of show, where they displayed the capability of elevating even a seasoned prospect like Walker, puts an exclamation point on the skilled forward depth the Wild are compiling in their farm system. We found proof, even if just in concept, of them both being prospects to watch on Sunday.
3