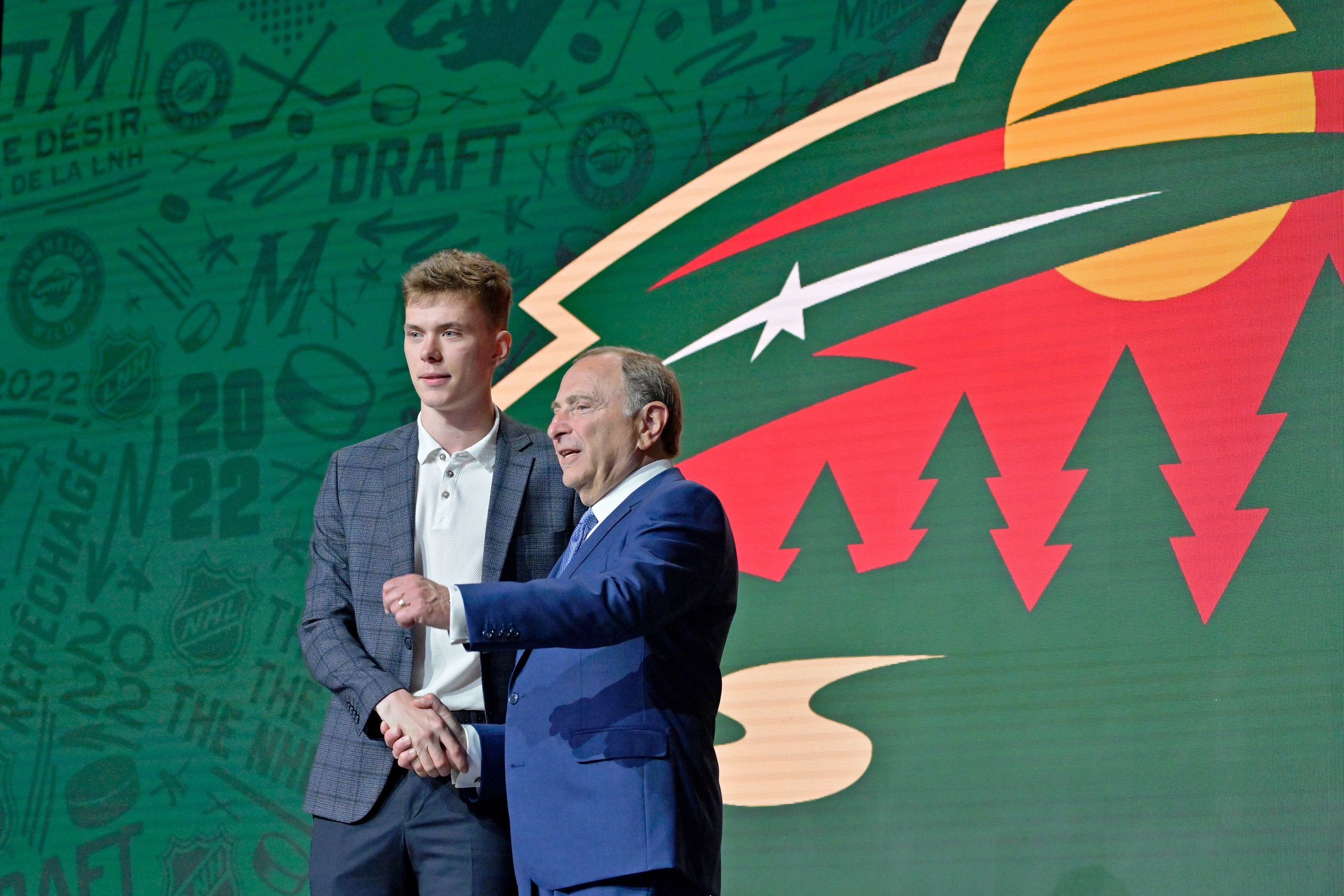 Image courtesy of USA TODAY Sports
They say you can't grade a particular draft until something like five years out. Not only is that baloney, it's a full plate of gabagool as far as I'm concerned. Today we're going to grade the Minnesota Wild's draft before it even happens.
How? We're following Hockey Wilderness' Justin Hein's round-up of early mock drafts to grade the Wild picks for mock drafts across the NHL. The industry chatter has heated up, and the hockey blogosphere has had a month or so to cram for the draft. So let's go through these and grade how some of the national writers picked in Minnesota's spot, 21st overall in the first round. 
Jason Bakela, Sportsnet: David Edstrom, C, Frölunda (Sweden)
Ben Pope, Chicago Sun-Times: David Edstrom, C, Frölunda (Sweden)
Corey Pronman, The Athletic: David Edstrom, C Frölunda (Sweden)
The most popular name to wind up on the Wild come draft night is Edstrom, a 6'3" center whose reputation is on the rise following a strong U-18 World Junior showing. Edstrom had five goals and eight points in seven games, comparable to other first-round favorite centers Oliver Moore (four goals, nine points), and Calum Ritchie (three goals, nine points). Add in the team need for centers, and we can see why he's a popular pick for the Wild.
Still, despite point-per-game production at Sweden's U-20 league and even a strong four points in 11 games for Frölunda's SHL club, not all scouts are sold on his upside. Everyone agrees he's a smart, hard-nosed defender, but very few people rate his skating, shot, or skills to be above-average. However, it is notable that Edstrom controlled 53% of the shot attempts in the SHL, which is very strong for an 18-year-old. If Minnesota traded back into the first or high-second-round to get him, I'd like the pick more. But for No. 21 overall in a deep draft, I'd want to see a player who can be special, and not just the Next Joel Eriksson Ek.
Grade: C+ If Minnesota traded back into the first or high-second-round to get him, I'd like the pick more. But for No. 21 overall in a deep draft, I'd want to see a player who can be special, and not just the Next Joel Eriksson Ek.
Craig Button, TSN: Eduard Šalé, LW, Brno (Czechia)
Joe Smith, The Athletic: Eduard Šalé, LW, Brno (Czechia)
The Score Staff: Eduard Šalé, LW, Brno (Czechia)
For those who are deviating from the positional need, Šalé appears to be the consensus choice among mock drafters. No one questions the talent. "He's great. He's got an explosive 1, 2, 3 steps. It's like Jack Eichel," Czech U18 coach Jakub Petr told Elite Prospects in their Draft Guide. FC Hockey loves the 6'2" winger's skating and smarts, saying "His electrifying speed and edgework make him a constant threat on the ice, enabling him to change directions rapidly and maintain control of the puck at high speeds."
You have to wonder where the Wild stand on the parts of his game that aren't physical. His hockey sense is a divisive topic, as is his compete level. The Wild put high emphasis on both those things, so if they don't believe it's there, this pick isn't happening. But if they believe in those elements to his game, they could possibly get one of the most talented players in a loaded draft at 21st overall. 
Grade: B+ for Smith, B for the rest. I like the home run swing, particularly if the top centers are off the board. The only quibble I'd have is that if I were betting on a talented winger in this spot, I'd prefer Quentin Musty, who comes with more of an edge and fewer questions about competitiveness while still boasting high-end offense. Smith didn't have that option, Button and The Score did, hence the difference in grades.
Adam Kimmelman, NHL.com: Calum Ritchie, C, Oshawa (OHL)
Mike Morreale, NHL.com: Calum Ritchie, C, Oshawa (OHL)
At first, Ritchie's scouting reports can read very similarly to someone like Edstrom. Both centers are big (Ritchie is 6'2"), unafraid of getting to the dirty areas, and very smart. That makes both Ritchie and Edstrom "high-floor" players.
Ritchie has a stand-out trait, something Edstrom lacks. Ritchie isn't just one of the smartest players in the draft, he has the puck-handling skills and passing ability to create scoring chances in bunches. "He's the ultimate possession extender," glows Elite Prospects. "He's not the most inventive or creative handler, but he dangles his way around opponents.... He's a legitimately impressive small-area player."
He scored a solid-but-not-great 59 points in 59 games in the OHL, fourth in the league among draft-eligible players. On one hand, you'd want to see more. But on the other, Oshawa didn't have a great team and Ritchie dealt with shoulder injuries for part of the year. His skating can also be a concern, which maybe is a red flag for his prospects at center, depending on whether you believe his skating is below-average or merely average.
Grade: B. Ritchie wasn't on my upside-heavy radar coming into this exercise, but I'm starting to talk myself into it. A big, smart, physical, pass-first center absolutely plays in the NHL even if they're not particularly fast, provided Ritchie's skills can live up to the hype. If things go well for Ritchie, I can see the Wild getting something like Ryan Getzlaf-lite. 
Ian Kennedy, USA Today: Ethan Gauthier, RW, Drummondville (QMJHL)
Gauthier is a 5'11" wrecking ball, and it's not hard to see the Wild scouting staff seeing this kid and falling in love. For one, they'll have inside intel on him. He's teammates with David Spacek, another Minnesota prospect. For another, he's a guy who plays the competitive, hard-nosed game that the Wild base their identity around.
It's easy to write off Gauthier's skill, which is unfair. His game is built off doing the little things to keep offense going and getting to the net. But he also has the shot to make opponents pay on the chances he earns. 
Grade: C-. I see the appeal, but being a player lacking elite upside is strike one, and being a winger is strike two. Even when narrowing the pool down to high-floor players, there are players I'd rather see Minnesota get at 21. In fairness, the highest-end talent is gone in this mock, but I'd still need to see the Wild trade back before getting fully on-board with this pick.
Kyle Woodlief, Yahoo! Sports: Samuel Honzek, C/LW, Vancouver (WHL)
We've profiled Honzek at length here. He's 6'4" who has a great shot, soft hands, and a strong two-way game. Honzek's production was among the best in the WHL among draft-eligible players, despite suffering an injury that affected him down the stretch. 
This rundown of potential draft picks has two types of players, it seems: high-upside swings, or safer players. Honzek marries both a high ceiling and high floor to the best of anyone currently getting mocked to the Wild. Even with fellow WHL star center prospect Brayden Yager and Musty still on the board, Honzek has a more than compelling case to go off the board here.
Grade: A-. If there's a worry, it might be surrounding whether he'd be better suited to center or wing at the pro level. For me, it's a non-issue. Minnesota might be rolling the dice on whether he can play down the middle. But so long as Honzek pans out, he's either the hulking center of their dreams or a two-way power forward. It's hard to see how the Wild lose here. 
2