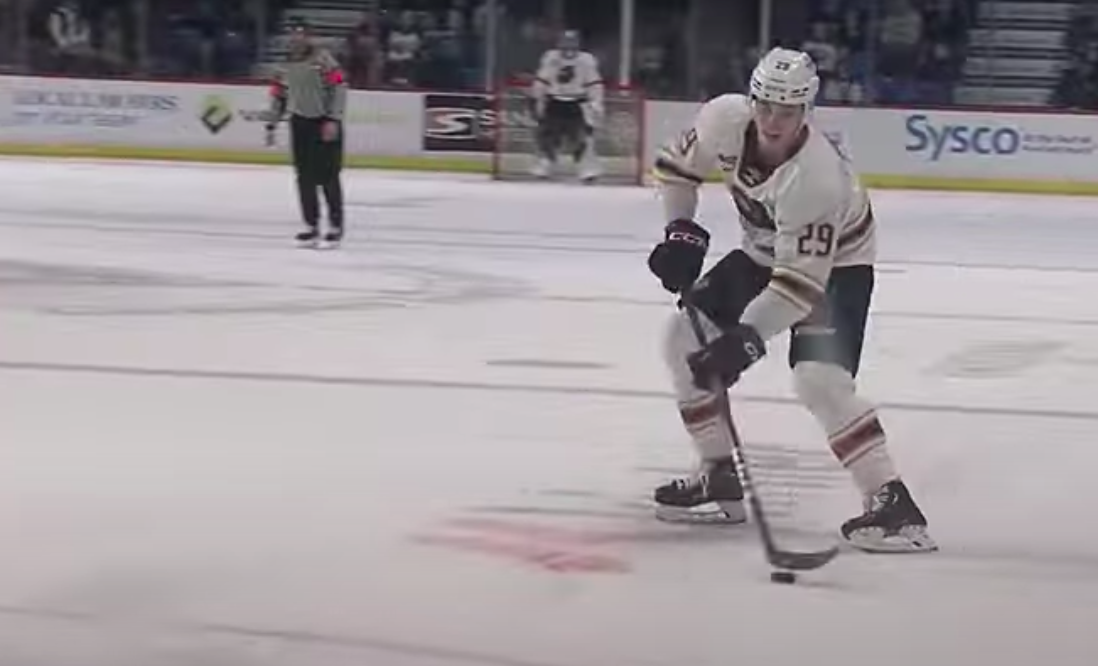 Image courtesy of WHL YouTube screenshot
On one hand, Ryan Hartman is conclusive proof that the Minnesota Wild needs a "True" No. 1 Center. Hartman's spent the better part of two years riding shotgun alongside Kirill Kaprizov and Mats Zuccarello, and it's netted the Wild exactly four playoff wins in that time. Unfortunately, they weren't in the same year, which would at least have meant Minnesota got past the first round.
On the other, Ryan Hartman is conclusive proof that the "True" No. 1 Center isn't really a useful framework to begin with. As useful as it'd be to have a Connor McDavid, Auston Matthews, or Jack Hughes up the middle at the top of your lineup, what's the more important part? That they're centers, or that they are elite players?
It's definitely the latter. Because in some cases, like with Hughes, players we consider No. 1 Centers are low-key kind of not centers. Hughes takes some faceoffs but fewer than six per game. Up until last year, Elias Pettersson was in a similar spot, lining up in the faceoff dot under seven times per game.
Meanwhile, someone like Hartman can take on that No. 1 Center role and acquit himself well. This is no offense to Hartman, whose speed, shot, and willingness to mix it up are assets to Kaprizov and Zuccarello. But if a third-line winger can thrive as a center, what does a center even mean?
And make no mistake, he's thrived there. Over the past two years, 366 forwards have had 1000-plus 5-on-5 minutes. Hartman is tied with Brad Marchand with 2.42 points per hour. That's comparable to a bunch of No. 1 Centers. Look at Sasha Barkov (2.47), Brayden Point (2.47), Leon Draisaitl (2.47), Sidney Crosby (2.46), Roope Hintz (2.41), and Pettersson (2.33).
That's not to say everyone can do this, and that's not to say Hartman is The Guy who can get it done there for the Wild long-term. All those names offer power play utility, for example, that Hartman lacks. However, it brings up an interesting question: Can the Wild replicate this with someone else in their system? And if not, can they draft someone who could thrive in that switch?
Matt Boldy is a popular candidate to do this. Flashing this look on the power play is intriguing, but it's perhaps wise to not mess with his success at 5-on-5. However, if the Wild want to find this player in this year's draft, there's a good candidate who could fall into Minnesota's range: Samuel Honzek.
Most outlets have Honzek firmly in the winger category. How much does that matter going forward? Hartman certainly gives us a reason to question it. Because other than that, he seems to check the boxes you want for a prototypical No. 1 Center. Honzek has the big frame the Wild faithful drools over when imagining drafting their next center. He weighed into the combine at 6'3.25" inches and 195 pounds.
Being big is one thing. The question for a lot of players, especially the ones with the added defensive responsibilities of a center is: Can you skate? For Honzek, the answer appears to be a resounding yes. FC Hockey is relatively low on him, ranking him 36th in the class, but still praises his wheels. "His effortless north-south game, reach, and skating ability allow him to cover a lot of ice quickly." 
Furthermore, he's produced very well as a rookie in the WHL. Honzek spent the year prior in the Slovakian men's league, where he put up 10 goals and 14 points in 49 games. Respectable for a player entering a men's league at age-16 and cutting his teeth, but not mind-blowing. But making the trip across the pond and adjusting to North American ice, he played in 43 games, scoring 23 goals and 56 points.
His 1.30 points per game was top-25 in the WHL. In that light, he fares better than some of his contemporaries in this draft, including draft hopefuls Brayden Yager and Nate Danielson, who are both considered centers.
Hockey Prospecting puts his career trajectory as similar to Jason Pominville, giving him a 32% probability of becoming a star player. Say what you want about Pominville's decline, but the guy had three 30-goal seasons and cracked the 60-point mark six times in his career.

So Honzek is big, skates well, and is productive. What's the catch? Is the guy bad at defense or something? Mitchell Brown of Elite Prospects tracked eight games of him at 5-on-5. Although it's a small sample size, he put Honzek's defense in the 87th percentile among prospects. Honzek gets praise for being able to play on both ends of the ice. 
As far as we can tell, there seem to be two knocks on him. The first is that an injury in World Juniors took him out for a lot of the stretch run. It's a time of year where prospects really make their reputations leading up to the draft. He missed two months, and when he returned in February, he only scored six goals and 13 points in 12 games, which suggests he wasn't 100%.
The good news there is that his injury was more of a freak-type of deal than anything that should be a concern going forward. He got his calf cut during the tournament. What are you going to do about that? And how many times is that going to happen?
The other knock concerns whether he uses his size enough. He can win board battles and forecheck, but the finesse parts of his game worry some scouts. It's good that he has the skills to succeed playing finesse hockey, but as Boldy learned in the playoffs, you can't rely on that 100% of the time. The hope would be that the Wild can unlock some grittiness there, if it is indeed deficient.
It sounds like a band-aid to get a player to convert from wing to center, and it might be more appealing to try and get a more established pivot. But in Minnesota's case, it might be able to work. And while the Wild don't have a Cup to show for this experiment, there's another team who does.
The Vegas Golden Knights traded for Chandler Stephenson in 2020, who spent most of his career as a winger with the Washington Capitals. However, he played center in Vegas, and he has been there ever since. He's had great wingers to play with in Mark Stone, Max Pacioretty, and Alex Tuch, and they (especially Stone) do a lot of heavy lifting. 
But Stephenson simplifies his game and plays his role perfectly. Vegas reached the Conference Finals in their first year here. He was the No. 1 center of the team that toppled the Wild in Kaprizov's first year. He's scored 60-plus points in two consecutive seasons while taking a heavy load of faceoffs. 
The Wild going to be a wing-driven team for the foreseeable future. Kaprizov and Boldy are game-changing forces on the wing. Minnesota also hopes that Danila Yurov and Liam Öhgren will do the same for them. They might just need someone like Honzek, who can skate, fill space, and get open for a shot when Kaprizov or Boldy need a pressure valve. If Hartman and Stephenson can, why not Honzek?
2

1