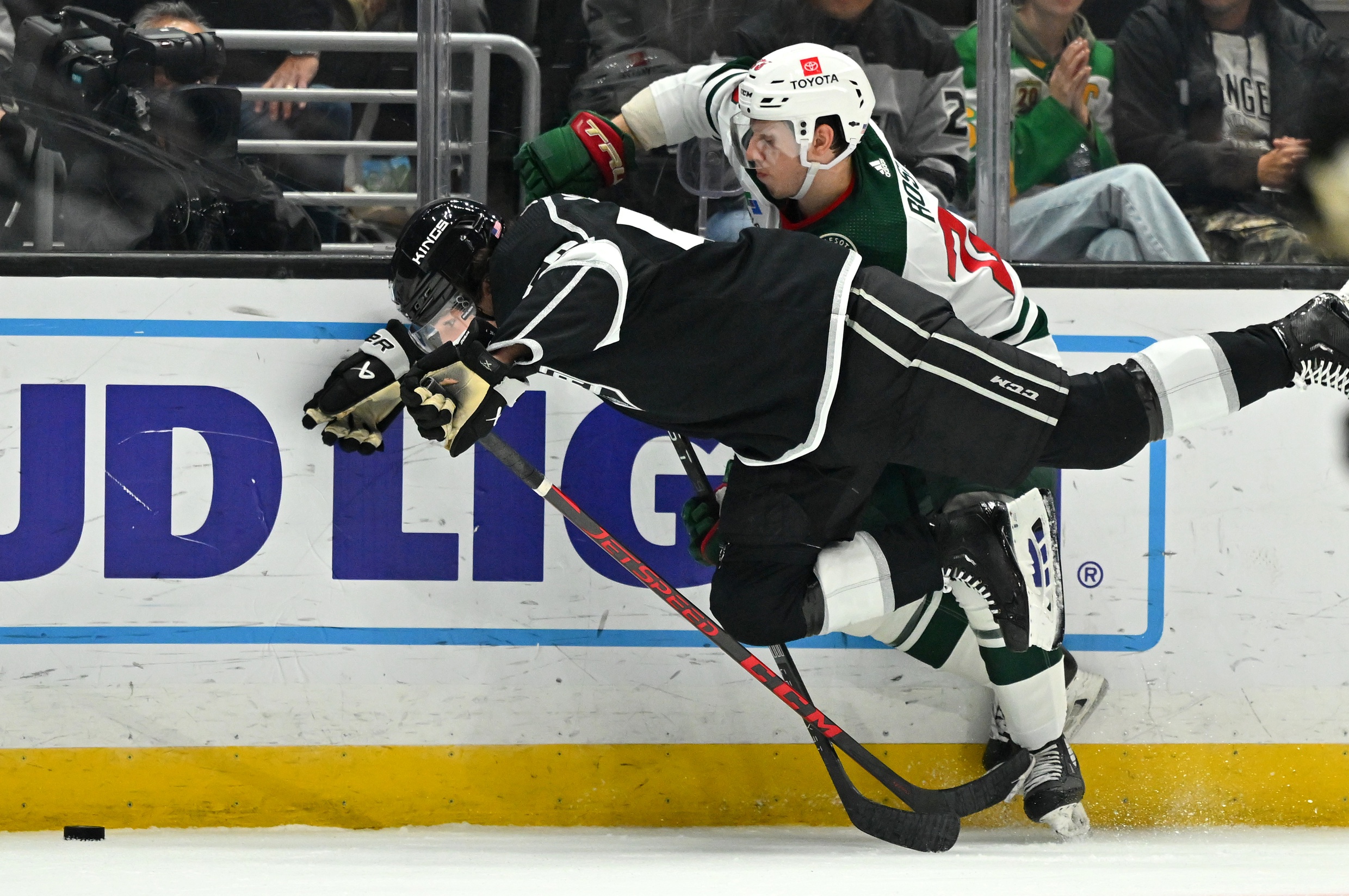 Image courtesy of Jayne Kamin-Oncea - USA TODAY Sports
Marco Rossi has been part of a debate bigger than himself since before he was drafted. While he scored gratuitously in the OHL and built a reputation for an effective defensive game on top of that, his 5-foot-9 frame gave scouts an easy excuse to slot him lower on their draft boards than his skills warranted. This was contentious to the analytics acolytes, who saw a ready-made star in a short king's body.
On draft day, this seemed to work in Minnesota's favor. They were delighted that he fell to the Wild at ninth overall, but the debates hardly stopped then. Ever since, Rossi has continued to be a lightning rod in the analytics-versus-film debate. It's a war that will certainly outlast his career and probably the lifetime of every Hockey Wilderness reader. 
Perhaps that's a reason why the Austrian center's quotes in a recent article by The Athletic's Joe Smith convey his past sense of pressure and even doubt. Rossi's rookie season wasn't nearly what Wild fans hoped for, and the Wild sent him to Des Moines after his rocky start. The team wanted him to find his game and, as Bill Guerin called it, a level of on-ice "F--- You." Rossi deleted his social media accounts to prevent thoughts of, as he phrased it, "What if? What if?"
It goes to show just how much weight the rookie center carries on his shoulders. Professional athletes are supremely confident and mentally tough human beings. For doubt to enter a player's mind that way, the level of pressure must be immense. 
At the time of his demotion, most projected he'd be up and down for the rest of the NHL season. Perhaps he'd even be there for a glorified conditioning stint in Iowa before solidifying himself with the big club. But after Rossi packed for Iowa, the Wild traded for Ryan Reaves, effectively closing off a roster spot for the rest of the season. Rossi would play his last meaningful NHL game in mid-November. 
Instead, Rossi made the most of his time in the AHL. Playing as the top-line center, he took on Iowa's most difficult competition (and some of the league's heaviest minutes) each night and scored like a demon. In every important spot or special teams situation, there was Rossi going over the boards. He also earned a letter for his leadership off the ice. 
His poor rookie season in the NHL feels so different than his AHL success, and there's no clear explanation for why he didn't catch on. Some point to Dean Evason's reluctance to trust Rossi, as demonstrated by Evason benching him in Game 3. With the team's dire straits at center, why couldn't Rossi push ahead of Ryan Hartman in the lineup? 
The opinions that leak from the Wild front office to the media are almost irreconcilable. They will, in a short period of time, credit Rossi for his high character and hockey IQ and then grumble about he needs more bite to his game. While there are questions about how Evason utilizes young players, Calen Addison at least started the season quarterbacking the top power play unit. Why couldn't Rossi get even that kind of rope?
Rossi's drastic COVID complications seem like the most reasonable explanation for what's going on. He spent an entire season fighting off disease and then returning to his impressive athletic form. 
However, after a year off, Rossi's time in the AHL saw little, if any decline from his pre-draft OHL production. This is backed up by Hockey Prospecting's NHL Equivalency (NHLe) metric, which puts point-scoring totals across different leagues onto a level playing field based on how difficult it is to score in those leagues. Before he lost a season to COVID, Rossi scored the equivalent of a 53-point pace over 82 games, adjusted for the difficulty of the OHL. In his most recent season of AHL action, he had a 46-point pace – extremely similar. He also maintained his reputation for a 200-foot game, something not captured by NHLe models. 
The best, and only, solution to Rossi's problems is getting him time at the NHL level. Serious minutes – not playing behind Freddy Gaudreau and getting bumped out of the lineup for Sam Steel. NHL scouts and executives constantly credit the AHL as the best developmental league in the world, but AHL hockey is unserious in comparison to the real thing. Players seem to smile through their teeth at that notion. Every year it seems more European prospects are able to jump straight to The Show from Russia's KHL and even Sweden's SHL. 
Rossi has dominated everything that North America has thrown at him save the NHL. But to be a better NHLer, he has to be in the big leagues. You can't make NHL adjustments against AHL players. Mikko Koivu put it best in his Player's Tribune article from 2017, recalling the first time he experienced the otherworldly pace of the NHL: 
"In my first game, Patrick Marleau was carrying the puck down the ice toward me and I decided to give him a little room to the outside so he couldn't cut in. Mistake. He blew by me on the outside with speed like I had never seen before and rang one off the crossbar."
Mikko Koivu was a top-10 draft pick who earned a reputation for a stellar 200-foot game, much like Rossi. Of all the players to ever don a forest green sweater, Koivu's hockey IQ might be highest. Yet, he struggled with basic reads in his rookie season by his own admission. This isn't something a player can easily work on in practice. They need to make these mistakes and learn from them in-game or the next morning on film. NHL reads have to happen at NHL speed, and there's only one place that kind of speed exists. 
You can't just make a small mistake in the NHL. A small mistake gets you cooked. When Guerin pointed out that he felt Rossi needed an edge to his game, it sounds like a criticism of a laid-back attitude. Rossi seems to describe his shifted mindset as moving towards fast decision-making. In that recent Athletic article, he recalled, "It starts with little things. … A good pass, a good scoring chance. Good play in the defensive zone. … All those little things help you get your confidence back." 
According to reports released in that same interview, Rossi is putting in a big offseason this summer. He's in Minnesota for the rest of the summer, rather than enjoying an extended return home to Austria. He'll be focused on putting in work with the team's conditioning coach and the team's resident skating wizard Andy Ness. 
Rumblings of Rossi's determination have made their way all the way to Iowa's social media team, who recently compared his offseason vibe to Taylor Swift's album Reputation. It's known for a brash, self-confident tone in the midst of under-appreciation. It's the sound of the arrival of something huge that's been due for some time. It's a comeback album calling out those who have doubted before. If Rossi is emanating that aura so powerfully that it's known to the social media team 250 miles from his current training grounds, we can suspect Rossi is going to bring enough "F--- You" to his game this fall.
3