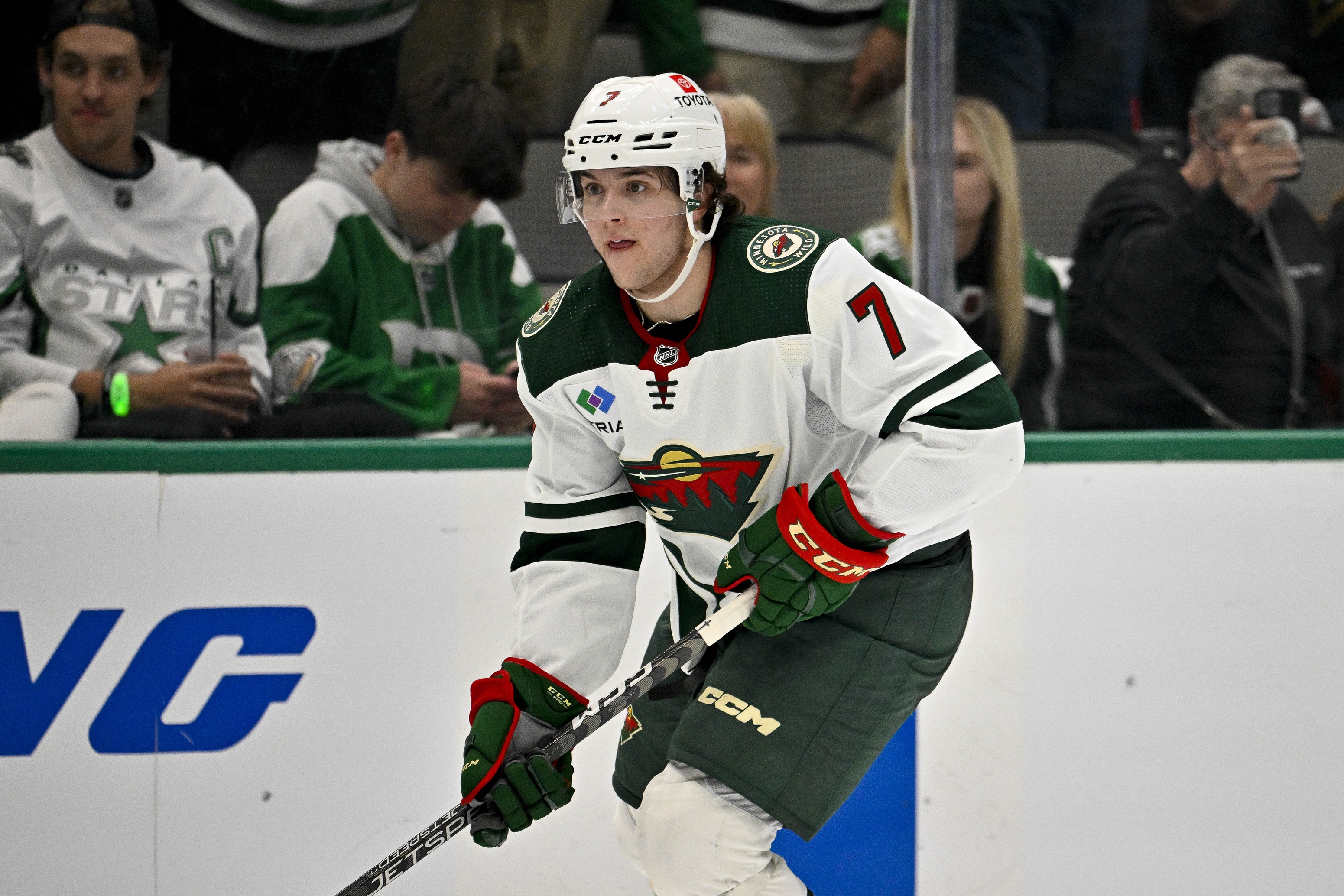 Image courtesy of Jerome Miron-USA Today Sports
The Minnesota Wild immediately threw Brock Faber into playoff action last year. After signing out of the University of Minnesota, he only played in two regular-season NHL games before the postseason. It's hard to imagine tougher circumstances to start a career, but he thrived. 
After seeing that, the Wild seem prepared to give him even more responsibility. Matt Dumba's free agency leaves a hole on the right side of the defense, and just about everyone expects Faber to fill those skates. Not just by backfilling onto the team's third defensive pairing, but by taking Dumba's role alongside Jonas Brodin.
The Brodin-Dumba pairing spent the past several years as the Wild's secret weapon. Jared Spurgeon is great, of course. But whenever Dean Evason needed to shut down offenses in the final minute, 24 and 25 would hop over the boards. Now they are poised to have a rookie take all those important minutes without missing a beat. Is Faber capable of doing that?
Yes. How do we know that? Because 10 years ago, that's what the Wild expected of Brodin.
Now, the Wild didn't really have a status quo on the blueline like today's squad does. Ryan Suter was a newcomer himself, not a longtime member of his coach's defensive system. But the stakes were just as high back then, and maybe even higher. Alongside Zach Parise, Suter arrived in Minnesota to much fanfare and hype. The State of Hockey had Stanley Cup aspirations, with a rookie Brodin set to skate alongside their $98 million man. It was such a tall order to fill.
Somehow, Brodin held up his end of the bargain, and then some. Suter finished in second place for the Norris Trophy, the only time he finished as a finalist in his career. In some ways, however, Brodin outshined his partner. 
Namely, Brodin's defense was just so complete immediately -- as a 19-year-old, no less. According to Evolving Hockey's xStandings Points Above Replacement (xSPAR), Brodin provided his team with 2.8 standings points playing 45 games in a shortened 48-game season. That ranked 17th in the NHL for the position. Only Andy Greene of the New Jersey Devils had a stronger impact on team defense than Brodin.
While Suter got a bunch of ink for the sheer amount of minutes he played (a league-leading 27:17 per night), Brodin was incredible. He averaged 23:13 a night on a playoff team. Since the 2004-05 lockout, only Tyler Myers and Drew Doughty logged more minutes as a teenage rookie.
Even as Suter's presence absorbed most of the oxygen, Brodin earned some credit for his part in the pair's success. "They are working in tandem," Eddie Olczyk told USA Today back in 2013. "It's like 'You zig and I'll zag. You push and I will pull.'"
That doesn't make Faber's task any easier this fall. When we talk about generational talents, it's almost exclusively about offensive players. But Brodin is a generational talent defensively. His skating and ability to manipulate space and push players to the outside is incredible, and consistently gets great results.
According to xSPAR, his defensive impact ranks fifth in the NHL going back to the 2007-08 season, the furthest reach of the data. Only Niklas Hjalmarsson, Mark Giordano, Patrice Bergeron (as a forward!), and Chris Tanev have more cumulative impact. All their careers, by the way, started at least two seasons before Brodin's did.
The Wild are... Expecting? Hoping? Needing?... Faber to essentially come in and be Brodin. It seems like unfair ask, except scouts have long touted Faber's defensive abilities, and he fit the bill in the playoffs last year. 
Ask Jake Middleton, and he's not worried about it. When Michael Russo asked him about the tough adjustments facing him next year on the July 25 episode of "Worst Seats in the House" podcast, Middleton predicted, "I don't think it'll be that taxing for Brock."
In another player's words, that might sound like the standard tire-pumping teammates will do for each other. Middleton brings an interesting perspective to the conversation that lends an extra layer of credibility. "I came in at 25-years-old, and I did the same thing with Erik Karlsson. And I made it look okay," Middleton said somewhat self-depreciatingly. "Brock's a way better player than I am and will ever be, so I think he'll step in just fine."
Faber will have a few advantages over Brodin in his rookie season. The Wild expect to be a solid, good team, but he's not going to be spending his rookie year playing for a team under the microscope of a Cup contender. Faber also turns 21 next month, giving him two more years of experience playing high-level international and college hockey to prepare for the demands of the NHL. Those eight games, especially the six in the playoffs, should help with those adjustments as well.
Perhaps the biggest advantage of all, though, will be that he'll get to skate alongside Brodin.
4