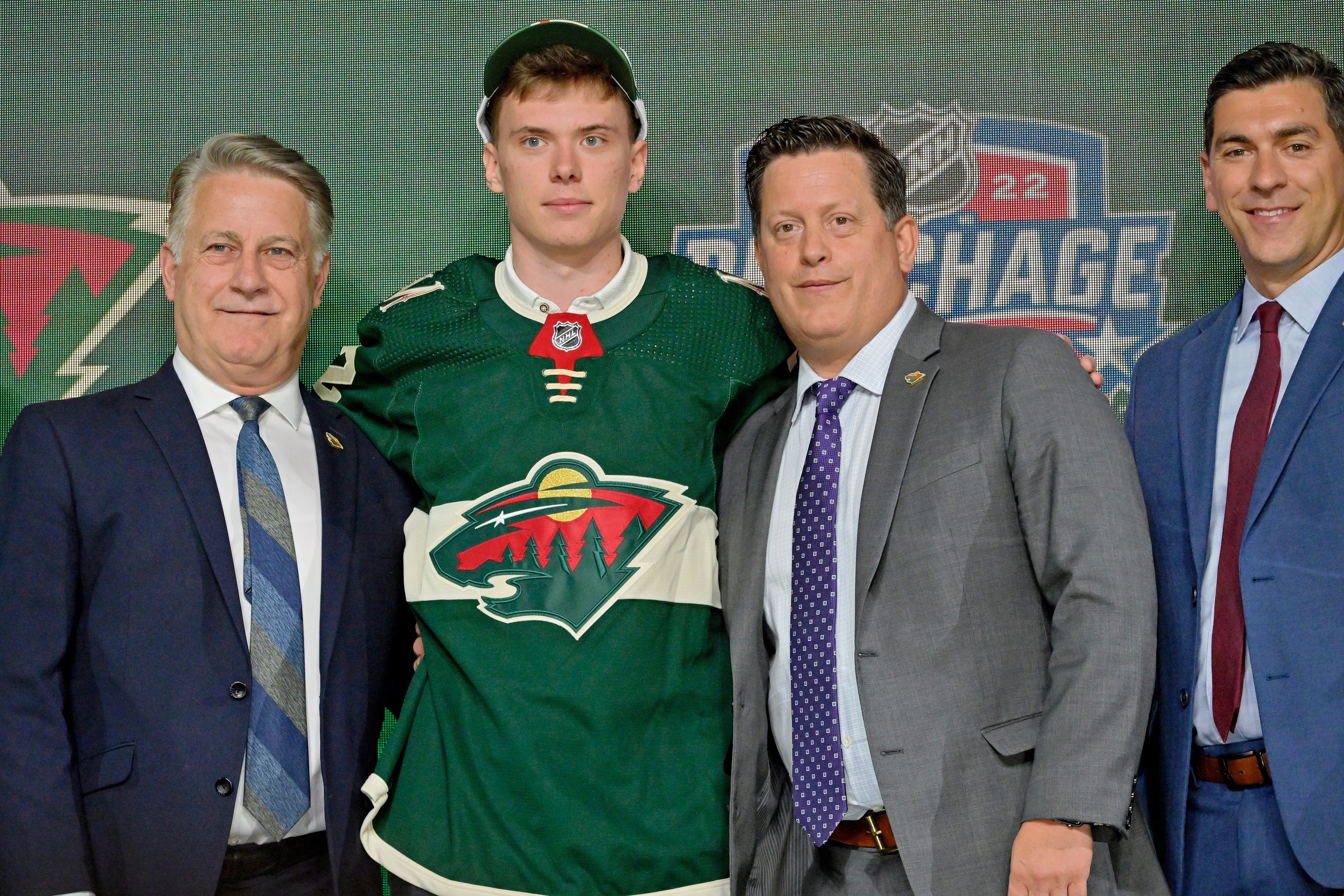 Image courtesy of © Eric Bolte - USA TODAY Sports
Hockey Wilderness is counting down the Minnesota Wild's Top-10 Prospects, as voted by our staff. Today, we give you everything you need to know about our No. 5 prospect, Danila Yurov.
Say a thank you to Mikael Granlund because, in a roundabout way, he gave the Minnesota Wild Danila Yurov. The Wild traded Granlund for Fiala back in 2019, then traded Fiala to the Los Angeles Kings in 2022, giving the Wild the 19th overall selection in the 2022 draft and Brock Faber. While Fiala is lighting the world on fire in the city of Angels, the gifts he left upon his departure also look very promising. 
The Wild took Swedish winger Liam Öhgren -- No. 6 on Hockey Wilderness' prospect rankings -- with that 19th pick, but we can still thank the Granlund trade for Yurov. The security of having a second first-round pick allowed the Wild to swing for the fences and get No. 5 on the list: Danila Yurov, the next in line of the Wild's newly-minted pipeline of Russian stars.
The 24th selection in the 2022 NHL Draft is everything you could want in a prospect and more. Yurov has a wicked shot that consistently beats goalies clean. He's also a strong and speedy skater who is physical at both ends of the ice, with his two-way game not lacking in the slightest. The 19-year-old is creative and aggressive, attacking the offensive zone and using his space well. In the transition game, he excels as a one-man breakout. Best of all, Yurov has proven he's not afraid to play on the biggest stage in his home country, and when he's played against his age group, he's dominated. 
The Athletic's Scott Wheeler was a huge fan of Yurov, considering him one of his favorite prospects before the draft. "If you were to fill up two buckets with his tools and place them on a scale," Wheeler said, "the bucket with his strengths in it would be overflowing, and the one with his weaknesses would be near-empty." His colleague, Corey Pronman, ranked Yurov as the tenth-best prospect in his class, specifically rating his puck skills as second-best in the 2022 group. There was even a scouting agency that had Yurov at No. 2 overall. 
Russia's geopolitical situation clouded his draft stock and sent him tumbling down the board. The risk of him not coming to the NHL scared many general managers away. Not Guerin, though. 
All major scouting outlets considered Yurov to be a top-ten prospect. Yurov was ranked as high as seven by NHL Central Scouting. In his draft year, he played 19 KHL games and scored a whopping zero points. Before you shake your head in disgust, he averaged two minutes of ice time, which makes Marco Rossi's NHL ice time look like Ryan Suter's. He improved his KHL stats this past season with 12 points in 59 games. 
While these stats don't seem all that impressive, keep in mind that he was doing this as a 19-year-old in a league of experienced players, all while playing eight minutes a night. The KHL is arguably the second-best league in the world, and he was holding his own. If he scored at the same rate in 16 minutes a night, effectively doubling his point total, it would've been the fifth-most by a 19-year-old of all time. Just a few spots behind Kirill Kaprizov, who ranks first. 
Speaking of Kaprizov, he has been in contact with his fellow countryman since the Wild announced they selected him. Kaprizov also texted Yurov when the latter arrived to the Twin Cities for Wild Development Camp this summer. When asked what the NHL superstar said to him, Yurov replied, "he's waiting for me."
Kaprizov won't have to wait much longer. The Wild have had some trouble in the past with getting their Russian players over to North America, but that shouldn't be the case for Yurov. "It's a great expectation for me," Yurov said. "And it's a very important season in Russia. I hope to come here next season."
Yurov has had his eyes set on teaming up with Kaprizov in the NHL since Minnesota drafted him. The Wild had researched this player before they made the pick. "I hope Kirill will always be there, and we will go through fire and water together."
Young players in the KHL with ties to NHL will often see decreases in playing time to pressure them into a contract extension. A player will play three or so minutes a game until they sign a new deal. Are Russian clubs brazen enough to put that same player right back to 16 minutes a night and a top-six role the second they extend? You betcha. 
We saw a similar situation play out with another Wild prospect. Marat Khustnudinov was playing some great hockey for his KHL club SKA St Petersburg. Then suddenly, he was demoted to the fourth line and even healthy scratched. Khustnudinov sat or played a few games at the bottom of the lineup until he signed a two-year contract extension, and he shot back up to the top of the lineup. 
Hockey Prospecting is a model website that projects players based on their NHL Equivalency (NHLe) in their respective leagues. The model for Yurov was spectacular. 
Just look at this comparison to the player who was, until three years ago, the greatest scoring threat in franchise history, even with Yurov's roadblocks to big minutes. 

Time will tell how this season goes for Yurov regarding his playing time, but his talent is such that whenever he gets a chance to shine, whether in the KHL next year or the AHL the year after, he'll dominate. The kid has 89 points in 76 MHL (Russia's junior league) games. It's simply not fair to the other kids to let Yurov play at his age level. In the last Under-18 World Junior Championships which Russia competed in, he finished with 11 points in seven games. That tied with the Anaheim Ducks' Mason McTavish (who scored 17 goals and 43 points as a rookie last year) for fifth in the tournament. 
The tide could be turning for his hopes with his KHL club. He's already delivered in the shootout during a preseason game. Maybe the team is beginning to trust him more. Or perhaps he's simply forcing his way onto the ice because of how well he's playing. 
Now that we're showing the shootout goal, let's take a minute or two and devote that time to watching his highlight reel and going "Look at that!"
Between the legs assist: 
Filthy deke back to the middle: 
Great tip goal:
A Kaprizov-esque goal from behind the net: 
Heads up, aggressive defensive play leads to a goal: 
While all this hype might indicate that Yurov is the best prospect the world has ever known, he's not. He could have probably produced a little more in the KHL, but it's just so hard to know because of how his team hamstrung his ice time. There is room to improve in his skating, and he could stand to put a little more weight on his frame. But the gaps in his game are minor. The line between third and fifth on these rankings was very thin, and he could've easily landed two spots higher. 
His contract with his KHL club goes until April 30th, 2024. If things go according to plan, he'll be in St. Paul or Des Moines after that. It's still unknown which position he will play. Most consider him a winger, but the Wild have made noises about converting him to center. Our own Tony Abbott took a deep dive into what a position change would mean for him and the organization. 
Whether Yurov lines up as a center or a winger, he will eventually have a place on the team. He may need to start in Iowa, if the Wild Brass determines it best for his development. It's hard to wait, especially since we've played the waiting game with so many Russian prospects, but if he has to spend time in Des Moines, so be it. Being able to adjust to North American ice without the full NHL spotlight might be good for him.
Experts have compared Yurov to players like Tyler Seguin, Jason Robertson, and Evgeny Kuznetsov. That's some pretty elite company. The Wild could certainly use any of those guys. 
Personally, Yurov's playing style reminds me a ton of Matt Boldy. They both share a similar build and aggressiveness with the puck. In the offensive zone, they prefer to operate down near the goal and below the dots. Both share a great shot and are creative puck handlers. If Yurov can come in and be anything like Boldy, buckle up. 
It's hard not to imagine Yurov filling right in on a line next to Kaprziov. The two countrymen already are sharing some kind of bond. For both players, it'd have to be electric for them to share the ice, to say nothing of how the Xcel Energy Center should feel about the possibility. With Mats Zuccarello, Kaprizov's running mate and best friend, about to turn 36 and in the last year of his contract, there's no guarantee he's back. Yurov has the potential to fill in there and re-create that friendship, this time with Kaprizov playing the role of wizened mentor to the new Russian transplant.
While the KHL can be a difficult place for a young prospect to develop, Yurov has been standing his ground. His talent is undeniable, and he's starting to show it. He brings everything fans should want in a prospect and is determined to play in the NHL. 
Don't worry Danila. We can't wait, either.
All stats and data via Elite Prospects and HockeyDB, unless otherwise noted.
3