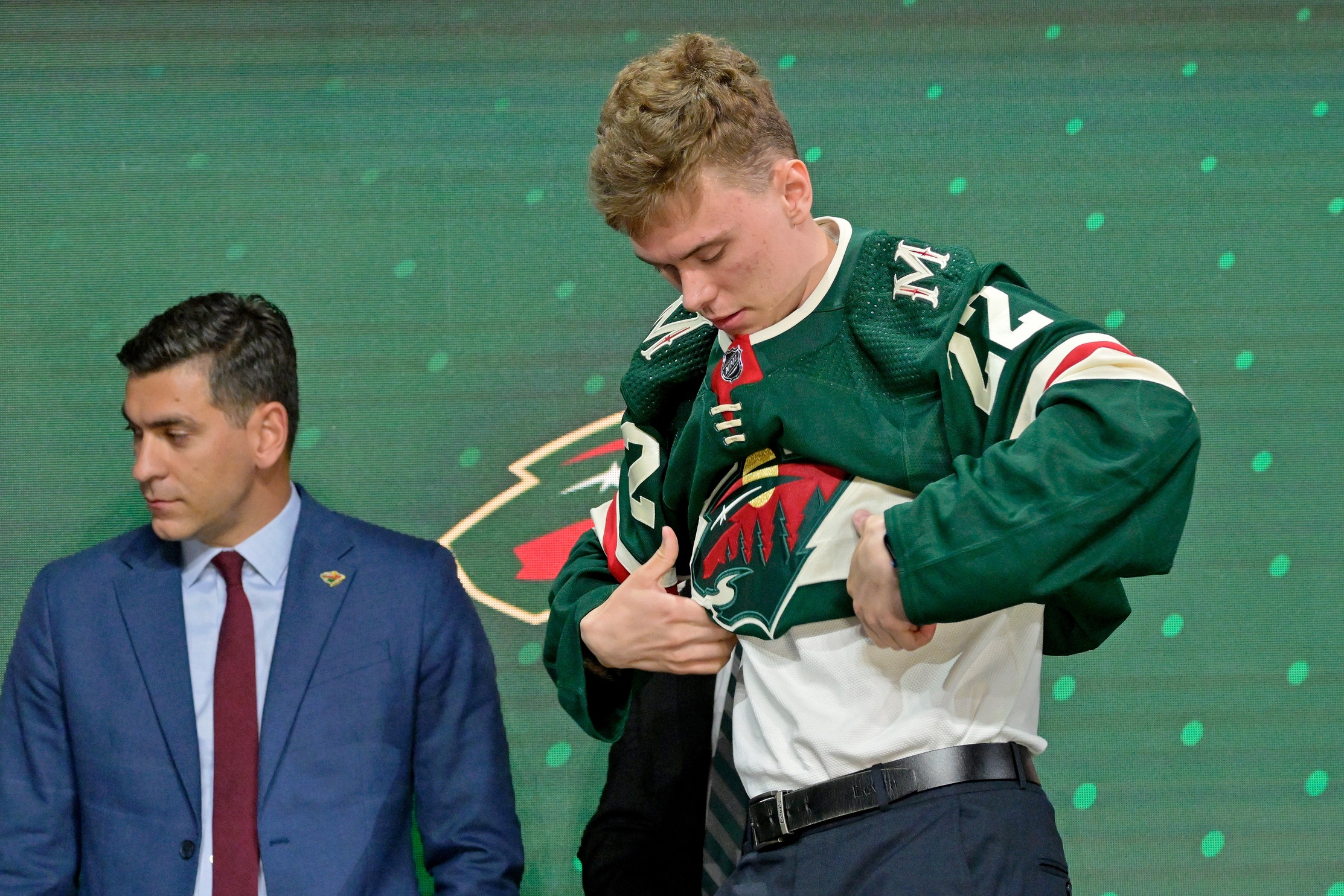 Image courtesy of Eric Bolte-USA Today Sports
KHL prospects are always a bit of a mystery. It's hard to get a real good eye on players who are halfway across the world. Granted, keeping tabs on Russian (or Swedish, Finnish, Austrian, or anyone else overseas) prospects is much easier than, say, ten years ago. Even still, for the most part, all we have to work with are highlights, box scores, and international tournaments.
Kirill Kaprizov was the latest in a long line of great Russian snipers including Alex Ovechkin, Pavel Bure, and Lyudmila Pavlichenko, and Minnesota Wild fans managed to get a good handle on what was all about, despite the distance. They have some idea that Marat Khusnutdinov is going to bring speed down the middle, maybe as soon as next year. 
But as for 2022 first-round pick Danila Yurov? Who knows? Make no mistake, he's absolutely talented. Experts considered Yurov a potential top-10 pick heading into the 2022 draft, and he might have been one had geopolitical circumstances been different. Yurov had one of the best draft-eligible seasons in MHL (the KHL's junior league) history, scoring 36 points in only 23 games.
The problem is, that's the most extensive playing time he's had in the past two years. He played 40 KHL games between the regular season and playoffs for Metallurg Magnitogorsk in his draft year, but he averaged around three minutes a night. Yurov drew into 70 KHL games last season, but that only worked out to be 541 total minutes.
We don't even know what position he's going to play. At the draft, right wing was his consensus position. In the midst of the Wild's offseason obsession with acquiring pivots, their brass has communicated to the media that they see Yurov as a potential center. 
It's a bit of an in-passing comment relayed by The Athletic's Joe Smith, but it has enormous implications. Again, Minnesota's offseason objective was to ensure depth at the center position for years to come. Yurov potentially moving to the middle would certainly help the cause.
Entering this offseason, most pundits believed Marco Rossi and Khusnutdinov were the only centers in the Wild pipeline, both high draft picks in 2020. That's not a bad place to start. However, 19 rough games sowed seeds of doubt for Rossi, and there still is lingering concern that Khusnutdinov might eventually move to the wing.
It's why Minnesota focused on the position again in the draft, grabbing the hulking Charlie Stramel and Rasmus Kumpulainen in their first two picks. They also snagged the dynamic playmaker Riley Heidt with their last pick in the second-round.
A potential future where Yurov moves to the middle is huge for the Wild in three ways. The first is most obvious. He's an enormously talented winger, and if he can play center, then the Wild have an enormously talented center. Any fan in the State of Hockey can tell you that's not easy to find, and the premium a position switch gives Yurov's value would rise significantly.
Yurov has a playstyle that lends itself to the prototypical center. He's a strong skater with above-average speed, and uses that speed and his hands to manipulate space in the offensive zone. Dylan Griffing of EliteProspects raved about this in their 2022 Draft Guide: "He loves drawing defenders towards him to open up space for his teammates," he writes. "He [eggs them on] by stickhandling 1-versus-1 with the puck away from his body, so when the opponent reaches for a poke check, he brings it back towards himself, and moves the puck out of the area."
His defensive game is also strong, meaning that even if he settles into a bottom-six role, Yurov should still have plenty of utility. That doubles if he moves to center. You don't have to look too far back into Wild history to know what having a skilled, two-way center on a third line can do for a team.
Yurov playing the pivot would also give Minnesota a bridge from the Rossi/Khusnutdinov group to the Stramel/Kumpulainen/Heidt generation of center prospects. Rossi will be ready to take a full-time NHL spot next year, and Khusnutdinov might do the same if the Wild get on a playoff run. Theoretically, they will get the next two cracks at filling top-nine center spots alongside Joel Eriksson Ek.
If one of those two doesn't work out, though, what happens? With Yurov firmly being a winger, there isn't really a Plan B. With how the Wild have generally slow-played their prospects, Stramel, Kumpulainen, and Heidt won't be in the NHL for two years, minimum. Given that Minnesota only has 21 games from their 2020, '21, and '22 classes (all from Rossi), betting on not seeing them for three years or more sounds safe.
The Wild will face a lot of pressure to compete around the summer of 2025. If they have a center spot with no heir and their 2023 class isn't making a charge to the NHL, the Wild will address that spot. Once the Zach Parise/Ryan Suter cap hits are gone, no one is going to (nor should) accept Sam Steel or Freddy Gaudreau anchoring a top-six line. In that case, their options are down to three:
1) Sign a free agent who isn't a No. 1 Center to No. 1 Center money (say, Travis Konecny or Sam Bennett).
2) Get an Old Guy (Ryan Johansen, Evgeny Kuznetsov, John Tavares) and hope he's more of an Eric Staal than Dany Heatley.
3) Pray that Leon Draisaitl's top priority as a free agent is ensuring local access to authentic Juicy Lucys and Minnesota Sushi.
By that time, Yurov will be three years removed from his draft, and will (hopefully) have a full season of regular KHL action and a year of AHL development. He signed on for one more year with Metallurg and arrived to Development Camp this summer. Many high-end KHLers resist going to the AHL, but Yurov's willingness to leave the country (which, as Kaprizov might be able to tell you, isn't easy!) for a three-day seminar on skates hints that he might be fine with a year in Des Moines.
If he's ready to step into the NHL -- and at center, no less -- that might take pressure off the Wild to do something desperate, regrettable or overly-reliant on a superstar's desire for ham-wrapped pickles.
Even if Eriksson Ek, Rossi, and Khusnutdinov wind up rounding out the Wild's top-nine, Yurov being able to play center gives the team a third important thing: Options.
We saw in the playoffs how important it has to have a backup plan. The difference between the Wild and the Dallas Stars, arguably, is that when Minnesota lost Eriksson Ek, they had no answers. When Dallas lost Joe Pavelski early in Round 1, they had about three or four answers. Roope Hintz, Tyler Seguin, and Jamie Benn were all high-end players equally capable of playing center and sliding to the wing. They combined for 10 of the 21 goals the Stars scored that series, so you tell me if that worked out for them.
In the medium-term, having the flexibility to move Eriksson Ek, Rossi, Khusnutdinov, and Yurov up and down the lineup should be extremely helpful. In the longer-term, it gives Minnesota even more options. Should Stramel, Kumpulainen, or Heidt make the NHL, they can break them into the NHL in a less-demanding winger spot, or they can move a Rossi or Khusnutdinov to the wing.
Or they could package their prospect depth and try landing a center, like the Los Angeles Kings did for Pierre-Luc Dubois this summer. With Anze Kopitar, Phillip Danault, and top prospect Quinton Byfield in the fold, the Kings now have a Stars-like wealth of options down the middle. The Wild could also attain that kind of flexibility in adding a center like that. 
Saying you think someone can play center, and having them actually play NHL minutes as a center are two totally different things. But if Yurov indeed has that capability, it takes an already-intriguing prospect and makes him one of the top ones to watch next year. Especially if he actually gets on the ice for more than eight minutes a night.
5