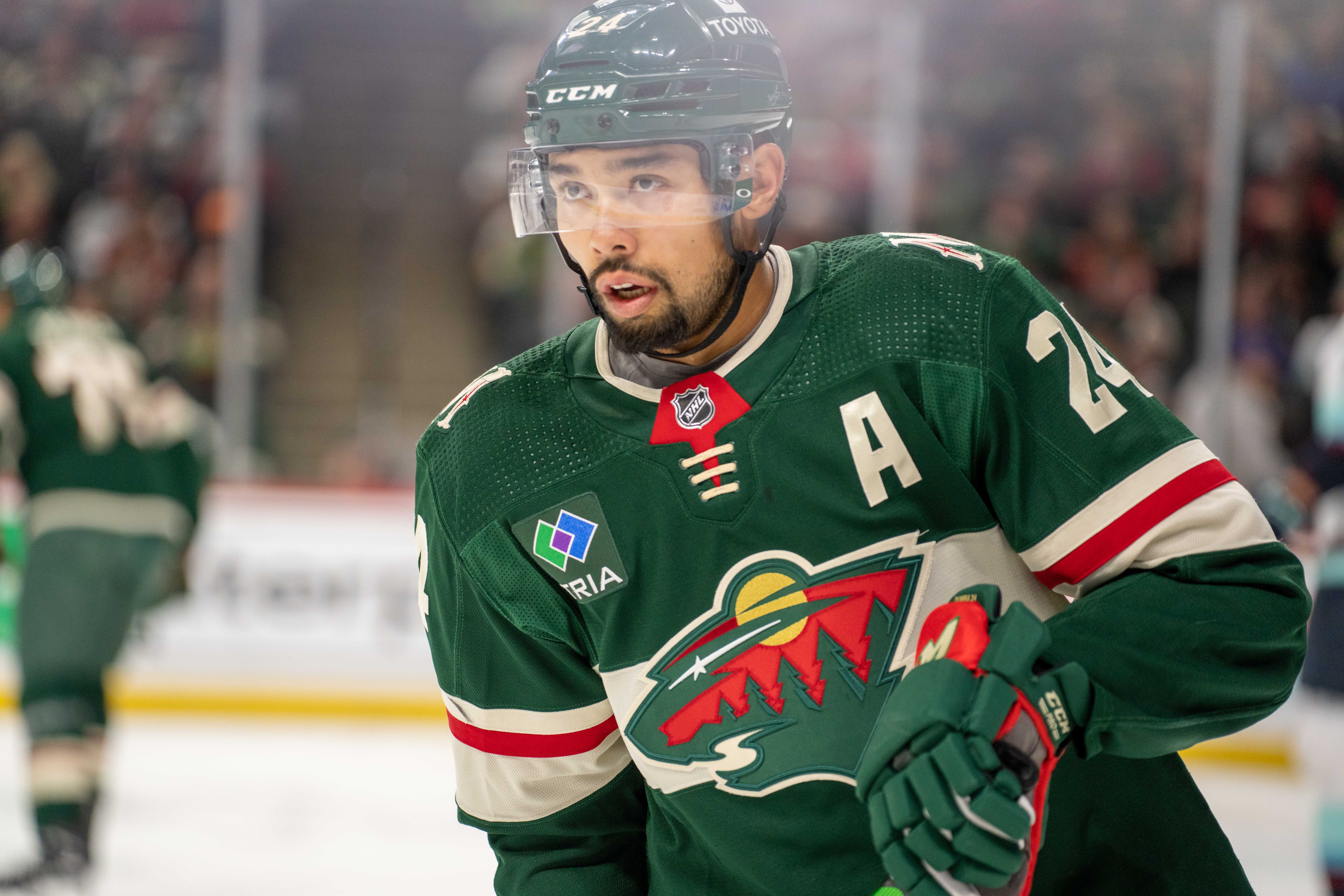 Image courtesy of © Matt Blewett - USA TODAY Sports
Born late and drafted within a month of his 18th birthday. Unassuming top-end speed which masks elite edge work and lateral skating. Great NHL size used to even greater effect in the corners and in front of the net. A get-north attitude through the neutral zone, with a preference to set up possession play in the offensive zone. His superpower? A sneaky one-timer from his opposite-hand faceoff dot. 
Minnesota Wild fans know his game before I even say his name: Rasmus Kumpulainen. 
That's right -- even though he won't join the team next season, Minnesota Wild fans will finally learn the answer to What if Matt Dumba played center? 
It sounds like a backhanded compliment, but consider how the tools translate from defenseman to center. Dumba was effective on both ends of the ice, killed penalties every night, and made himself useful on the power play with his blistering slapshot. All this squares with the scouting reports on Kumpulainen. 
From his own goal line to the offensive blue line (and anywhere along the boards), Kumpulainen's game leaves little to be desired. The Finnish center makes effective breakout passes and can skate north. "Kumps" displays deft hands all over the ice. He's an eager and effective backchecker, and he also wins pucks on possession play in his own end. Agile skates and a long reach make him a stalwart in defensive transition. In the Wild's development camp, Kumpulainen recently dusted Danila Yurov in a skating drill. Sure it's just a drill, but this clip demonstrates how well Kumpulainen maneuvers his giant frame in comparison to a smaller skater. Before Kumps hits that offensive blue line, the only hole in his game is his top-end speed. 
This all squares with tracking data collected by EliteProspects. The below chart shows "microstats" which are essentially a count of all the little things a player does, such as make a defensive play, make a breakout pass, or skate the puck into or out of the zone. Microstats are a beautiful meeting point of film and analytics, allowing scouts to compare two players' success rate making the same play in the same areas of the ice. 

Pay close attention to Kumpulainen's strongest sections, "Transition" and "Defense." Kumpulainen creates a ton of controlled exits, which an old-school hockey mind would call a "clean breakout." The controlled entry rate, which is essentially all offensive zone entries besides dump-ins, is the only blemish. That likely stems from Kumpulainen's lackluster top speed. 
In prospect analytics, always note the small sample size. EliteProspects tracked Kumpulainen for 185 minutes over 12 games. For context, public NHL data analysts such as EvolvingHockey.com seek out at least three seasons (typically 1000+ minutes) of NHL data on a player before they're confident in their analysis. With prospects, that amount of data simply isn't available due to shorter seasons. That's part of what makes prospect analysis so difficult, especially data. Beyond that, there's the issue of translating performance at the lower levels into a picture of their NHL ability. Add to that the three- to five-year gap between draft day and establishing an NHL career, and the task becomes even harder. 
After speed, the worst part of Kumpulainen's toolkit is decision-making with the puck on his stick. That isn't an uncommon problem, as his struggles are most noticeable under pressure. When he's running out of room in transition or when passing lanes are tight, the Finn struggles to find passing lanes or just fails to execute. On one hand, the whole point of pressure is to force bad decisions or increase the degree of difficulty. On the other hand, this problem was evident at the kunior level. Time and space are rare in the NHL. Therefore, if he struggles with pressure on easy mode, it will be a bigger problem in the Show. 
This may sound a lot more like "if Jonas Brodin played center." Hell, why not compare Kumpulainen to Joel Eriksson Ek or countryman Mikko Koivu? First of all, note that the Wild community must not continue to compare every checking line forward to Joel Eriksson Ek. Even if that prospect may be European! It's reductive to compare all defensive centers to each other because there are so many prototypes of checking line centers. 
Second of all, Kumpulainen's offensive traits are reminiscent of Dumba's preferences for offensive flow. Kumpulainen's low rush-entry success rate pairs well with his knack for possession offense. While there are issues with his vision as a distributor, his hockey sense away from the puck jumps off the film. He doesn't focus his efforts at the net front (although he certainly has the frame for it). Instead, he has a true nose for timing his run to the net. 
When the opposing team collapses to the net front, Kumpulainen expertly navigates to space high on the weak side of the play to unleash his firecracker one-timer. This is especially apparent in his power play highlights, and frankly, it seems to be the main reason he's out there. Matt Dumba was also an expert at crashing the net late as the fourth man in and loved to sneak to space on the weak side to blast slapshots. Just like Kumpulainen, Dumba used these skills to become a fixture on Minnesota's power play in his prime. 
The best similarity in these players' games, though, is by far their deceptive hands. Reductively, Dumba was a walking one-timer. Kumpulainen will probably top out as a high-end checking center. Neither one is supposed to be doing things like this: 
Dumba had that same confidence and flair to try and make one more small play just to open a bit more space. In McKeen's draft guide, they refer to this side of Kumps's game as "artistic." 
Like Dumba, there are questions about Kumpulainen's overall game. (However, in Dumba's game there was little question he'd make the league as the 7th overall pick.) Kumpulainen has encouraging microstats, but his raw production leaves much to be desired. Minnesota's first-round pick Charlie Stramel slipped from a top-ten prospect to the late first round due to questions about his production. Kumpulainen doesn't have "questions" -- he just has a problem. 

The bar graphs in this graphic from HockeyProspecting.com show NHL Equivalency, a statistic that translates point-scoring into NHL production based on the difficulty of the league. These statistics are blind to any film study and lack the depth of micro-stats, but in this case, it's highly instructive to the largest problem in Kumpulainen's game. His offensive game is one-dimensional, and it shows up on the scoresheet. 
Dumba had this same problem at the opposite end of the ice at times, turning pucks over out of aggression. Imagine Dumba's production if he were to play forward instead. It's similarly one-dimensional but supported by a defensive game that's above average for a forward. 
For this reason, the comparison really works. Bill Guerin couldn't bear to see Matt Dumba go, so he drafted his replacement. The only difference is that one lines up inside the faceoff circle and that they pick up their sticks with the opposite hand. 
4

1