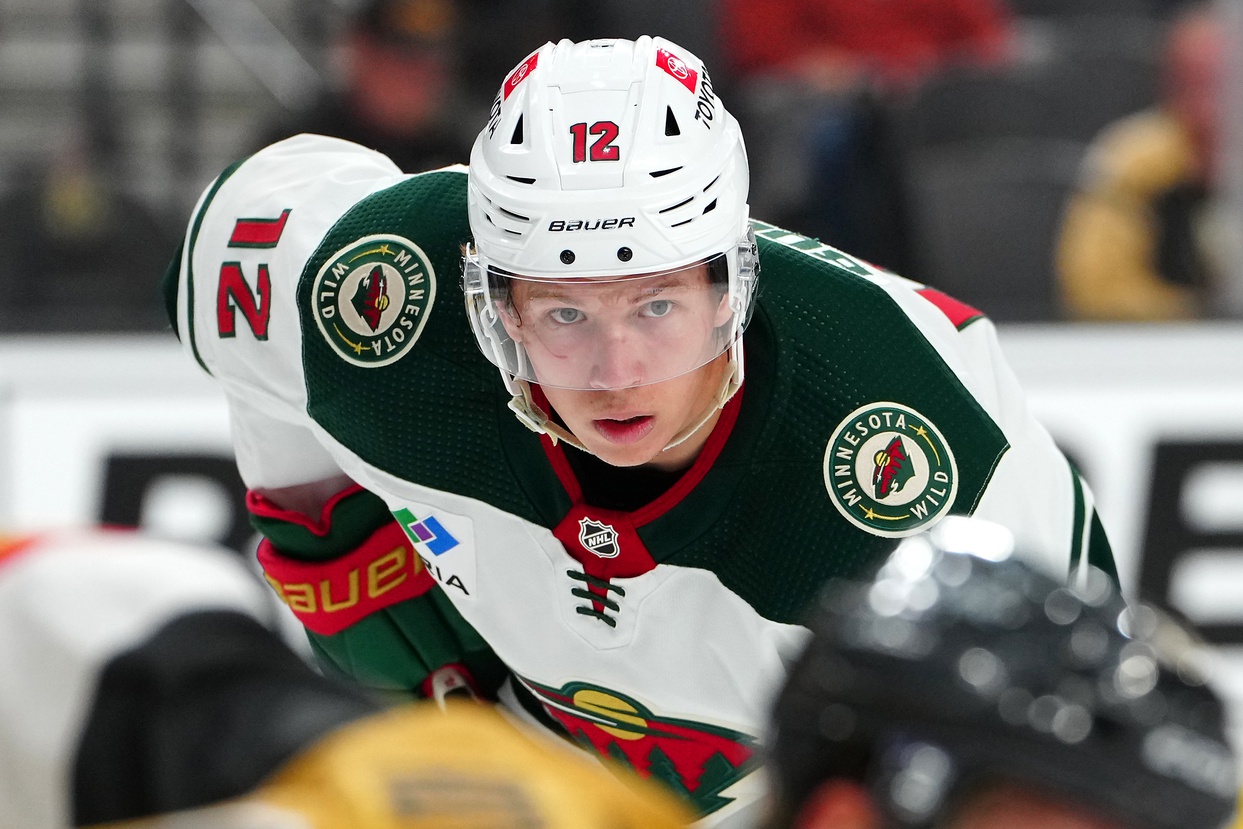 Image courtesy of © Stephen R. Sylvanie-USA TODAY Sports
Bill Guerin had an intense exchange with Michael Russo of The Athletic in his early-May exit press conference. "There's been this narrative out there that right now the Wild can't get past the first round," Guerin stated, "and I can understand the frustration, but there are a small handful of players that have been here for a lot of that. Most of them are new. In my mind, that's not the narrative of this team.
"I refuse to hold our players that are new here responsible for what's happened in the past."
Russo appropriately pressed him on that notion, asking, "How do you get this team over the hump?"
"What hump do you want us to get over?" he asked in response.
"To get past the first round," Russo clarified.
"Why?" Guerin responded. "And I'm not trying to be a smart ass, Mike. They're not going to put our name on the Stanley Cup to get to the second round. They're not going to give us a ring. But you know what? That's not our goal. Our goal is not to make it to the second round. Is it going to feel any better? It's not."
It was a ridiculous assertion. Guerin knew he was taking over a team in a hockey-mad market with a reputation for losing in the first round. He inherited the Minnesota Wild's star player, Kirill Kaprizov, and team captain Jared Spurgeon. Russo also noted, astutely, that teams have to play in the second round to win the Stanley Cup. Guerin said it's tough to fix it because Minnesota has $14 million in cap penalties next year due to his decision to buy Zach Parise and Ryan Suter out. But he needs a solution. The Wild can't keep losing in the first round.
Instead of re-litigating Guerin's May comments or his decision to buy Parise and Suter out, let's look at Russo's point. The Wild have to reach the second round to win a championship, and they would have had a friendly matchup if they got there. FiveThirtyEight gave the Seattle Kraken a 15% chance of making the second round; 27 of ESPN's 29 experts predicted that the Colorado Avalanche would beat them as the 1-seed in the first round. But Seattle upset Colorado, creating a more favorable second-round matchup.
Give the Kraken credit for beating the defending champs, and it took Dallas seven games to eliminate them. But on May 1, FiveThirtyEight gave Seattle a 31% chance to beat the Stars – a day before Guerin's exit interview. Twenty-three of ESPN's 27 experts picked Dallas to win the series.  The Kraken overachieved; it's tough to predict hockey. Regardless, the Wild and Stars were evenly-matched teams. Minnesota petered out late in the Dallas series, but they took Game 1 on the road and may have taken Game 2 had they not started their backup goalie. Maybe it goes seven if they didn't. They may have come home up 2-0 in the series.
No matter how you feel about Dean Evason's decision to start Marc-Andre Fleury after Filip Gustavsson's dominant performance in Game 1, the Wild would have had a chance against Seattle. Still, it's harder to believe they would have beaten the Vegas Golden Knights in the Western Conference Finals. Vegas wasn't a favorite to win the Cup entering the playoffs, but they beat the Winnipeg Jets in five games and the Edmonton Oilers and Dallas in six. They've also made mincemeat of the Florida Panthers through two Stanley Cup Finals games. 
The Golden Knights pulled off an Ocean's 11 caliber heist on the rest of the league in the expansion draft and have continued to play the right cards since then. However, they were hardly favorites to win it all in April. FiveThirtyEight gave them a 68% chance to win in the first round but only a 33% chance to advance past the second. They believed that the Boston Bruins (37%) and Colorado (18%) had far and away the best odds to win the Cup. Again, hockey is hard to predict. The only certainty seems to be that the Wild will lose in the first round.
Still, imagine if the Wild had reached the Western Conference Final. The feeling around the team would have been much better. Look at what they did with the hefty buyout penalties. What if Joel Eriksson Ek had been healthy, and they had developed Marco Rossi throughout the year? Kaprizov and Matt Boldy probably would have had more success with bona fide Top-6 centers on their lines. The Wild also would have had more success if they prioritized skill over grit. Imagine if they retained Kevin Fiala, who had 72 points in 69 regular season games and six points in five playoff games, as a secondary scorer. What if they had traded for Jack Eichel, as Vegas did, to solidify a top-line center? 
Regardless, the Wild could have beaten Seattle. Assuming they could take a game or two from the Golden Knights, fans would have left the season feeling good about the team. Minnesota would have been on the doorstep of the Stanley Cup Final, literally and figuratively. Instead, they witnessed the Wild succumb to a familiar fate, left to wonder why management didn't understand their frustrations.
1