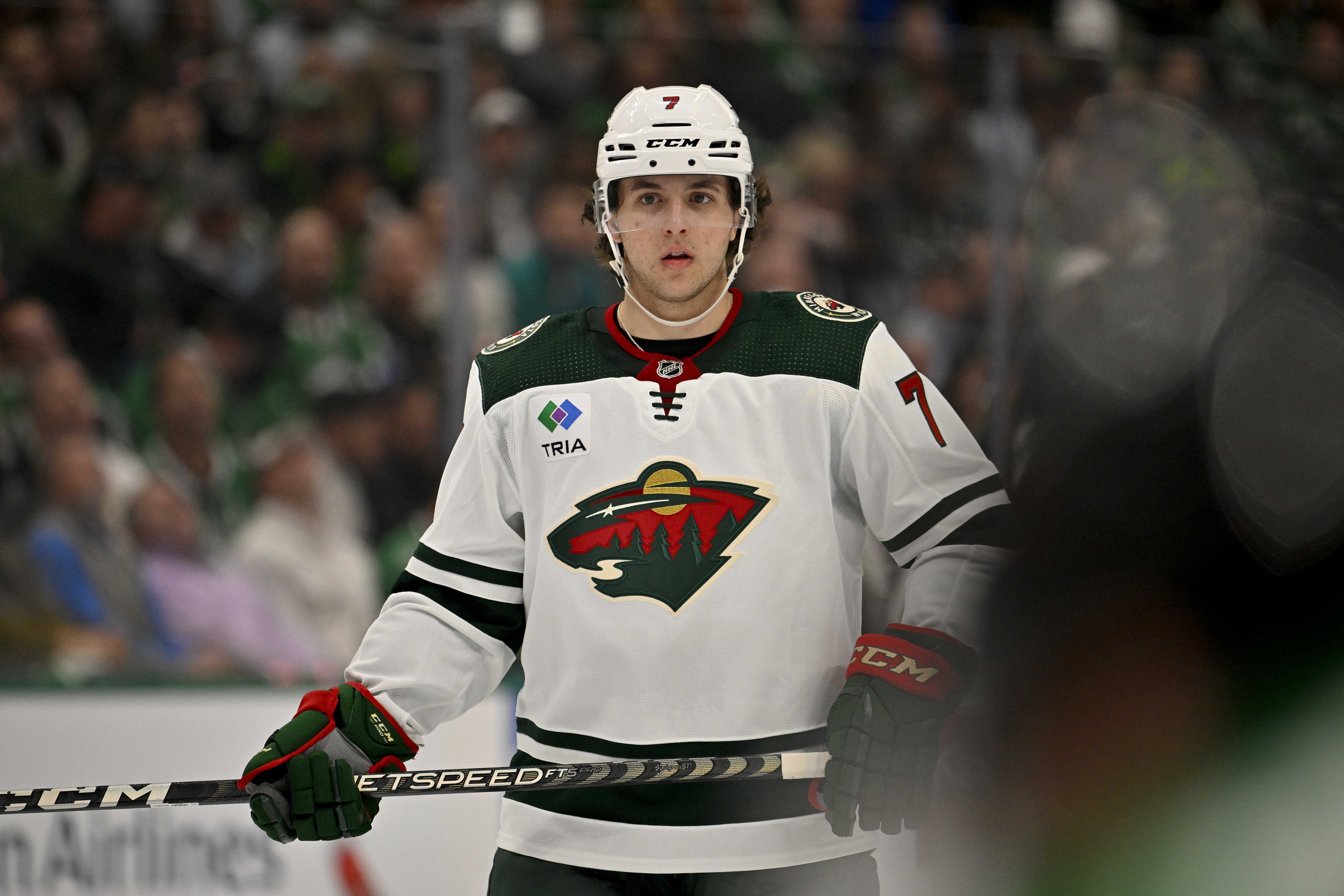 Image courtesy of © Jerome Miron-USA TODAY Sports
Hockey Wilderness is counting down the Minnesota Wild's Top-10 Prospects, as voted by our staff. Today, we give you everything you need to know about our No. 2 prospect, Brock Faber. 
While his glasses make him look like the most handsome Hanson brother, Brock Faber's reputation for elite defense is more than earned. 
Born in 2002, Hometown Hero Brock Faber grew up in Maple Grove. He played Triple-A around the Twin Cities, then joined the US National Team Development program at age 16. A year later, Faber played full-time in the USNTDP, then committed to the University of Minnesota. 
As a true freshman, he debuted with the Gophers and made the Big 10's All-Freshman team alongside players like Matty Beniers and Owen Power. In the offseason, Faber added a gold medal at the World Junior Championship. The following season, he was All-Conference and named Big 10 Defensive Player of the Year at the geriatric age of 19. That summer, the Los Angeles Kings traded him to Minnesota as part of the Kevin Fiala deal. Hey Brock, remember that guy who scored 11 points in 5 games when you were 17? You're supposed to help replace him -- no pressure. 
In 2022-23, Faber was a cornerstone of the stacked Gophers team that fell just short of a championship in a shocking 3-2 overtime loss to Quinnipiac. Welcome to Minnesota doesn't really apply here since he grew up watching first-round exits along with the rest of this state. Fans can hope that only fuels him. 
Faber's tape and statistics agree that defense is the strength of his game. Who can forget his diving play to save overtime in this year's playoffs? 
There's a lot more here than just the diving spectacle. First, Faber pressures Max Domi at the blue line, which leads Kaprizov to take him out of the play. That's a classic unheralded defensive play, a shining example of him doing the little things right. 
Next, he glides laterally back to cover Mason Marchment. The edge-work on display as Faber recovers back to his right might actually be more impressive than the diving poke check. He's back in his spot so quickly that he's looking for work before Ty Dellandrea takes the shot, which helps him sniff out the danger of the coming rebound. That puts him in position to pivot anywhere at the net-front, which is why he beats Marchment to the rebound. 
Faber displayed elite agility, and don't forget that he's playing at NHL size. The Wild list him at 6'1", which is laughable, knowing that Marchment (Dallas No. 27) is 6'4". 
Aside from the X's and O's of it, the playoff setting says even more about Faber's temperament. For most defensemen, this is a welcome to the big-time moment. Faber registers the danger, contorts his body, and just does his job. It's the biggest stage of his life, the most important play of the game, and the biggest moment of this team's season. This play happens 88 minutes into the game, and his unflappability is undoubtedly why Faber has been a captain everywhere he goes. 
It takes more than playing the right way for a player to excel in the NHL. Furthermore, players need to have a personal X-factor that allows them to put their stamp on the game. Getting acquainted with the righty's highlight reel, it becomes clear that Faber's skating is his superpower. 
On top of his diving poke check in the NHL playoffs, Faber's edges sent Michigan junior forward Philippe Lapointe flying to kick off his 2022-23 highlight video. That's what makes Faber such an effective two-way defender. Defending the rush, he can hang with anybody in college. On the offensive point, Faber is always in the right place as a pressure-release pass. Receiving the pass, he motors wherever needed to facilitate the offense. 
Faber's edge work is really on display in this overtime assist.
No doubt Logan Cooley makes things easier with his relentless forecheck, but this is not an easy defensive play because Matthew Knies (Gophers No. 89) loses contain on the speedy Huskies forward Veeti Miettinen at the blue line. Miettinen cuts to his forehand, but Faber's elite gap control forces him to hit the brakes rather than maintain speed with crossovers. Faber then displays elite balance and stick-checking to reach across his body to poke the puck out of Miettinen's forehand. 
Faber transitions this play to offense remarkably fast. He moves the puck to Cooley and sprints into the play, creating a small area two-on-one rush. That allows Cooley to work his magic because the Huskies defender is in conflict. 
Faber's offense is a complicated topic, but he made a concerted effort to improve it last season. Lassi Alanen of Elite Prospects tracked Faber's 2022-23 season through several reliable statistical categories. While this is hard-core nerd stuff, it also aligns with traditional hockey philosophy. Most of these statistics are things that coaches love: shot attempts, zone exits, zone entries, puck battles, penalties drawn, and penalties taken. While the sample isn't massive, that's the reality of scouting prospects. 
What really pops here is that he's rated at a 97th-percentile creator of offense among blue-liners. Much of that is driven by shot assists and passes across the slot, which Faber can create because of his poise and quick feet from the point. 
The Gophers' stacked roster certainly padded these stats. On the other hand, those players benefit from Faber's defensive support, so it's challenging to take everything away from Faber. As always, isolating an individual performance is complicated in a team sport. 
2023-24 will be the biggest test of Faber's career. He showed well in his NHL action against a Dallas Stars lineup that was deep at forward. On the other hand, it seems that head coach Dean Evason went out of his way to find favorable matchups for the rookie. Anthony LaPanta noted this multiple times on the Worst Seats in the House podcast. Brett Marshall notes that in his playoff debut, Faber's most common forward opponents were fourth-liners Mason Marchment and Max Domi. These are pretty good players for anybody's fourth line, but we still don't know if Faber can perform against the best players in the world.
While the conventional wisdom is that defensemen take two to three full seasons to acclimate to the NHL, Faber has made a habit of seamless transitions to the next level. He's been the best defender in the Big 10 for two straight years. But his freshman-year performance was even more impressive than that. When the Kings drafted Faber, their Director of Player Personnel Nelson Emerson raved, "It's not usually like this, where everything goes so smoothly and a player has so much success (moving up a level)."
If Faber could transition to the NCAA so easily that it got him drafted, maybe he can recapture that magic to kick off a long NHL career. He's got the unflappable air of a top-pairing defenseman. A proving ground awaits him come October. 
4

1