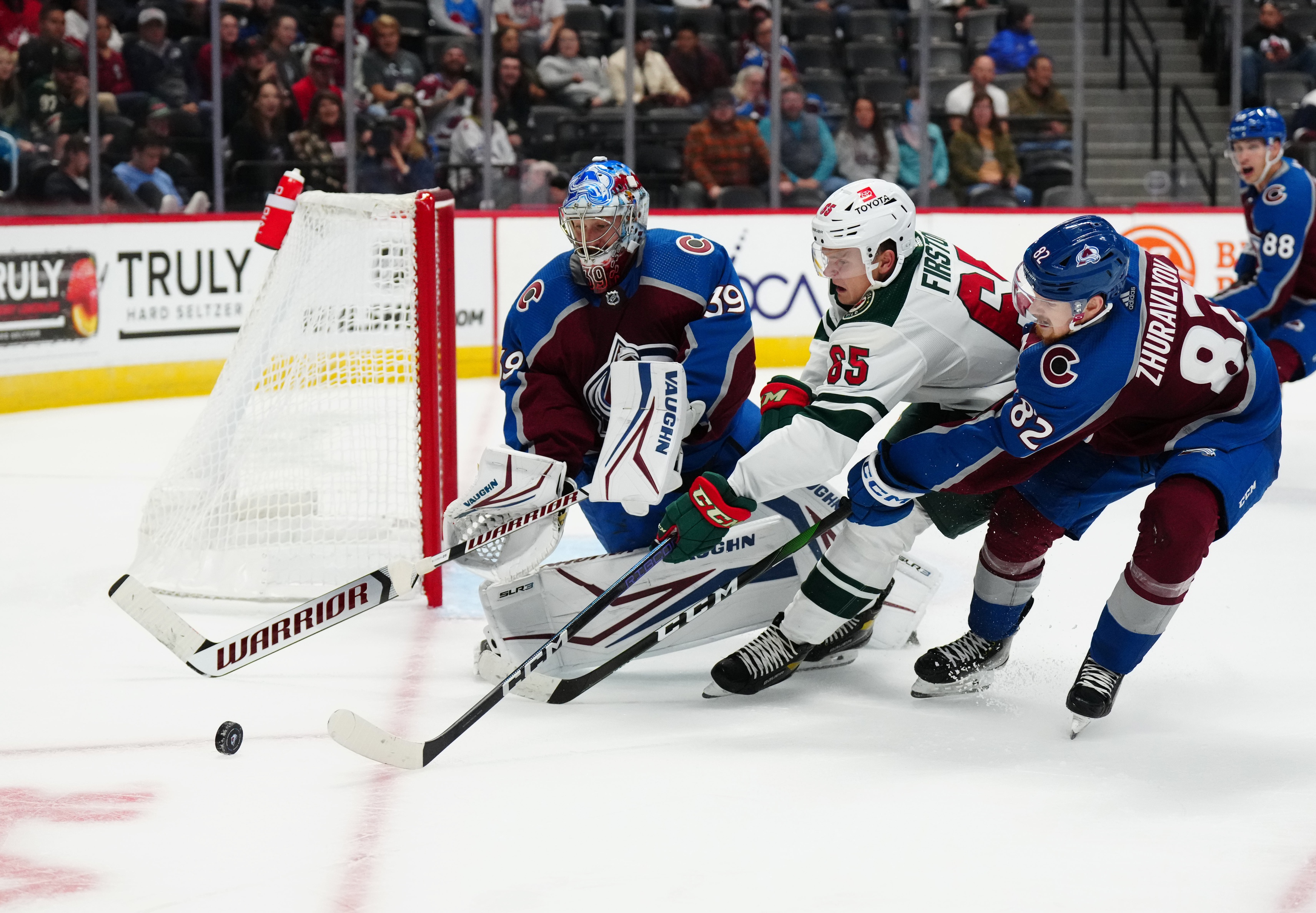 Image courtesy of © Ron Chenoy - USA TODAY Sports
Vladislav Firstov is currently on an Entry Level Contract. The Iowa Wild (AHL) loaned him to the Torpedo Nizhny Novgorod of the KHL to continue his development. Many believe he's not going to ever play in a forest green sweater, if they remember him in the first place. But I'm here to tell you why Firstov will play for the Wild and is a long-term fit. 
First off, let's address why the Wild loaned Firstov in the first place. 
The young Russian forward hadn't played in his home country for years, coming over to spend his draft year in the USHL and then the last three seasons at the University of Connecticut. After just one game with the Iowa Wild this season, he's apparently on his way back overseas to continue his development in the KHL.
Sounds like Firstov, now 22, was homesick. Playing away from your home country for four years can eventually make you miss your loved ones. He may want to spend time with his family and friends but still play the game he loves. Every NHL player understands what family means to a player's success. General manager Bill Guerin can't let Firstov be the one who got away, who's polished as a prospect since Firstov was taken 42nd overall in the 2019 NHL Entry Draft, in the same year as Matt Boldy. 
Perhaps he would've stayed in North America if he had played in the KHL instead of college hockey. Whatever the case, the years of development have given him time to grow into his frame to showcase his complete skill set. He's ready to take his game to the next level. 
Currently, Firstov is scoring 0.58 points per game in the KHL for his career. That's better than St. Louis Blues' winger Pavel Buchnevich's 0.55 points per game. He's become a legitimate top-six forward for the Blues and a thorn in the Wild. Ilya Mikheyev is a late bloomer for the Vancouver Canucks, who are emerging as one of the league's best teams after years of being a dumpster fire. He's on pace for 30 goals, and did this after a career 0.54 points per game in the KHL. 
With 19 points in 31 games, Firstov is on pace for 0.61 points per game, which compares to Andrei Kuzmenko of the Canucks at the same age (0.53 PPG at age-22). Kuzmenko has made an instant impact since he stepped foot in the NHL, with 42 goals and 87 points in 96 games. Now it looks like the Canucks are headed in the right direction, especially surrounding Elias Pettersson with legitimate talent. Imagine what Guerin can do for Kirill Kaprizov, should he surround Minnesota's star winger with similar young talent.
Firstov had always been known as an above-average scorer everywhere he went when he was drafted. In 2018-19, Firstov scored 0.94 points per game for the Waterloo Blackhawks of the USHL. After scoring 0.68 points per game in his freshman season, he followed it up with 12 points in 13 games as a sophomore in a COVID-shortened season.
But then Firstov saw a decline in production from his draft year. In 2021-22, he regressed back to his freshman scoring rate, just 0.66 points per game. Firstov's production fell again to 0.55 per game in his transition from the NCAA to the KHL. However, the production isn't much of a drop-off, considering the change of leagues. 
It's difficult to say who Firstov will potentially play with. He would look good with anyone because he plays like an NHLer already, and he profiles as a difference-maker, which the Wild can use more of. Firstov also has a good shot, which he loves using in transition. 
Kaprizov and Mats Zuccarello should stay together going forward, with Marco Rossi likely centering the two. If that happens, it'd be interesting if Firstov joins forces with Boldy. Boldy seems to enjoy being a playmaker who finds his linemates in prime shooting positions. Can Firstov be his goal scorer?
While Firstov isn't on the same level as Kevin Fiala, he has the opportunity to be a key clutch contributor. Boldy needs a permanent winger to play with. While Marcus Johansson is currently holding that position, he isn't going to be here long-term. Firstov would be the next player ready to step in. 
Who could play center between them is up in the air, but perhaps that could be Marat Khusnutdinov, who'll decide whether he'll come to Minnesota after his KHL season. Joel Eriksson Ek sounds like an exciting possibility as well. Eriksson Ek plays a dominant forechecking game, which sets him up for scoring opportunities around the net.
Firstov and Eriksson Ek love crashing the net. With Eriksson Ek as the primary net-crasher, it'd be nice to see him paired with another skilled player who's unafraid of contact. Their fearlessness, determination, and ability to create havoc around the net make up for a bright and dynamic duo. Combining Boldy's playmaking style, Eriksson Ek's two-way abilities, and Firstov's youthful energy could make a dangerous trio. 
The future is uncertain at this point. However, the Wild have a prospect ready to make an immediate impact from overseas but with North American experience already. If everything goes according to plan, we could see Firstov meeting or exceeding expectations. 
It'd be refreshing to see Firstov showing his worth with Khusnutdinov possibly coming over. Will Danila Yurov come following as well after being ranked in the Top 50? It's hard to say. Guerin should be intrigued by the thought of Yurov playing with Johansson next season. Let's not forget Liam Öhgren, who's also expected to fight for a roster spot next year. Can Öhgren make someone like Freddy Gaudreau expendable? More skill with Ryan Hartman and Marcus Foligno. Rolling four lines.   
Next season, 34% of the Wild's roster will be at least 30 years old. The Wild should be done extending more veterans just because they like it here. The Wild don't have to change their "grit first" slogan. But it should be something like "skill first" followed by grittiness. They should welcome the next wave of skill instead of worrying about losing someone because of their personality. That means Pat Maroon and Zach Bogosian will need to find new teams. 
Also, two more forward spots will be free because Connor Dewar and Brandon Duhaime should be free agents. While they have played a critical bottom-six role and become fan favorites, neither has real top-six upside. Same goes for Vinni Lettieri. When injuries occur, you need players worthy of playing in the top-six. Hartman is a good example, but these prospects should be better players than Hartman. 
Firstov, Khusnutdinov, Yurov, and possibly Öhgren have higher ceilings, which should give Kaprizov and Boldy a break. Not to mention, each of them possesses a measure of grittiness and is already well-rounded. It's time to start marrying talent to the current roster, and they can start with Firstov. 
3