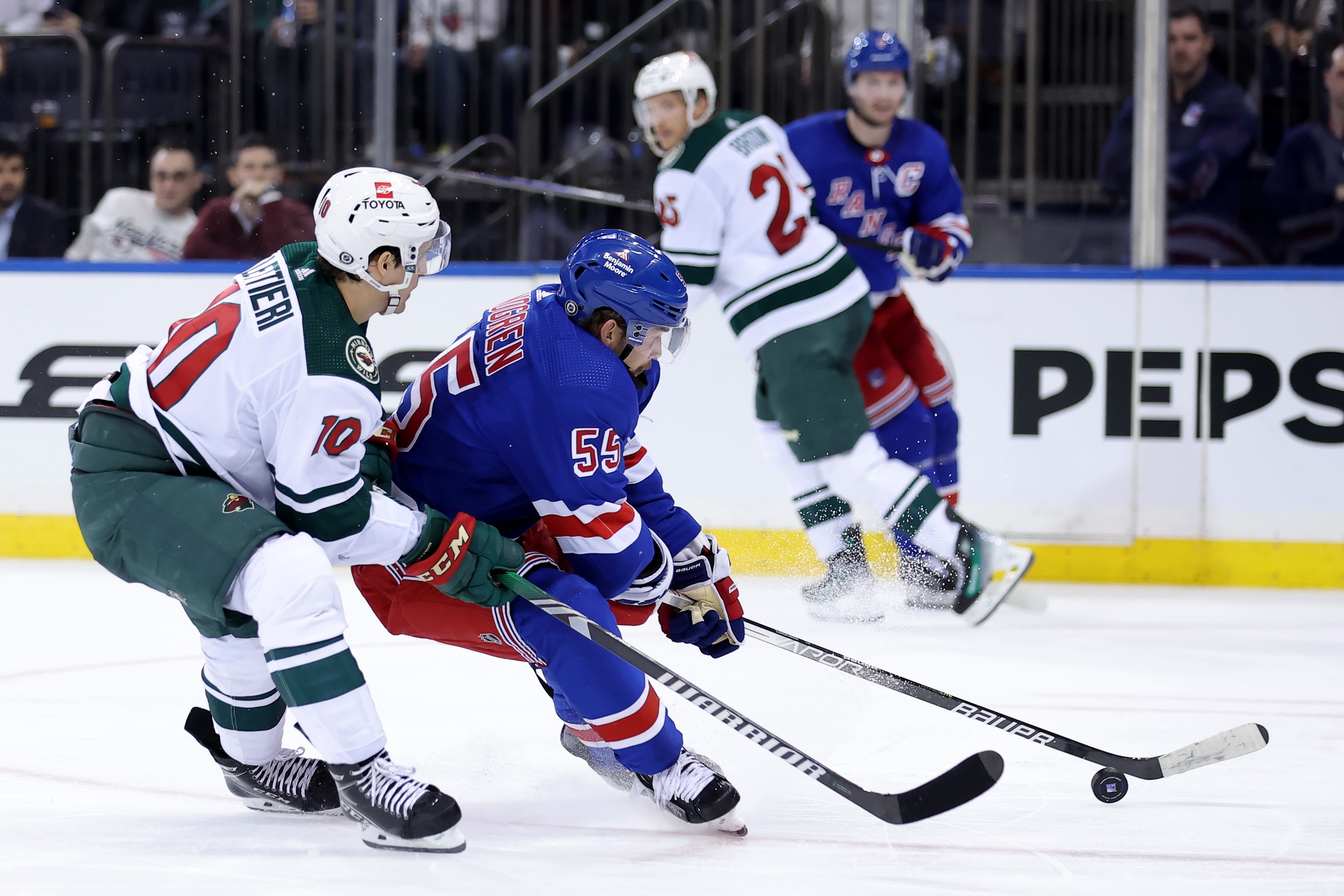 Image courtesy of © Brad Penner-USA TODAY Sports
The Minnesota Wild showed two different teams against the New York Rangers on Thursday night. To start the visit to Madison Square Garden, the Wild stumbled and fell flat on their face, having just two shots on goal to the Ranger's 14. It wasn't just being unable to hit the net, since they had registered just 10 shot attempts during that first 20 minutes as well.
It was rough. Simply put, they were lucky to be just down by one single goal. On their heels, the Wild came roaring back and earned the second-period lead in shots on goal, 15-3. That surge of play caused them to score the equalizing goal and head into the final period tied 1-1. 
Well, and then the Rangers scored three more goals in a very evenly played 20 minutes and we just have to shrug and say that's hockey.
On the goal that put the nail in the Wild's coffin, Brock Faber made a brutal read that caused him to pinch way too late and New York finished the job. After the game, he took responsibility but it wasn't really justified, the entire team played like trash for the majority of the game and that is what finished them, not one single bad play.
From game to game, we never know what Wild team is going to show up. They will either look very good and work hard to win the game, or just roll over and get stomped all over by their opponent. This might be the theme of the season.
That's Wild
More on Faber falling on the sword as the Wild lose 4-1 to the Rangers. [Pioneer Press]
Acquiring Zach Bogosian is GM Bill Guerin doubling down on the grit factor. [Hockey Wilderness]
Getting super detailed analysis from your favorite Minnesota Wild blog is one thing, but it's always interesting to see what some national coverage thinks about a trade your team makes. Anyways, here's apparently what the Wild gave up in Addison and are getting in Bogosian. [Sportsnet]
Off the trail...
The Vancouver Canucks are unstoppable. Yes, these percentages are crazy and they are riding a wave, but they are trouncing all over their opponent, like they did in Ottawa. [Yahoo Sports]
Connor Bedard got his first four-point night of his NHL career on Thursday night. Hooray, we're so happy for him. Obviously full of joy, and all that stuff. [NBC Sports]
On Thanksgiving Eve, the Detroit Red Wings are handing out branded Zamboni gravy boats. We are so jealous. [NHL dot com]