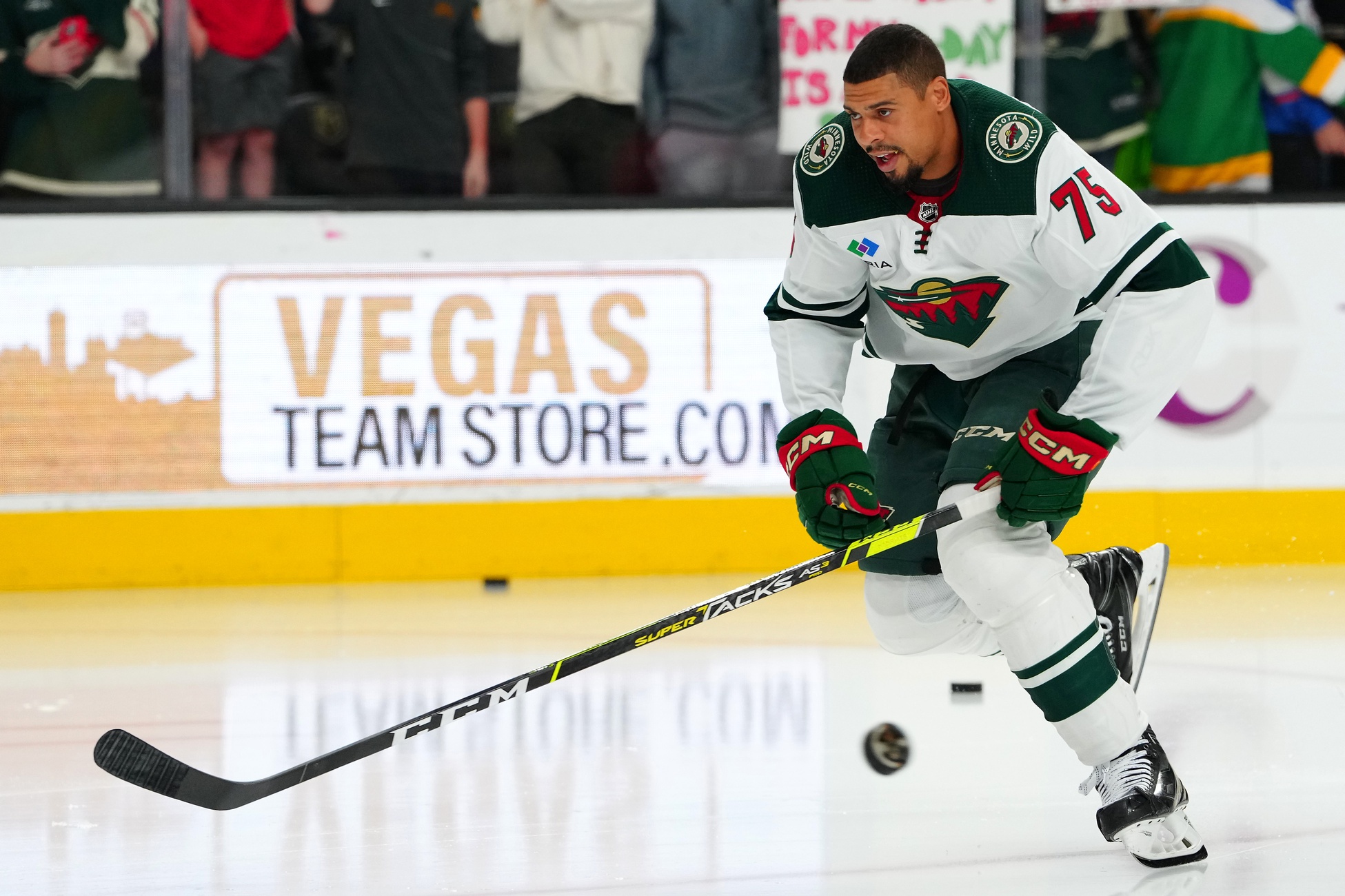 Image courtesy of © Stephen R. Sylvanie-USA TODAY Sports
Your daily dose of Wild news, along with other interesting stories from around the NHL.
That's Wild
It's no secret that Ryan Reaves enjoyed his time here with the Minnesota Wild, so it would make sense when The Athletic would report that both the team and the player are interested in a new contract, possibly before he hits unrestricted free agency on July 1.
Quote

"We expect him to be back unless Reaves thinks he can get more money or term via free agency. Guerin has been clear that he wants to bring Reaves back, so he's a priority to re-sign and maybe soon. Guerin feels that Reaves' alpha personality and presence in the room is needed, especially with Dumba expected to leave. And Guerin does think Reaves' physical presence on the ice is valuable, that he's "elite" in that category, even if he only plays 10 minutes and doesn't score much or play special teams. So, while Reaves could be considered a specialist, what he does well is enough for the Wild to want him back. We'd be careful, though, especially in giving Reaves a multi-year term, which is what the veteran wants. The Wild don't have enough cap space to make mistakes with their commitments, even if it's on a $1 million AAV. We agree that the money could be spent more wisely." -- The Athletic
The 2023 NHL Entry Draft is coming up and the Wild's top pick will be at 21st overall. So, what should we expect with that selection? [Hockey Wilderness]
Off the trail...
The city of Tempe had a vote on a potential new arena plan for the Arizona Coyotes on Tuesday night. It was rejected and now the Coyotes might not have a home after their stay at Mullett Arena is up. This doesn't look too good for the longevity of this organization.
The NHL right now is just the four remaining hockey teams still playing hockey and then a bunch of financial stuff. Monday's deadline to submit bids for the Ottawa Senators came and went and it looks like there are four parties remaining after Ryan Reynolds and the people he teamed up with were booted out.
We got an all-southern conference finals for the first time with the Florida Panthers, Carolina Hurricanes, Dallas Stars, and Vegas Golden Knights. Hockey feels so far away from us. [NBC Sports]