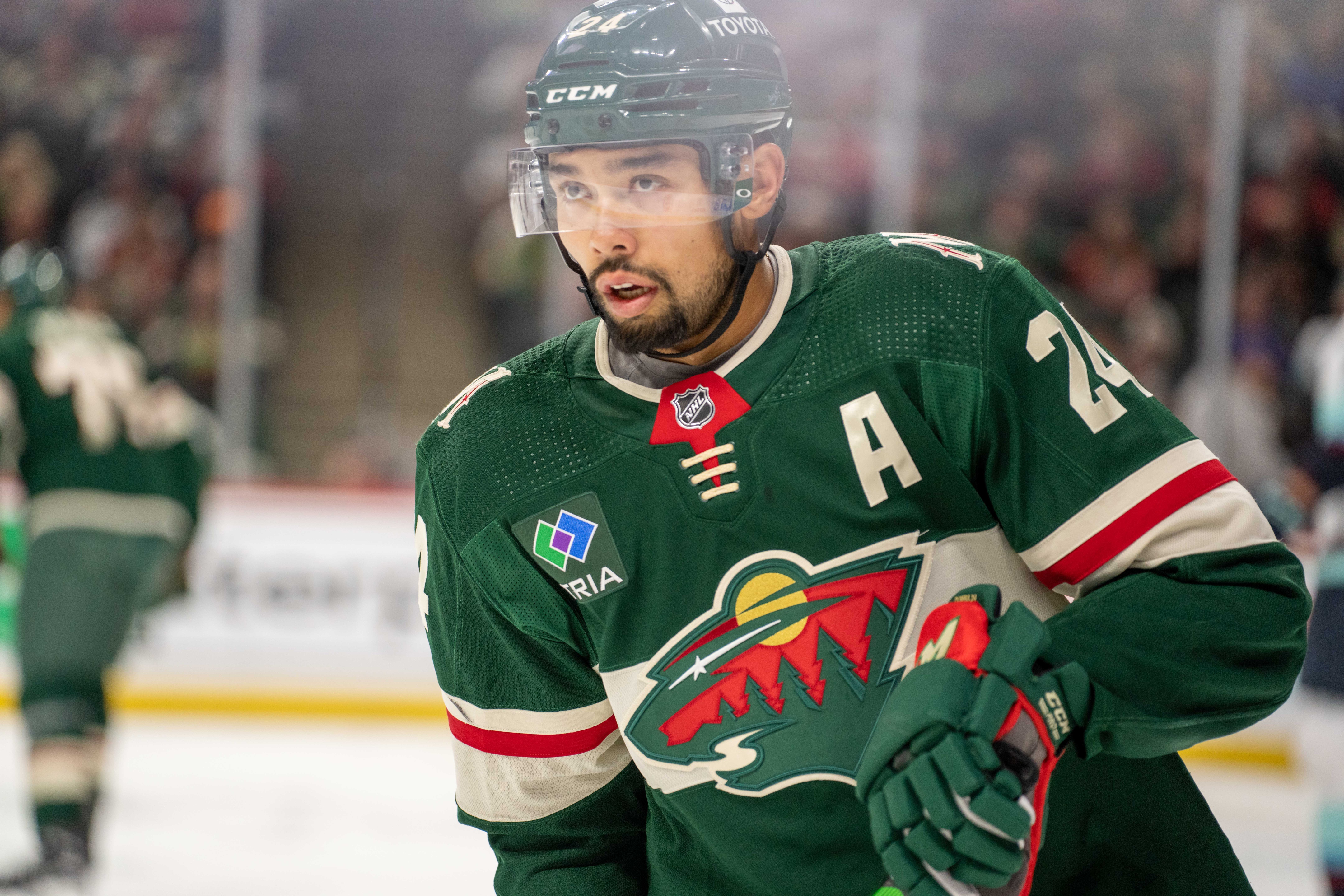 Image courtesy of © Matt Blewett-USA TODAY Sports
Your daily dose of Wild news, along with other interesting stories from around the NHL.
No, we won't be talking about the hit he laid out on Joe Pavelski.
Throughout this season, it has become clear that this is most likely going to be the last season Matt Dumba plays as a member of the Minnesota Wild, the team that drafted him 11 years ago. The prospects are too good and ready, and Dumba deserves a bigger contract than what the Wild could afford to give him so it is just a mutual understanding as to why this is happening. Because it sure isn't a performance-based decision.
Dumba has had his lapses this season, but through the last two to three months, the blueliner has been as good as anyone. Still being that physical presence on the ice but is looking calmer and more collected and balanced his play out. Even in Game 1 on Monday against the Dallas Stars, it might have been his best performance in a Wild sweater all season long.
For the 38 minutes and 31 seconds that Dumba was on the ice on Monday, he just felt in control of the game and was able to keep that energy of being incredibly physical but protective of the puck when the Wild were in possession as well. The numbers don't look all that great -- his on-ice contributions are either just below 50% or just above in almost every category, so, average -- but he looked like a revitalized player.
And he will need to keep those feet moving as the Wild head into Game 2 on Wednesday night. They have an incredible opportunity to start 2-0 on the road before they even see St. Paul. 
As for who is available to play, head coach Dean Evason gave Joel Eriksson Ek a rest day as he is recovering from his leg injury, but has been skating the past few days. Filip Gustavsson will probably be going again, despite playing in the longest Wild game ever. And there is something up with John Klingberg, and because of Jon Merrill's performance it could be either Klingberg, Merrill, or Alex Goligoski slotting in on the bottom pairing next to Brock Faber on Wednesday.
That's Wild
Brock Faber has been something else in his first three NHL games. Despite his first two coming in virtual exhibition matches, he has continued to play up to an impressive level now into the playoffs. He shouldn't really be possible to do all of that at this stage. [Hockey Wilderness]
After having his controversial hit knock Joe Pavelski potentially out of Game 2, Matt Dumba is ready to get showered with boos during Game 2 in Dallas. He is going to "love it." [StarTribune]
Game 1 on Monday was the longest Wild game in history. So, what fueled the team during those rare breaks? Well it looks like a fairly basic menu. [Pioneer Press]
Off the trail...
A hot goaltender is sometimes all you need to take you all the way to the Stanley Cup (hello, the St. Louis Blues), so it's worth noting which teams have the goalies most likely to carry them. [Sportsnet]
Non-playoff teams are cleaning up house before the summer. Penguins fired GM Ron Hextall, a bunch of teams are parting ways with their coaches, and most recently the Calgary Flames will not be bringing back GM Brad Treliving. [NBC Sports]