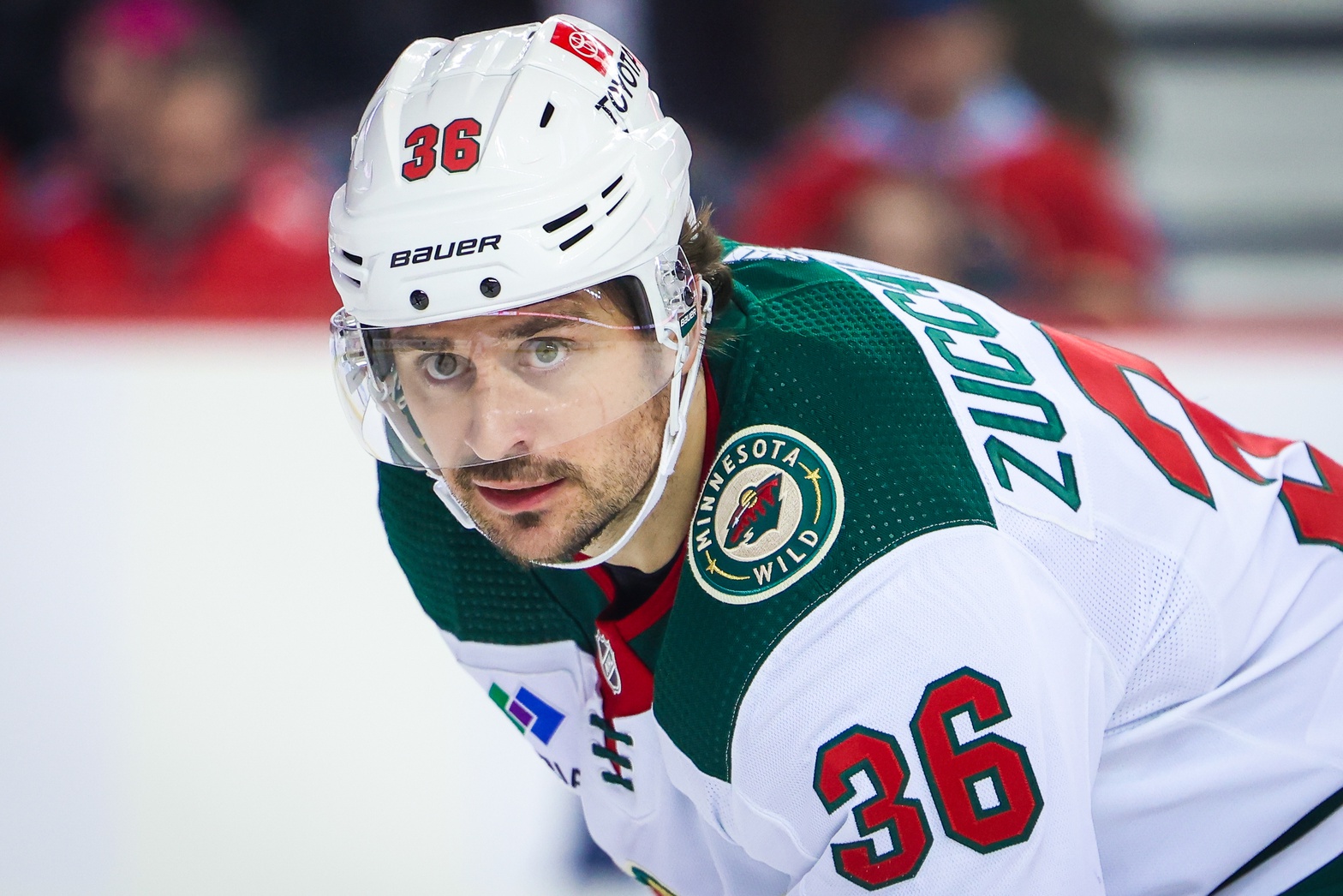 Image courtesy of Sergei Belski-USA TODAY Sports
One rule I've lived my life by is that you do not, under any circumstances, "gotta hand it to" Paul Fenton, the Minnesota Wild's former general manager. His mercurial shenanigans are the stuff of legend now, and was the biggest reason for his abbreviated reign.
But another reason had to be the fact that his moves were extremely unpopular and looked like disasters. With a team that missed the playoffs and had one foot in rebuild mode, and another in trying to contend well past the expiration date of the Mikko Koivu/Zach Parise/Ryan Suter/Eric Staal core, it's a tough sell.
If you can say anything about Fenton (and again, you do not "gotta hand it to" him), he seemed to have a knack for making moves that looked like fiascos, only to narrowly avert becoming major disasters. After a rocky start for Kevin Fiala's Wild career, he blew up. Matt Boldy also started slow at Boston College, and that's turned out great. But maybe no greater example of this exists than Mats Zuccarello.
Zuccarello, then 32-years-old, signed a five-year, $30 million deal with the Wild on July 1, 2019. It was too much money for too many years for a player who started the deal in his 30s. That sounds like a criticism, but most free-agent deals are, by definition, going to be this way. It's the Winner's Curse. Most GMs are going to sign deals like that, and they'll do so knowing, on some level, the end is probably going to be someone else's problem.
In this case, that was true to the extreme. Fenton lasted 29 days -- not games. Days. -- into Zuccarello's Wild tenure. Right away, it was Bill Guerin's problem, and it looked like a problem from Day 30. Year 1 of the deal saw Zuccarello drop from scoring 40 points in 48 games during his contract year to only 37 in 65 games. Considering the way these contracts tend to get worse as they go along: Woof.
But we know what happened next, this deal suddenly became fine, maybe even good. Zuccarello exploded for 181 points in 190 games over the next three years, improbably matching or exceeding his previous career-high in points per game during each campaign. Of course, superstar Kirill Kaprizov's presence is a factor, but Zuccarello clearly helped maximize his linemate's potential. 
Imagining the Wild wanting to extend Zuccarello seemed like a far-fetched scenario. Credit to the soon-to-be-36-year-old, though, he's put the Wild in a spot where they've got to consider it.
Like it or not, the Wild don't have many players in their history who can put up points like Zuccarello. His career scoring average with the team is currently 0.85 points per game. Forget for their Wild careers -- how many players in franchise history have done that for even a single season? Only ten. 
Scoring has gone up league-wide over the past two years. But still, Zuccarello finished tied for 63rd in scoring with 78 points last year, tied with Sebastian Aho, Logan Couture, Sam Reinhart, and Brad Marchand. It's not like Minnesota has much offense to spare, either. They were in the bottom-10 in goals scored last year. Maybe it's wise to part with Zuccarello entering his age-37 season. If the Wild do, though, make no mistake, they have to replace his offensive contributions.
Unless they want to pay the freight to keep him, but what would that cost? Evolving-Hockey's Contract Projections project an extension coming in at three years and a $7.1 million cap hit if it were signed today.
You might feel some sticker shock. That Average Annual Value (AAV) is more than, say, rising star Matt Boldy. Adjusting for inflation in a world with a soon-to-be-rising cap, though, it's in line with recent deals with aging, high-scoring vets like Claude Giroux (signed 3-year, $6.5 AAV deal in 2022) and Evgeni Malkin (4-year, $6.1 AAV contract in 2022).
There's no chance that Zuccarello could deliver that kind of value from ages 37-39, right?
Right?
It's a silly thing to bet your life savings on, for sure. But the thing is, Zuccarello's already an outlier. Since the salary cap era started, he's eighth among players in terms of points per game from ages 33 to 35 with 0.95 over the past three years. Using a 100-game minimum, only 17 players* have even scored 0.80 points per game at those ages.
What did those players do at ages 37-39? For many, we have no idea, as folks like Sidney Crosby, Marchand, Giroux, etc. have yet to reach those ages. But for the outliers for which we have any data, we can take a look at how much their scoring held up in their golden years.

Let's get this out of the way: It's an imperfect sample size made up entirely of guys who aged way better than anyone would expect. But it's what we've got. The average rate of decline among these guys sits at around 26-30%, depending on whether you want to throw out the ageless Ovechkin, all the part-time samples, or leave everything in.
What does that look like for Zuccarello, potentially? We'll have to account for age here. Production is going to generally be higher at age-37 than 38, and age-38 production should be higher than 39. There's a lot survivorship bias and even more sample size issues at play, but by year, these are the average declines from these outliers compared to their ages-33-through-35 production:
Age-37: 19.2%
Age-38: 28.4%
Age-39: 39.8%
We'll assume Zuccarello is a "survivor." It's far from a slam dunk, but if he isn't, the Wild should be able to make his cap hit disappear via LTIR. Here's our guess of these totals for Zuccarello over 70-game seasons, should he maintain a similar role for all that time:
Age-37: 54 points
Age-38: 48 points
Age-39: 40 points
That's shockingly solid for an oldster. But go back to that qualifier: "should he maintain a similar role." We're talking about a top-line, first-power play unit player that's stapled to a superstar, all while making around $7 million. A player in that role should probably do at least that, especially toward the tail end of that extension.
It's not like the Wild can't backfill his role with high-end prospects, either. Zuccarello might be able to out-produce Minnesota's next wave of youngsters in 2024-25, but after that? If none of a 24-year-old Marco Rossi, a 23-year-old Marat Khusnutdinov, or 22-year-olds in Danila Yurov and Liam Öhgren can't ride the Kaprizov wave to 50 points, the Wild have bigger problems than even the best-case scenario of Zuccarello's twilight years can solve.
You can talk yourself into giving Zuccarello an extension, especially with another productive year. He probably deserves it based on the merits of what he's accomplished in a Wild sweater. That's so much more than anything you could hope to say on Day 1 of his contract. But if Minnesota is going to bet big on something, betting that there's a diamond among their prospects feels like much less risk for a lot more reward than doubling down on Zuccarello. 
*Kovalev's age-33 production came in 2006-07 and drops him below the 0.85 PPG cut-off.
All data via Stathead and Evolving-Hockey.
3