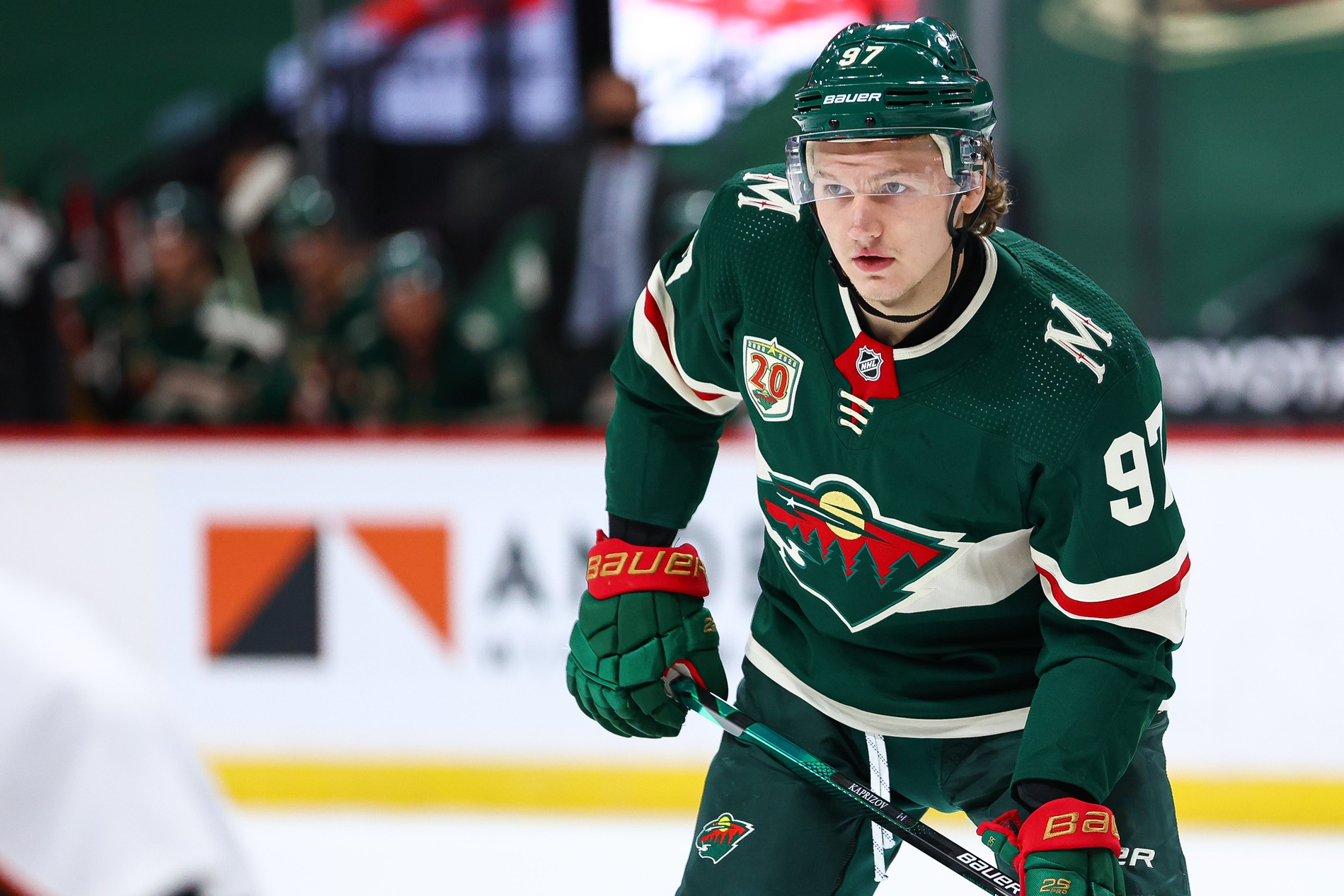 You might think you have a handle on how good Kirill Kaprizov after watching him for 55 games. After all, the State of Hockey just witnessed a season where he smashed every Minnesota Wild rookie record. They saw him cruise to an all-but-certain Calder Trophy victory with 27 goals and 51 points.
Wild fans know that Kaprizov's impact wasn't just limited to his gaudy point totals. He also has an "it" factor. That knack for making the spectacular appear out of nowhere. Kaprizov's scored so many big goals for Minnesota this season that it's more surprising when he doesn't come through. No Wild player had ever had this type of magic before. Not Marian Gaborik. Not Mikko Koivu. Not Zach Parise. Not even Kevin Fiala.
The Minnesota faithful also knows that Kaprizov put up those numbers despite some obstacles hindering him. Kaprizov spent over half his 5-on-5 time on ice with Victor Rask as his center. The Wild's power-play shot an absurdly low 3.4% with him on the ice in his first 34 games. To post nearly a point-per-game as a rookie is astounding under those circumstances.
Even if you know all that and you still think you know how good Kirill Kaprizov is, you're wrong.
He's even better than you think. Kaprizov's season wasn't just enough to walk away with the Calder; it was worthy of being a Hart Trophy finalist. His season was one of the best in recent memory by a rookie, yes. It was also one of the most dominant performances by any under-24 player in the NHL in the last 15 years. Kaprizov didn't merely hit the ground running as a bonafide star. He's on a Hall of Fame trajectory.
Yeah. That's how good he is.
First, let's examine how good Kaprizov was as a rookie. Taking Kaprizov's totals into per-game averages, he had 0.49 goals and 0.93 points per game this season. Here's every rookie since 2005-06 who matched or exceeded that 0.93 points per game average (minimum 45 games):
Alex Ovechkin 1.31
Sidney Crosby 1.26
Evgeni Malkin 1.09
Connor McDavid 1.07
Mathew Barzal 1.04
Artemi Panarin 0.96
Paul Stastny 0.95
KIRILL KAPRIZOV 0.93
Elias Pettersson 0.93
When the very worst comparable to Kaprizov here is Stastny, a bonafide top-line forward for a decade, that's encouraging. Everyone else on this list either has won an MVP or are young players that could conceivably win one in the future.
We'd filter this list to players who averaged 0.49 goals and 0.93 points per game since 2005-06, but that's just Ovechkin. Going back to 1984-85, before high-flying 80s hockey really screws up the numbers, only seven players matched or bested Kaprizov. They are Ovechkin, Teemu Selanne, Eric Lindros, Joe Nieuwendyk, Brett Hull, Luc Robitaille, and Mario Lemieux. All of them are Hall of Famers.
Even if you, dear reader, are one of the knobs who cry out "Not a rookie!" whenever confronted by Kaprizov's mighty feats, you can be assured that this is one of the best seasons for his age group in recent history.
Kaprizov is one of 26 under-24 players since 2005-06 to score 0.49 points per game and 0.93 points per game. You can read the complete list, but it's a mix of the best up-and-coming players, perennial 40-goal scorers, and Hart Trophy nominees. Hell, the worst player on this list is probably Alexander Semin, who still scored 35 goals and 74 points per 82 games through his 20s.
Obviously, Kaprizov's career will have to play out before we see where he falls on the Semin-to-Crosby scale. But we can say with confidence that he is indeed on that spectrum. If his underlying numbers from this year are any indication, he may be very high.
Specifically, we're using Evolving Hockey's Expected Standings Points Above Replacement. It takes a player's performance — based on offense, defense, and penalty differential — strips out shooting percentage-driven luck, and tells us how many points in the standings that performance is expected to be worth.
Kaprizov's xSPAR this season is 6.6, fourth in the NHL behind Auston Matthews, McDavid, and Mikko Rantanen. Add that with Kaprizov's litany of clutch goals and sprinkle some "Most Valuable to His Team" magic, and that's a hell of a Hart Trophy case.
Much like with his points, the shortened season makes his raw total xSPAR look less impressive than it is. To put it on an even playing field, we're going to take every forward under-24 who played 800-plus minutes in a season since 2007-08, and sort their xSPAR by a per-hour rate.
Kaprizov's play was worth 0.39 standings points per hour, which is 15th among qualifying seasons. The players who bested him? Matthews, Crosby, McDavid, Ovechkin, Rantanen, Bobby Ryan, David Pastrnak, Steven Stamkos, Vladimir Tarasenko, and Jakub Voracek. Former Hart finalists make up 50% of this list, with Pastrnak finishing fourth a year ago. That's damn good.
Whether you want to use the eye test, points, or advanced metrics, they all agree here. Kaprizov stepped into the NHL and immediately emerged as a superstar. He's, at the very worst, a borderline MVP candidate in only his first season. And while "Hall of Famer" is a heavy phrase to use about a kid who just turned 24, it's hard to get a better first step towards the Hall than the one Kaprizov took.
Now you know how good Kaprizov is. Enjoy the next decade.