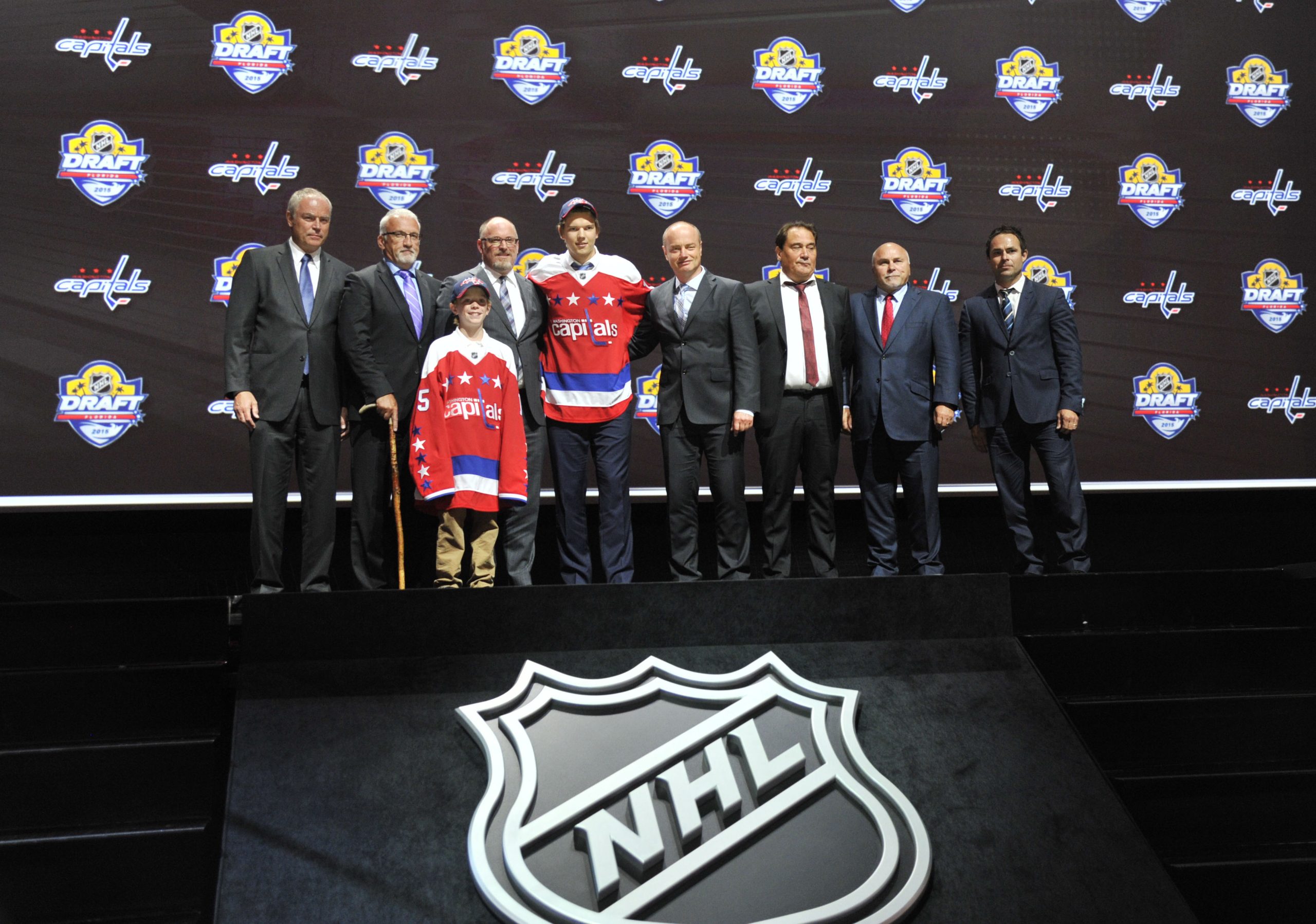 With a pretty barren prospect cupboard, Paul Fenton can go just about any way he so chooses in the upcoming NHL Draft. Last year, Fenton put a strong emphasis on forwards outside of his first-round pick – used on defenseman Filip Johansson – and those forwards came with high offensive potential. Something the Wild are lacking.
Minnesota holds the 12th overall pick in the first round Friday, which is the highest pick they have had since they drafted Matt Dumba 7th overall in 2012. There are forwards, defenseman, and even one goalie who are all projected in the area of where the Wild pick, so again, Fenton will have his pick of what position he wants to draft. There are still needs everywhere.
But let's talk about that goalie.
Spencer Knight comes into this draft highly regarded and could be one of the highest goalies taken this decade. Scouts have raved about his quickness, position and poise. Mock drafts have him going from anywhere from in the high teens to the end of the first round.
https://twitter.com/HPC_YT/status/989515980467589120
It's a bit of a crapshoot when it comes to goalies. They have fallen lower and lower in the draft in recent memory due to their uncertainty and longer development needed to rise up the ranks up to the NHL. There are some exceptions, but for the most part goalies, generally, are not taken before the second round.
Is there a reasonable chance the Wild could take Knight with the 12th overall pick? Sure. But does history give a hint at if they would? Let's take a look.
In the history of the Minnesota Wild, no first-round pick has ever been used on a goalie. The highest goalie drafted was in 2002 when they took Josh Harding in the second round with the 38th overall pick. More recently in the last 10 years, the Wild's highest goaltender selected was Matt Hackett (2009, third round, 77th overall) followed by current prospect Kaapo Kahkonen (fourth round, 109th overall). Kahkonen is just about the only goalie – and maybe recent signing Mat Robson – that the Wild have in the pipeline, which is fueling this discussion on drafting Knight.
Current general manager Paul Fenton led the Nashville Predators draft table from 2003-17. He selected a goaltender just once out of the 12 first-round picks he had in that time. That was in 2008 when Chet Pickard was drafted 18th overall, but he never made it to the NHL.
Fenton told The Athletic last week that he feels he will get a good player at 12, whether that is a forward, defenseman or goalie. He has also stated he will go with the best player available on their board at 12, and if the cards fall the right way that could be Knight depending on how high the Wild view him.
There is also expected to be a plethora of great skaters available when the Wild draft at 12 – a pick where there has never been a goalie selected – so they could easily go a different route. But the key here is the Wild do not have a long-term plan in goal.
Devan Dubnyk's contract has just two years left, and at the age of 33 he could begin to show signs of regression in those final two years. Alex Stalock begins his two-year extension this year to coincide with Dubnyk's contract expiration but is not viewed as a viable option in goal at the age of 32 when next season begins.
As mentioned before, Kahkonen is an option for the Wild as he comes off his first full season in Iowa where he posted a .908 save percentage while sharing the goal with Andrew Hammond. But if Kahkonen cannot pan out, the only other hope is former University of Minnesota goaltender Mat Robson, who signed with Minnesota in March. Otherwise, the Wild are incredibly thin at goaltender if neither of them works out.
That is why Knight could further be an appealing option for the Wild. They simply have to start considering a long-term plan for the goal. If they pass on Knight in round one, the Wild have picks in every other round of the draft – the first time they have had rounds one through three since 2012 – where they could select a goalie in what is considered a deep goalie draft.
They could easily address the need in rounds two or three, which is where the top goaltenders in the draft have been going in recent years.
Whatever the case may be, the Wild have a definitive need in goal for the long term and could very well start taking goalies much earlier in the draft. If it's the right situation on Friday, they could make a franchise first and take one with the 12th overall pick.
---
Never Miss an Episode of Giles & The Goalie!
http://zonecoverage.com/wp-content/uploads/2016/05/itunes.jpghttp://zonecoverage.com/wp-content/uploads/2017/05/Podcast-header-Image-City-1.jpg