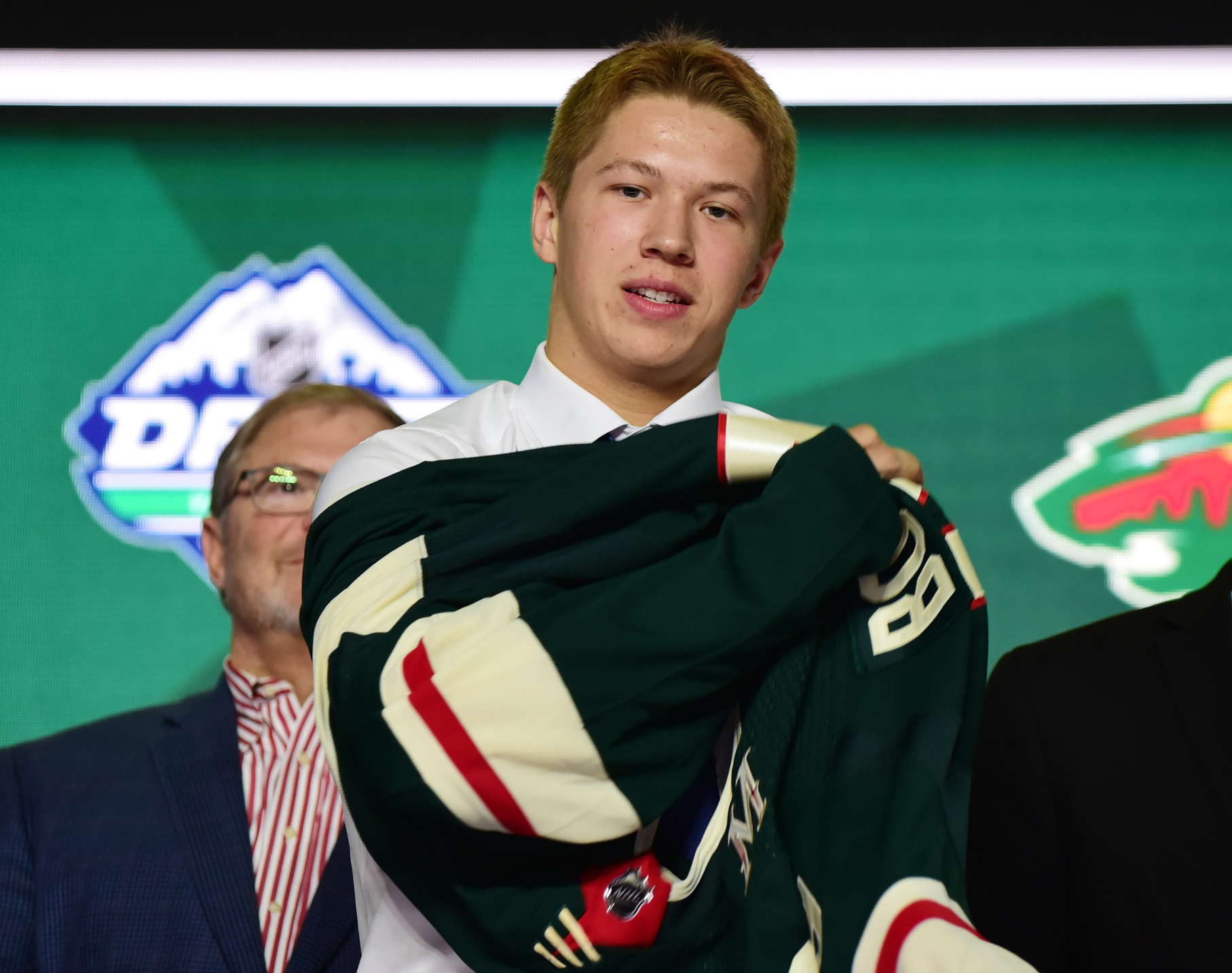 Matt Boldy's arrival was highly anticipated even before his Boston College team was eliminated from the NCAA Tournament. Some were uncertain if the highly touted offensive prospect would decide to sign with the Minnesota Wild, who took him 12th overall in 2019, now or wait for another year of college. Once the Eagles were eliminated from the tournament ahead of the Frozen Four, he made up his mind to go pro.
Boldy signed with the Wild on March 31 and, after a short quarantine, is set to join the Iowa Wild in early April. While much of the focus was on college free agents near the end of March, it has now shifted to the trade deadline on April 12. With Boldy's arrival, many fans have bright visions of what he can bring to Minnesota. Will his presence affect how the team operates at the trade deadline, which is less than a week away?
The Wild are almost certainly going to make the playoffs this season, which would position them as buyers at the deadline. But they could stand pat and let the deadline pass by without making any moves. There's also a case to be made the team should take a chance on Boldy's promise and trade a forward on an expiring deal in exchange for future assets.
Here's why the Wild could go either way:
Elevate Boldy, Trade a Player
If Bill Guerin doesn't believe this year's team is a true contender, he could consider moving some of the pieces he knows might not be part of the franchise's future. Marcus Johansson missed significant time in the middle of this season, and it didn't affect the Wild. After coming out of the COVID pause, Minnesota has been the best team in the NHL.
Johansson missed many of those games, making him more expendable on an already overachieving roster. He has scored four goals and six points in 18 games this season and has had trouble fitting in on a line, a problem for many of the Wild forwards this season. A team could be interested in Johansson because of his track record as a scoring forward with the Washington Capitals, New Jersey Devils, and Boston Bruins. Plus, he's historically been a playoff performer.
Marcus Johansson NHL Playoffs career statistics
Scoring
Goals
Shots
Ice Time
Season
Age
Tm
Lg
GP
G
A
PTS
+/-
PIM
EV
PP
SH
GW
S
S%
TSA
TOI
ATOI
FOW
FOL
FO%
BLK
HIT
TK
GV
Career
8 yrs
NHL
94
13
28
41
-14
6
9
4
0
3
155
8.4
296
1620
17:14
68
104
39.5
35
136
44
43
2015-16
25
WSH
NHL
12
2
5
7
-2
2
0
2
0
0
25
8.0
35
200
16:41
5
18
21.7
8
19
5
3
2016-17
26
WSH
NHL
13
2
6
8
-1
2
2
0
0
1
23
8.7
57
253
19:30
1
3
25.0
2
29
3
6
2017-18
27
NJD
NHL
3
0
0
0
-2
0
0
0
0
0
4
0.0
6
53
17:31
1
1
50.0
0
5
3
2
2018-19
28
BOS
NHL
22
4
7
11
0
0
2
2
0
1
36
11.1
67
308
14:01
7
6
53.8
6
15
13
4
If Guerin isn't convinced the team can make a meaningful run and thinks it's best to plan for the longer-term future, he could elevate Boldy to take Johansson's place and try to get what he can in return for the veteran forward.
Keep Boldy in Iowa, Don't Make a Move
This is more likely. And it's what should happen. Teams often rush a player to the NHL when he is not ready, stunting his development. If Boldy looks particularly outstanding in Iowa, let him develop. Then get to next season when he can make a good impression out of camp and prove he's ready for the NHL rather than force him into the role.
The Wild didn't pressure Boldy to sign right now. But if they are too insistent on playing him in a role he's not capable of yet, it could severely hurt his chances at becoming a great NHL player.
If they plan on contending this year, more depth in the lineup couldn't possibly hurt. Johansson, as shown above, has performed well in the playoffs. Even if he doesn't fit in now, there's a chance he could contribute later on in the season and playoffs. Also, if Boldy proves to be NHL-ready in Iowa, the team can call him up for depth come playoff time.
Minnesota could bank on Boldy's presence in two ways. One tries to squeeze value out of a piece likely soon to depart anyways, but the other is a safer bet for this season and beyond.