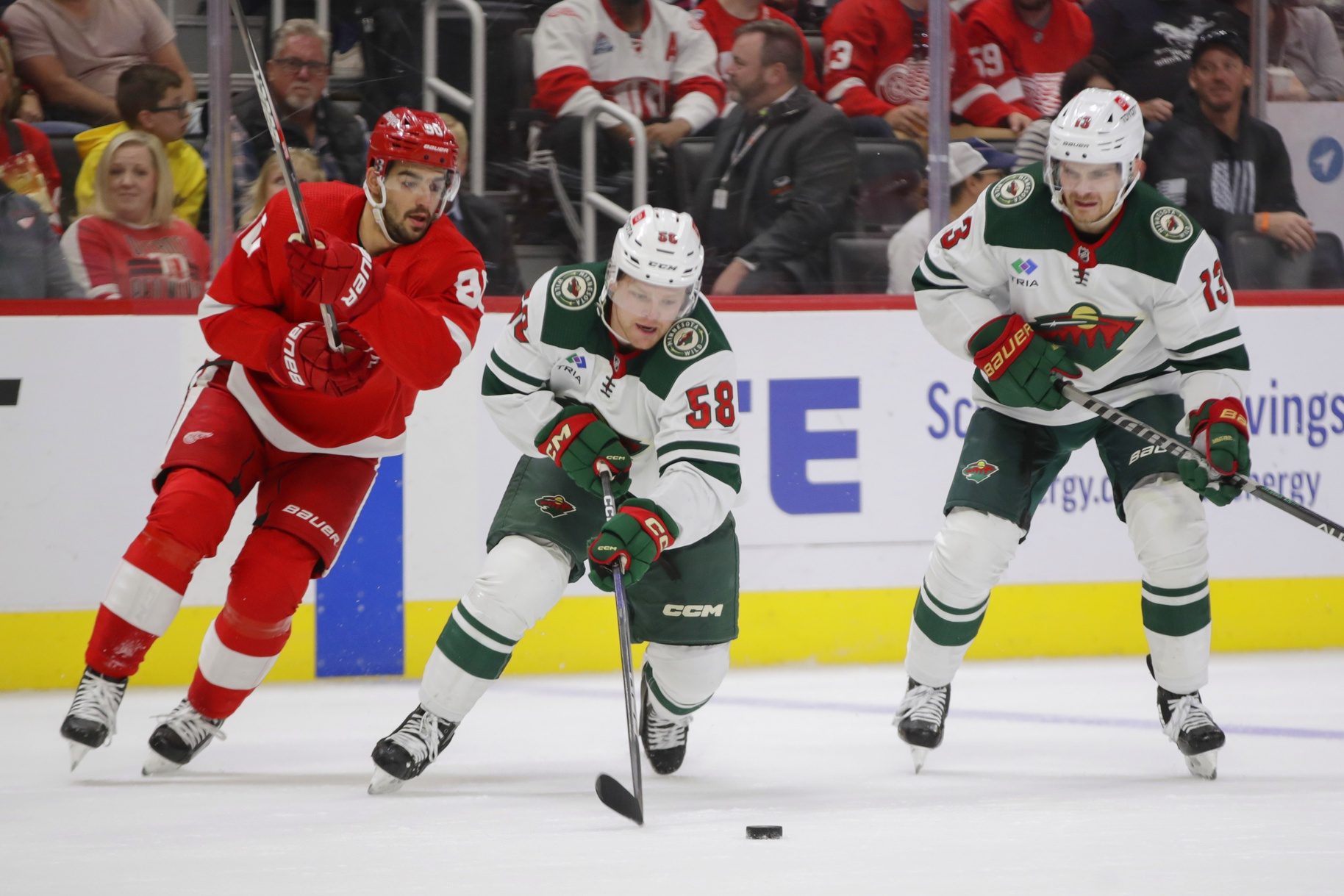 When the Minnesota Wild were at full strength, there wasn't room for Mason Shaw. The Iowa Wild captain has been through a trying journey and has played well enough to be one of the team's first injury call-ups. And why not? He earned it by being one of Iowa's best players with a 51-point season, then a strong training camp.
Now he has graduated to the NHL. Shaw has already shown off his work ethic and ability to chip in on offense to provide secondary scoring in the Bottom-6. Not to mention, he's providing some defensive responsibility and snarl, which coach Dean Evason likes.
Shaw is making a name for himself. Don't expect him to be a star player in the NHL by any means, but when you are a well-rounded player who packs tons of heart and grit, you are built to succeed in the NHL. You can say Shaw's a Bottom-6 version of Zach Parise, because of his all-out style as a 5'9" player and his sneaky skill. That kind of player can stay in your lineup for quite a while.
Coming back from three ACL tears has the potential to become a great storyline for Shaw. Talk about facing so much adversity. While many bad breaks hindered his development, Shaw has taken the opportunity to develop nicely into one of Iowa's most productive players. And now, he's outshining some Wild regulars, too.
Let's see the impact Shaw's making compared to, say, Tyson Jost and Sam Steel. Remember, they were supposed to audition to play with Matt Boldy. Now, Shaw has filled that role. In Monday's practice, he, and not Steel or Jost, will try giving Marco Rossi a boost on the third line.
Remember, Shaw has played 70 minutes this season in all situations, compared to Jost's 126 minutes and Steel's 122 minutes. But it's Shaw showing he deserves the most ice time. In all aspects of 5-on-5 play, Shaw is outshining those two. Take a look at the way they've controlled the game.
[caption id=attachment_137724" align="alignnone" width="1926]

Credit: Natural Stat Trick[/caption]
Shaw's showing to be on a different level than Jost and Steel. In every category you can think of, he has led the way despite half the minutes and fewer games played than the other two. Sure, you can say someone like Boldy has something to do with that. However, Steel and Jost have both played with Boldy and failed to stick. Shaw's showing up every shift to make sure he continues to thrive with Boldy. And his chances of clicking with a center like Rossi, who he is familiar with from last year, looks good right now.
So far, it seems like Jost and Steel are allergic to playing in the crease, but Shaw's proven he's not afraid to go to the dirty areas. He's done his part to generate scoring opportunities and is also creating offense in the high slot. Jost has been completely outmatched, which is why he isn't effective at generating offense when it really matters. Shaw's five high-danger scoring chances (tied for seventh on the team in just 65 5-on-5 minutes) are not the result of pure skill but the hard work that comes behind it. Shaw's simply a different breed of toughness, and it shows.
Of course, expect his 20% shooting percentage to regress, but honestly, Shaw should still be a positive factor in goal generation. He's firing 9.3 shots per hour right now, much higher than Jost (5.5) and Steel (3.7). There's no comparison. When the Wild start getting healthy, a process that's already started with Jordan Greenway's expected return on Tuesday, you'll probably see Shaw continuing to get ice time, and he won't look back. So where does that leave Steel and Jost?
I can't imagine players like Connor Dewar and Brandon Duhaime (once he returns) being sidelined for the likes of Jost and Steel. Evason absolutely adores Duhaime's and Dewar's friendship, not to mention the hard-nosed way they play. Wild fans are taking a liking to their chemistry as well. Marcus Foligno will never sit on an Evason team, so he's a shoo-in once he returns. Ryan Hartman's not expected to take a seat when he's ready to be back in the lineup, however long that will be.
That means at least one player will be squeezed from the lineup sooner or later, and it's looking like Jost is the candidate. Steel has been more of an impactful forward than Jost and has shown more versatility, being able to play center and wing. That's a perfect depth forward for a playoff run, and he's more suited to play in the Bottom-6 than Jost, who has bounced around trying to find a bigger offensive role. Jost carries a $2 million cap hit, which isn't going to be hard to move and could give Minnesota more flexibility. And if Jost can't get the opportunity he wants, the Wild would do him well finding another place where he can figure out his game.
All stats via Natural Stat Trick.