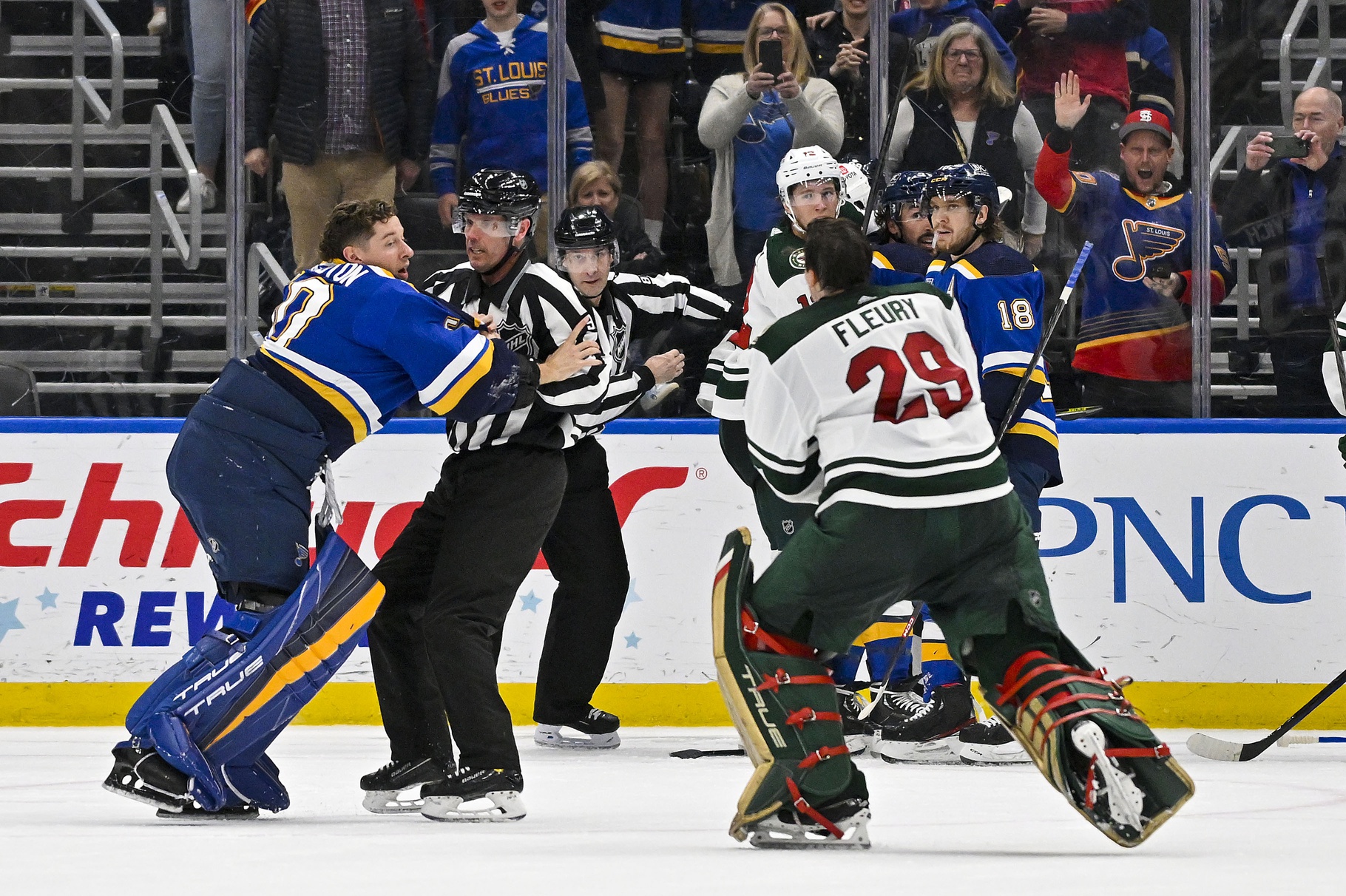 Image courtesy of © Jeff Curry-USA TODAY Sports
Last season, Marc-Andre Fleury almost got the NHL goalie fight he's been itching for. When the Minnesota Wild played the St. Louis Blues on March 15, 2023, Fleury was within sniffing distance of his first fight since junior hockey. Unfortunately for Fleury and the fans, the refs quickly stopped the potential goalie fight. 
Will Fleury ever get his NHL goalie fight before he retires? I can think of at least one fan who would love to see it.
Fleury is no stranger to goalie fights. He was involved in two of them while he played for the Cape Breton Screaming Eagles in the QMJHL. Both of his fights even came during the same season, but after breaking a knuckle and missing six weeks of hockey time, he's been a bit more cautious about who and when to fight.
When Fleury played for the Pittsburgh Penguins in 2014, he had a run-in with Montreal Canadiens goalie Peter Budaj. When a fight erupted in Fleury's crease that soon turned into a full-on scrum, Fleury and Budaj started yelling at each other. When Budaj skated to the blue line and started taking off his gear, Fleury obliged. Unfortunately, Fleury had barely shed any gear when a ref caught up to him and stopped the fight before it could start.
In 2023, Fleury was close to a fight with San Jose Sharks goalie James Reimer just four days before what could've been the goalie match of the century against Jordan Binnington. In this instance, though, there wasn't enough of an inciting incident to push Fleury into a full-blown fight. After Evgeny Svechnikov stopped deep in Fleury's crease and Marcus Foligno sent him a physical message, Reimer came out to the blue line. However, Fleury declined to fight. It wasn't an egregious enough offense.
Only four days later, though, Binnington lit the powder keg in Fleury. Known for toeing the line because of his short fuse, Binnington was upset when Ryan Hartman tripped over his pad while on his way to celebrate a goal. Binnington was already on edge because he'd just let a fifth goal in, so he skated to the celebrating group of Wild players and hit Hartman in the face with his blocker.
As the remaining Blues players jumped in and help their goalie, a ref managed to drag Binnington out of the scrum. At the same time, however, Fleury was already skating at full speed down the ice. He dropped his gloves and gently set his helmet on the ice as he approached. All the other hockey players on the ice stopped to watch, unable to take their eyes off such a rare event. Fleury, who happened to have a microphone on during this game, was encouraging Binnington to come at him.
Trying his best to evade the other ref who came to try and restrain him, Fleury danced around the ice, trying his hardest to grab onto Binnington and get him away from the official dragging him around the ice. That was the best chance Fleury's ever had of a goalie fight. Unfortunately for both Fleury and all of the fans, the officials put their foot down and separated the goalies. As the refs escorted Binnington off the ice, a heavy round of booing followed the officials who were still straightening out the mess on the ice. Fleury even tried to convince the referee that a goalie fight "would be fun" and would "get the crowd going a bit."
The real question was, if a goalie fight is something both goalies want and fans want to see, why was there such an effort to quash it? While fighting is discouraged, it is still legal. Eliotte Friedman said, "If you watch fighting now in the NHL, once a player loses a helmet, the linesmen really make moves to get in there." While that is supposed to be the rule, there are plenty of fights where the helmets come off, and the officials don't step in. 
Friedman made one more point, which was interesting from a Wild standpoint. "I think that Fleury was injured in junior in a fight before," he said, "and I think there has been real worry about what would happen if Fleury got hurt in a fight and Minnesota lost him for the playoffs." There is the benefit of hindsight now, knowing how the playoff goalie situation went. But even more interesting is this subtle idea that Fleury isn't concerned for his well-being despite his previous injury. 
The officials should trust Fleury with his judgment in this situation. He's been injured in a fight before and understands the ramifications. He also has turned down previous fights or been slow to answer the bell as he assessed the situation didn't warrant a fight. 
This time was different. While Fleury can get physical and will retaliate if someone (like Svechnikov in the video above) gets too close, he doesn't have a temper like someone like Binnington does. If he's decided to fight, it isn't a spur-of-the-moment thing. Just like other aspects of his job tending the net, Fleury has taken in the information of the moment and made a quick but informed decision on what he needs to do next.
One other point of speculation would be that Fleury was the problem. He's a legendary goalie and future Hall-of-Famer. Could his status as a generational goalie be a subconscious part of the officials' decision? Would the fight still be stopped if he'd been lower on the "best goalies of all time" list? We'll never know.
Fleury has entered the 2023-24 season on the last year of his contract. At age 38, his future is uncertain. Retirement could come as soon as the end of this season. Will Fleury ever get a chance for an NHL fight? If he wants one, then hopefully, he'll get his chance.
1