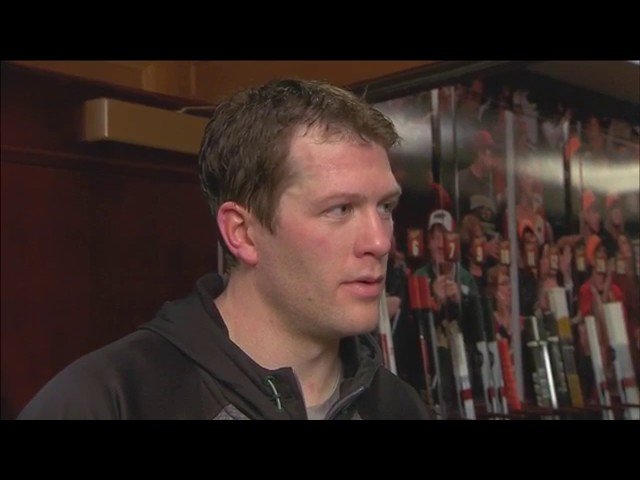 In the first period Tuesday night, Wild defenseman Ryan Suter was extremely slow to get up after he was hit on the end boards by Winnipeg's Paul Postma. Suter took his time to get up, and was barely able to make his way to the bench. At first glance, it appeared Suter's head took the brunt of the hit, but it was his left shoulder and left leg (the injury was later described as lower body) that ended up getting banged up, not the head.
Suter returned to the game shortly after the hit -- which in itself was a shock seeing that it could have been a head injury, which the NHL apparently has "rules" to try and catch those during a game, but let's save that discussion for another day -- but did not look good at all. He was not seen again after the first intermission.
Minnesota is in Columbus on Thursday night for its second meeting with the Blue Jackets on the season. Suter's status is questionable, but as head coach Bruce Boudreau told the Star Tribune yesterday, "Talking to him in the airport last night, he said he's going to play Thursday, but players always say that. I'm waiting for the trainers to tell me." GM Chuck Fletcher followed that up by saying on Suter, "Suts is stubborn. He's tough and stubborn. He's indicated that he'd like to play, but ultimately we need [head medical trainer] John Worley and our doctors to make that decision."
As is stands right now, the Wild hold a three-point lead in the Central Division over the Chicago Blackhawks. Minnesota also has two games in hand on the Hawks (63 games played for Chicago to 61 for Minnesota), which will get caught up next week as the Wild continue on their marathon schedule to end the season.
Despite the fact the Wild have a slim lead in the division right now, they need to exercise caution with injuries. They are in a spot where they can afford to give a player an extra night off to heal, as they are not chasing a playoff spot in March like they have been in previous years.
Example No. 1 of giving an extra night off needs to be Suter.
While Wild fans may have a spike in blood pressure during a game in which Suter doesn't play -- due to inconsistent defensive play from the other defenseman not named Jared Spurgeon(which Boudreau is trying to work on) -- it would be a move that pays off in the postseason if it means a more healthy Suter.
As Fletcher and Boudreau alluded to, Suter wants to tough it out and play. But now is the time to be patient and get it right. The Wild have adequate enough depth defensively where they can afford to give their $98 million defenseman a night off.
The same could be said for the rest of the team, should they find themselves injured in the season's final 21 games. There is absolutely no need to hurry back from injury.
Think of all the times that Zach Parise will get an injury, then rushes himself back from said injury. He will play for a week or two and plays well below his standards, then it's decided to sit him for the next two weeks so he can properly heal from whatever is ailing him. But again, this has largely been due to the Wild being chasers in the standings, not the one being chased.
With Sunday's trade for Martin Hanzal and Ryan White, the Wild have pushed their chips all-in on this season. They understood that the surprisingly weak Western Conference is up for grabs, and that making a big move on a guy like Hanzal could be the difference that allows them to play into June.
Now that the Wild have made this move, their objectives in the final 21 games should be crystal clear: Fine tune the lineup to find the lines, and get the nagging injuries healed up to give yourself the best chance in April. Don't play with fire on injuries in the final month. Realize there is a chance to do something great this spring.
It's plain and simple: Take the time, give the players a night off if needed, and get healthy. Don't jeopardize the postseason just for an extra two points in the regular season. It could mean a world of difference come spring time.