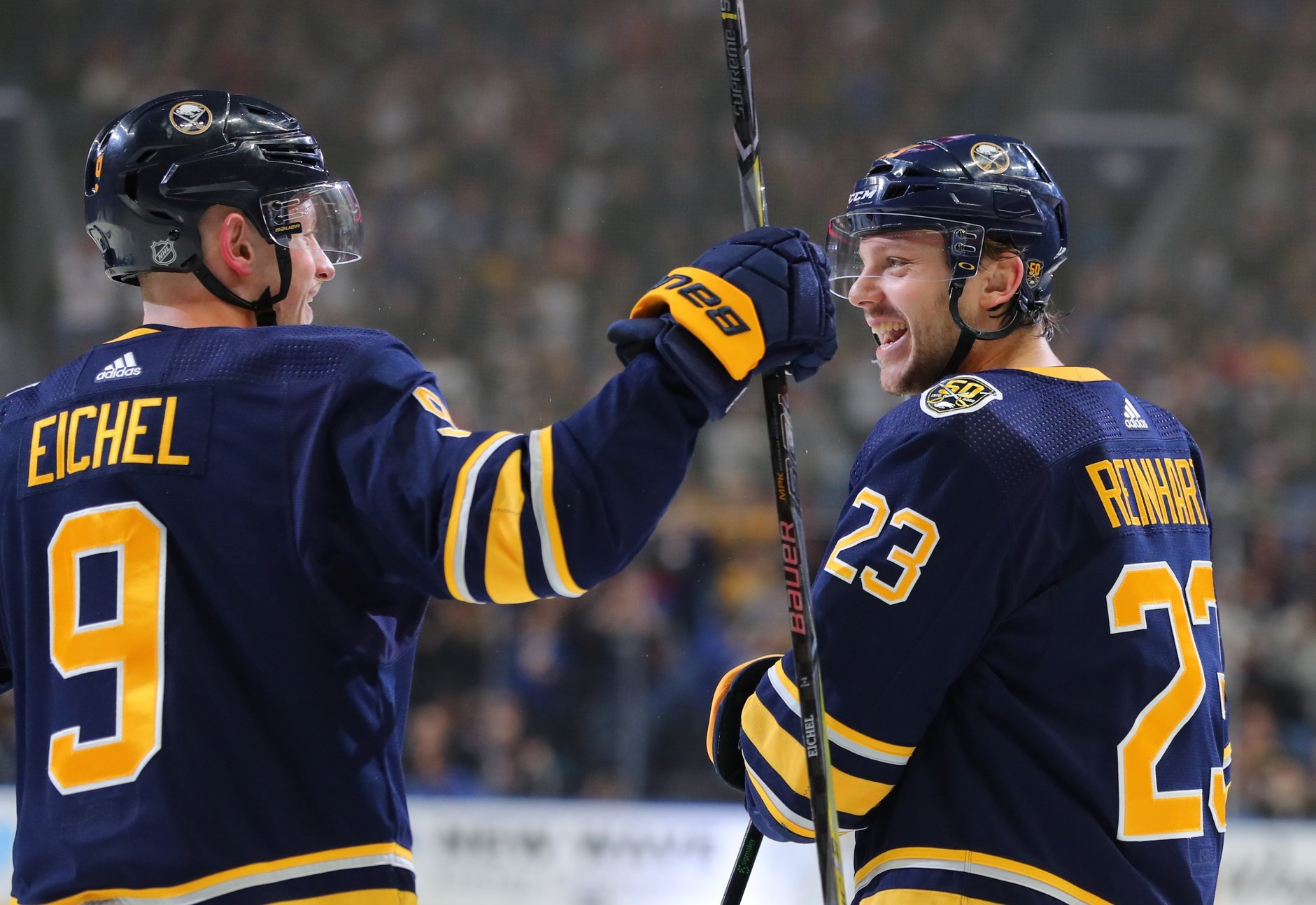 The math is very simple for the Minnesota Wild this offseason. They're a good team with some elite talent. They need more elite talent, with plenty of vacancies at center. There is an elite center on the trade market in Jack Eichel. Thus, Minnesota should acquire Eichel this offseason. Super easy!
Or is it? The Athletic's Michael Russo reports that the Wild will surely have interest in Eichel, but Eichel is a divisive figure. It's impossible to deny that Eichel is a bonafide first-line center talent, the kind that Minnesota has never, ever had. Still, the jury is out on whether Eichel can elevate a team.
How real are those concerns? They vary.
There's no doubt that Eichel's herniated disk in his neck gives his future some level of uncertainty. Other concerns are based on his attitude, which is often rumor and hearsay, that he hasn't won in Buffalo -- although neither did 2019 playoff MVP Ryan O'Reilly -- and the cost to acquire him, which will surely be high.
History suggests that trading for a star player in their prime is almost always worth it. But let's say you're out when it comes to Eichel like the Los Angeles Kings apparently are. What next?
Well, as it so happens, there's another young Sabres forward looking for a way out of town. Former second overall pick Sam Reinhart scored 25 goals in 54 games last season, an 82-game pace of 38 goals. Reinhart produced on the power play (10 goals), has a right-shot (Minnesota's stacked with lefties), and played some center last year.
Given those similarities, some believe Reinhart is a cheaper and better alternative to Eichel. For other teams, that might be the case. For Minnesota, pursuing Reinhart over Eichel would be overthinking things.
Reinhart vs. Eichel
It must be said that Reinhart is a fantastic player. Since entering the league full-time in 2015-16, Reinhart provided Buffalo with 21.5 Standings Points Above Replacement, according to Evolving Hockey. That's 37th in the NHL among forwards, just four spots behind Eichel (22. 0 SPAR). Reinhart's absolutely a top-line player.
But there's a difference between what Reinhart provides and what a player like Eichel can do.
The Wild managed to be stout defensively for the 20th year in a row. Their goaltending improved greatly, and they took advantage of the light workload their defense provided. What was missing? Offense. Not in the sense of scoring — Minnesota tied the Tampa Bay Lightning for eighth in the NHL with 180 goals this year.
What we're talking about is driving offense. The Wild were good at making their few trips to the offensive zone count with high-danger chances but were awful at being a consistent threat to score. Vegas bottled up their few offensive drivers in the playoffs, and once that happened, Minnesota had no answers.
Eichel solves this to a greater degree than Reinhart. This is true on an individual basis (Eichel generates more goals, shots, and expected goals) and for his team as well. Eichel's even-strength offense has been worth 10 Goals Above Replacement — that is, about two standings points — per 82 games over his last three full seasons. Reinhart has roughly half that impact (5.6 GAR/82), relying more on a two-way game to provide value.
https://twitter.com/OhHiTony/status/1403188062079774723
Both are great on the power play, but Eichel gives his team substantially more power plays. Eichel drew 1.13 penalties per hour since 2015-16, ranking 39th among forwards in that time. Reinhart barely draws half the calls Eichel does, with only 0.61 per hour, tied for 243rd.
Does Reinhart put up comparable value compared to Eichel? One can argue that. Does Reinhart fulfill specific needs the Wild has? No. Or at least, not nearly as many as Eichel does.
The Price Is Right?
Okay, you may argue. Reinhart may not be as neat a fit, but it'll be cheaper to acquire him.
Is that the case, though?
Normally, of course. Star young centermen like Eichel just don't get moved in the NHL unless something goes wrong. There's almost nothing you could give in a trade that's equal value.
The key here with the Eichel situation is that things have gone wrong. For one, he wants out, and the Sabres only have one year to make that happen before Eichel can directly control his fate with a No-Move Clause. Throw in the "attitude"/"quitter" concerns and his health situation, and that's gonna drive down the market on him. If a prospect-loaded team like L.A. is already out on him, it already has.
That's not the case with Reinhart. He's coming off a career year, is just 25, and has avoided both injuries and scrutiny over his attitude. Sportsnet's Elliotte Friedman is reporting plenty of teams are in on Reinhart.
The total value of assets required to acquire Eichel may exceed what Reinhart returns, sure. But whatever team acquires Reinhart is going to pay the sticker price. If teams are scared off by Eichel, for whatever reason, he's going to come at a relative discount.
Then there are the contracts. Eichel carries a $10 million cap hit for five years, 12.3% of an $81.5 million salary cap. It's a lot, but if you're going to pay someone, paying a point-per-game center is a good bet.
Reinhart needs a new contract this summer and is a year away from unrestricted free agency. Evolving Hockey projects his next contract to be worth five years at a $7 million cap hit. Is that extra $3 million in savings worth the drop-off from a franchise center to Reinhart?
The Central Question
Another thing to consider in this debate is whether Reinhart can be play full-time as a center. Minnesota's deep along the wings and desperate for help down the middle, so it's crucial that any trade addresses that.
In truth, there's very little indication that Reinhart is a center. He took a career-high 276 face-offs last season (5.1 per game), surpassing 150-plus draws twice in six full seasons. He's never really even played center part-time.
Until March 31st of this year, at least. For 22 games — under six weeks — he played down the middle for Buffalo. Reinhart did produce 19 points in those games, but that was fueled in part by shooting an absurd 22%.
Say Minnesota swings a deal for Reinhart and heralds him their solution at center. How likely is that to work? It's hard to think of many wingers who made the transition to center this far into their career and stuck there. What happens if Reinhart's effectiveness wanes down the middle, necessitating a move back to the wing?
Congratulations. Minnesota just traded many prospect capital and tied a bunch of cap space in the next Mikael Granlund.
And hey, there's nothing wrong with a skilled, two-way winger. Reinhart is a valuable player, but Minnesota can't just get a valuable player. They need a specific fit. Who's more likely to fill the Wild's specific need for a Number One Center? Eichel, a player who's put up a point per game down the middle since stepping into the league? Or Reinhart, a 60-point two-way winger who had one good six-week stint at center?
Minnesota really has the financial flexibility and prospect depth to make one big move. They can't just get a nice player and be done with it. Who they acquire has to make the Wild a true contender. Eichel may be the bigger risk, but he, and not Reinhart, can elevate the team's ceiling.