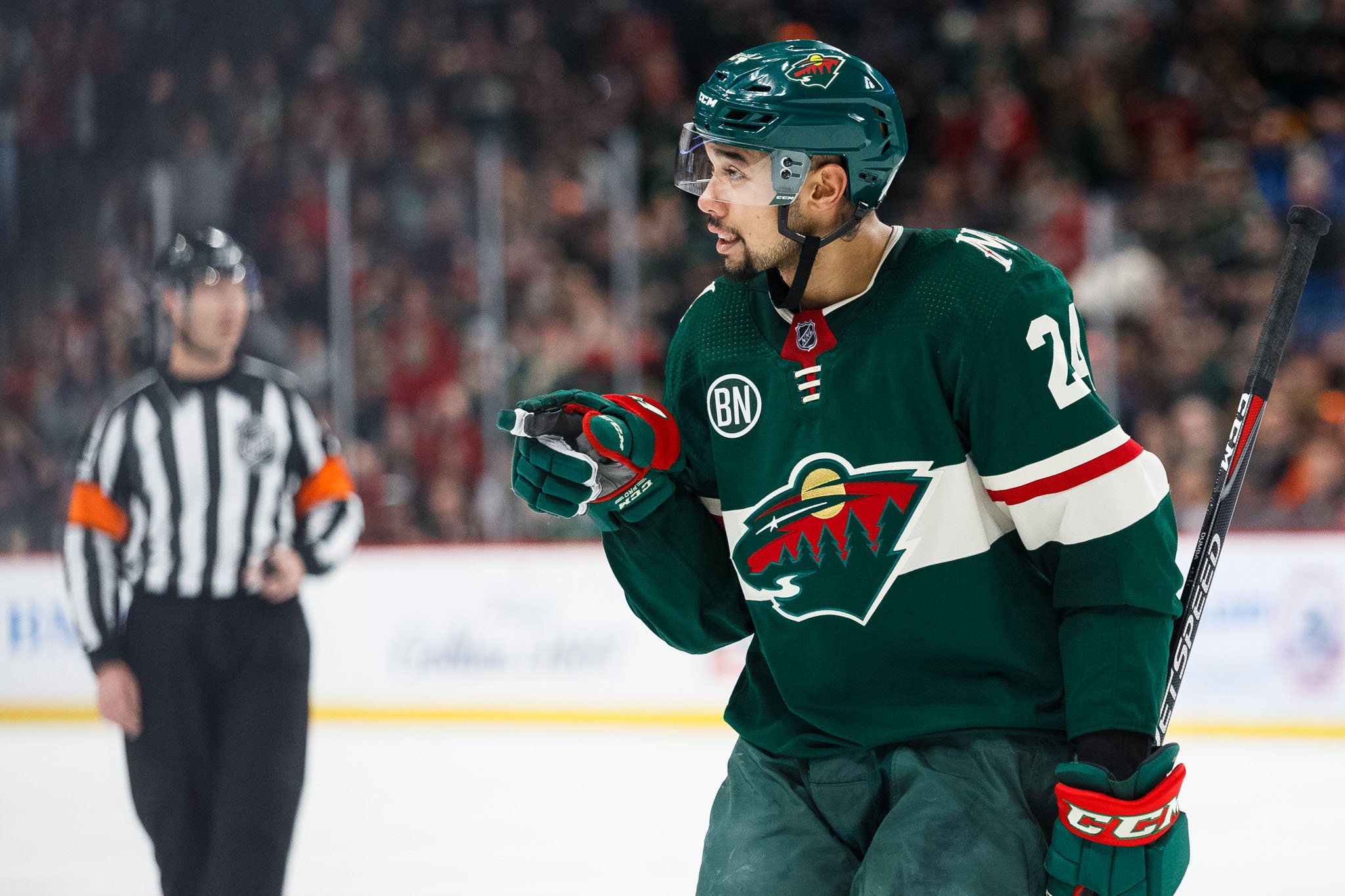 On Thursday, Michael Russo of The Athletic reported that Minnesota Wild defenseman Matt Dumba could be out weeks to months while he rehabs from an upper-body injury suffered in last Saturday's game against the Flames.
Whether it is weeks, months or even the season -- possible if Dumba opts for the surgery he could reportedly have on this injury -- this loss is a significant blow for the Wild.
Now before you anti-Dumba folks get all bent out of shape for that last line, let's take a look at just how well Dumba was playing this season. Because he was on pace for not just a career year, but a season that is in rarefied air for a defenseman in the National Hockey League.
Offensively was where Dumba was really shining this season. His 12 goals on the season are still best as of Friday morning among all NHL defensemen. Only Morgan Rielly of Toronto and Thomas Chabot of Ottawa have hit the double-digit mark in goals from the blue line this season.
[caption id=attachment_45757" align="alignnone" width="2364]

Courtesy of NHL.com[/caption]
The power play was a real point of reference for Dumba, as his six power-play goals are tied for the team lead with Zach Parise and leads all NHL defensemen. His powerful one-timer became a point of reference -- similar to Alex Ovechkin's one-timer with Washington -- for opposing teams to defend against while on the penalty kill.

[caption id=attachment_45758" align="alignnone" width="2366]

Courtesy of NHL.com[/caption]
Dumba's production on the power play -- along with Parise -- has helped bring the Wild power play up to 23.8 percent on this season, which is ninth-best in the NHL this season. That power play percentage is up over three percent from last season's 20.4 percent in which Dumba had only tallied two goals (!!!) with the man advantage.
More impressively, Dumba's goals per game pace to start the season has him in pretty rarified air for defensemen in the NHL in the past twenty years. If you take defensemen who have played a minimum of 30 games played and look for those with a goals per game average that is above 0.35, you find only four players on the list.
Query Results Table
Scoring
Goals
Per Game
Point Shares
Adjusted
Rk
Player
G
Tm
Lg
Pos
Season
Age
GP
G
A
PTS
+/-
PIM
EV
PP
SH
GW
S
S%
TOI
A
PTS
S
OPS
DPS
PS
G
A
PTS
1
Mike Green
0.46
WSH
NHL
D
2008-09
23
68
31
42
73
24
68
12
18
1
4
243
12.8
1752
0.62
1.07
3.57
9.0
4.9
13.9
33
43
76
2
Sergei Gonchar
0.40
WSH
NHL
D
1998-99
24
53
21
10
31
1
57
7
13
1
3
180
11.7
1268
0.19
0.58
3.40
4.2
3.0
7.1
24
11
35
3
Mathew Dumba
0.38
MIN
NHL
D
2018-19
24
32
12
10
22
-5
21
6
6
0
1
93
12.9
748
0.31
0.69
2.91
2.4
1.7
4.1
29
24
53
4
Brent Burns
0.35
SJS
NHL
D
2016-17
31
82
29
47
76
19
40
21
8
0
6
320
9.1
2039
0.57
0.93
3.90
8.9
6.4
15.3
32
51
83

Even if you just factor in the goals Dumba has scored at 5-on-5 this season, his six are second-best in the NHL -- trails Reilly (seven) -- and his 0.62 goals per 60 minutes at five on five also is second best among NHL blueliners -- also trailing Reilly (0.7).
Taking all that offense away from a blue line that is one of the best in the league at producing offense the past two seasons will greatly impact the Wild's scoreline on a nightly basis.
Because let's be honest, Greg Pateryn -- who has stepped up into Dumba's place in the top four -- isn't going to replace that offense. Not one bit.
In addition to his offense, Dumba has shown a much better all-around game this season.
He has been a physical force for the Wild on the back end, as he has kept opponents in check with some pretty punishing hits this season if they are not paying attention to him.

True, this physical play is what got him ultimately injured in the first place, but that had more to do with a pretty outdated hockey code that still exists. But it has still been nice to see that on the back end from Dumba, as the Wild have maybe been lacking a bit in the physicality department the past few seasons.
But the biggest knock from Dumba detractors has been in regards to his defense. Turnovers have been a real point of emphasis, with that all too memorable goal against Winnipeg last year where he just dropped a pass back to Nik Ehlers and it led to a goal.
This season, however, Dumba has really polished that aspect of his game as he has shined mainly on the top defensive pairing right next to Ryan Suter -- who is having a rough start to the season himself.

While there still have been some bad games defensively for Dumba this season, he has really cut them down making him a much more polished all-around defenseman. Take his spiked offensive production and improved defense, you really do have a defenseman who could have begun to maybe sneak his way into the Norris Trophy conversation.
So circle back around, and you think of what the Wild blue line will be like without the services of Dumba for a pretty significant period of time. It's a pretty frightening thought for a team that is struggling to give you something entertaining to watch.
Dumba certainly was that -- entertaining -- and his loss, whether that is weeks or months, will be a very significant one for this Wild team.
Wild fans best hope the team can find a way to even halfway replace his presence on the ice because he became pretty irreplaceable this season.
Stats in this post courtesy Hockey-Reference.com, NHL.com, and Corsica.Hockey.
---