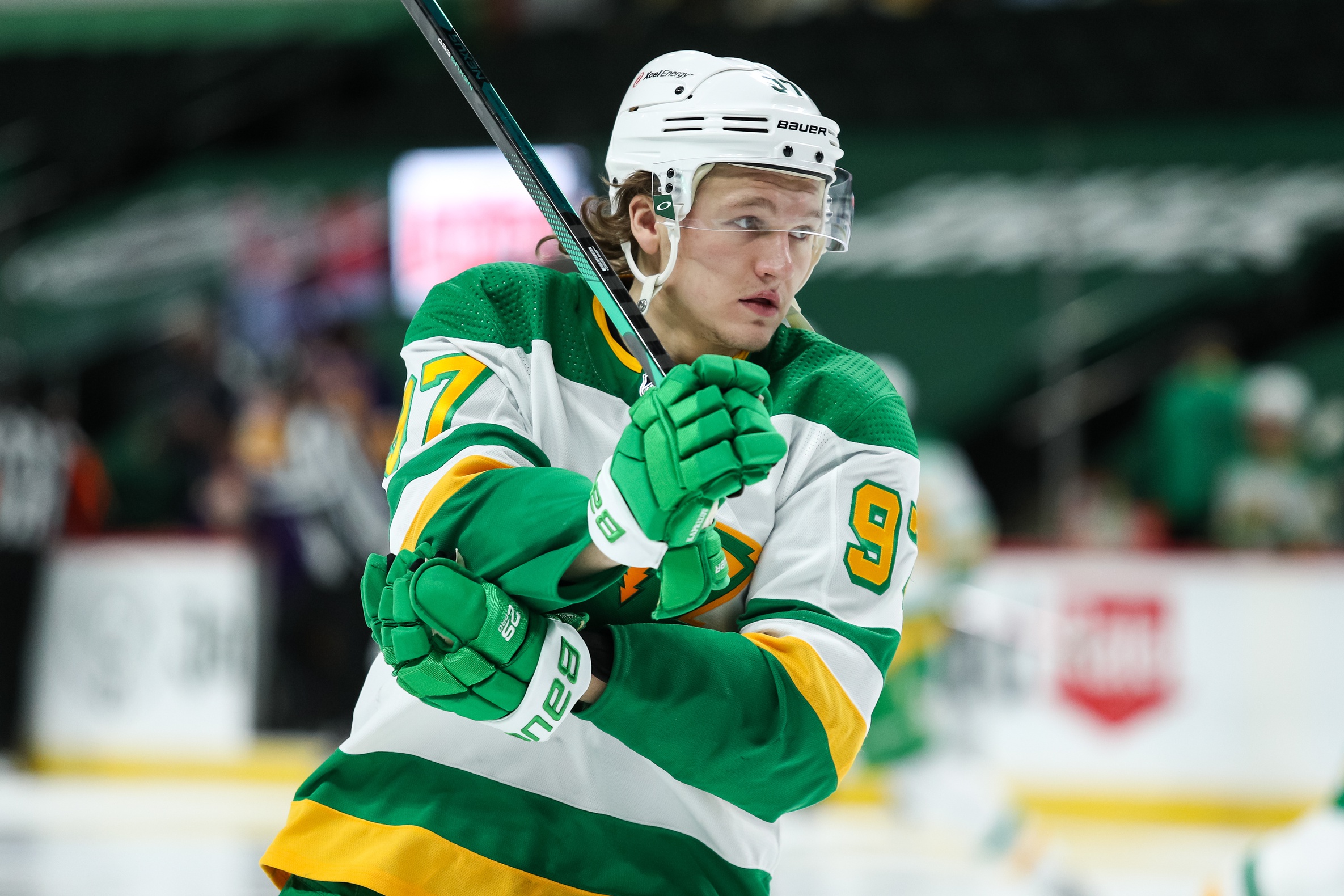 If you could boil down the Minnesota Wild's pitch to Kirill Kaprizov this summer into six words, they'd echo Phillip Fry of Futurama fame.
"SHUT UP AND TAKE OUR MONEY!"
Minnesota has offered the Calder-winning superstar a sizable amount of cash to keep him in the organization long-term. Exact terms are unknown, but The Athletic's Michael Russo has reported the Wild have offered $8.5 to 9 million annually.
That's somewhere in the range of a $68-72 million-dollar payday for a player entering his second NHL season. That deal would make him, at worst, a top-10-paid winger and among the NHL's 30 highest earners. Sounds pretty sweet, right?
The Wild thought so and have clearly been taken aback by Kaprizov's unwillingness to take the deal. Things can change in a hurry, but the battle lines are firm as of now. Minnesota is insisting on a long-term deal, while Kaprizov is determined to not sign away his unrestricted free-agent years.
There's middle ground to be had, but no indication things are headed that way. Last week, ESPN's Greg Wyshynski reported that the talks have had "a deafening silence." Days later, Russo noted the negotiations have gone "pear-shaped." Not exactly encouraging news, even if you don't buy that Kaprizov would return to Moscow if worst comes to worst.
The Wild are offering a massive amount of security with a contract worth just $10 million less than Artemi Panarin's famous "home run" free-agent contract. So why won't Kaprizov just take their money?
For one, the money they offered isn't market rate for Kaprizov's services.
Kaprizov only has 55 NHL games under his belt, but his production was in such rarified air that it doesn't matter. According to Hockey Reference, only eight players since 1984-85 have scored 0.49 points per game and 0.93 points per game as rookies: Alex Ovechkin, Teemu Selanne, Eric Lindros, Joe Nieuwendyk, Brett Hull, Luc Robitaille, Mario Lemieux, and Kaprizov. That's seven Hall of Famers and Kaprizov.
A small sample, for sure, but even accounting for Kaprizov being older than a typical rookie, his season was historic. It was a year that showed he's worthy of being paid as an elite player in this league. Evolving-Hockey's contract projections predict an eight-year deal for Kaprizov as being worth $9.68 million annually. Such a deal would make him the 15th-highest paid player in the NHL, fourth among wingers behind Panarin, Mitch Marner, and Patrick Kane.
Depending on where exactly in the $8.5-9 million range the Wild's offer to Kaprizov landed, that's an underpay of $0.7-1.2 million per season. And that's looking at the league economics now, in the era of the flat salary cap. Once that bad boy starts rising, a $9 million deal for Kaprizov becomes a downright bargain.
That sounds ridiculous to say when some of the best players in the world signed for roughly that same money this summer. Cale Makar, a Calder winner last year and Norris runner-up this season, signed an extension worth $9 million per season. The six-year deal gave the Colorado Avalanche two UFA years and came in below Evolving Hockey's projections.
Brayden Point, a point-per-game center these past three years, signed an eight-year extension with the Tampa Bay Lightning. He got $9.5 million per season and signed away seven UFA years, taking him off the market until he turns 34.
If that money's good enough for the best players in the world, why isn't it good enough for Kaprizov?
In both those cases, the money wasn't the point. Makar is in a perfect situation, on a Stanley Cup-contending team surrounded by elite talent. The Lightning won the last two Cups, and despite sustaining some losses this offseason, figure to be favorites next year. Both have elite running mates in Devon Toews and Nikita Kucherov.
Now look at those teams, then look at the Wild. What are they offering Kaprizov to entice him to forgo even one UFA year, let alone at a discount?
The Wild spent the year anchoring Kaprizov to Victor Rask, whose lack of speed and unsure puck-handling held Kaprizov back. That doesn't just cause Kaprizov frustration, it costs him money as well. If Kaprizov had a proper center, how many more points might he have scored? How much more could he command? We'll never know.
Worse yet, Minnesota's poised to do it again. Now that they've backed out of the Jack Eichel trade market, their best plan at center is "Hope Marco Rossi is an impact player very, very soon." Rossi's a stud prospect but missed a year of playing and training due to myocarditis. Is it reasonable to expect him in an NHL lineup right away?
Probably not, so the Kaprizov-Rask disconnection will live on for another few months.
Kaprizov can see this roster beyond the center position as well, and that's not a particularly pleasant sight. Minnesota spent an offseason on the hunt for a big improvement like Eichel, but they're empty-handed so far. They've treaded water at best, with their most notable move being swapping out Old Ryan Suter for Old Alex Goligoski.
The Wild fell to the Vegas Golden Knights in seven games in large part due to Vegas smothering Kaprizov, correctly guessing Minnesota's supporting cast wouldn't beat them. How has that gotten any better?
Sure, they've got NHL-ready prospects in Rossi, Matt Boldy, and Calen Addison. That's great, but until they've proven themselves in the NHL, they're just prospects. Hanging next season on three rookies being impact players seems a fool's errand. Even if all three of them eventually hit that level (far from a guarantee), odds are at least one will have growing pains adjusting to the NHL.
And this is just Year 1 of the Zach Parise/Ryan Suter buyouts — the year the Wild only incur $5 million of dead cap hit. Minnesota had difficulty supplementing their roster through free agency this season, settling for bargains. What happens when that dead cap raises to nearly $13 million next year, then $15 million until 2025?
That reality scared off Nick Foligno, Minnesota's top free-agent target at forward. "There's a lot of unknown now about what's going on with that team with [the buyouts]," he told The Athletic. "There's a lot of money tied up in that." There wasn't in Boston, still a legitimate Cup contender, so Foligno signed there.
Kaprizov sees all this, too. He may not see a path to winning in Minnesota for the next four years, at least. Worse yet, the team might not even have the center talent it'd take for him to maximize his earnings whenever he does decide to get that big contract. And the Wild aren't offering him a Panarin or Marner-type payday -- at least not yet.
So where's the incentive for Kaprizov to give up any UFA years to Minnesota? To be a nice guy? Wild fans would no doubt love to see the superstar commit to St. Paul, but as they always say in sports, "It's a business." Again, things can change. As things stand right now, though, staying in Minnesota long-term doesn't make much business sense for Kaprizov.
Thanks to CapFriendly, Evolving-Hockey, and Hockey-Reference's Stathead for their data in helping with this article.