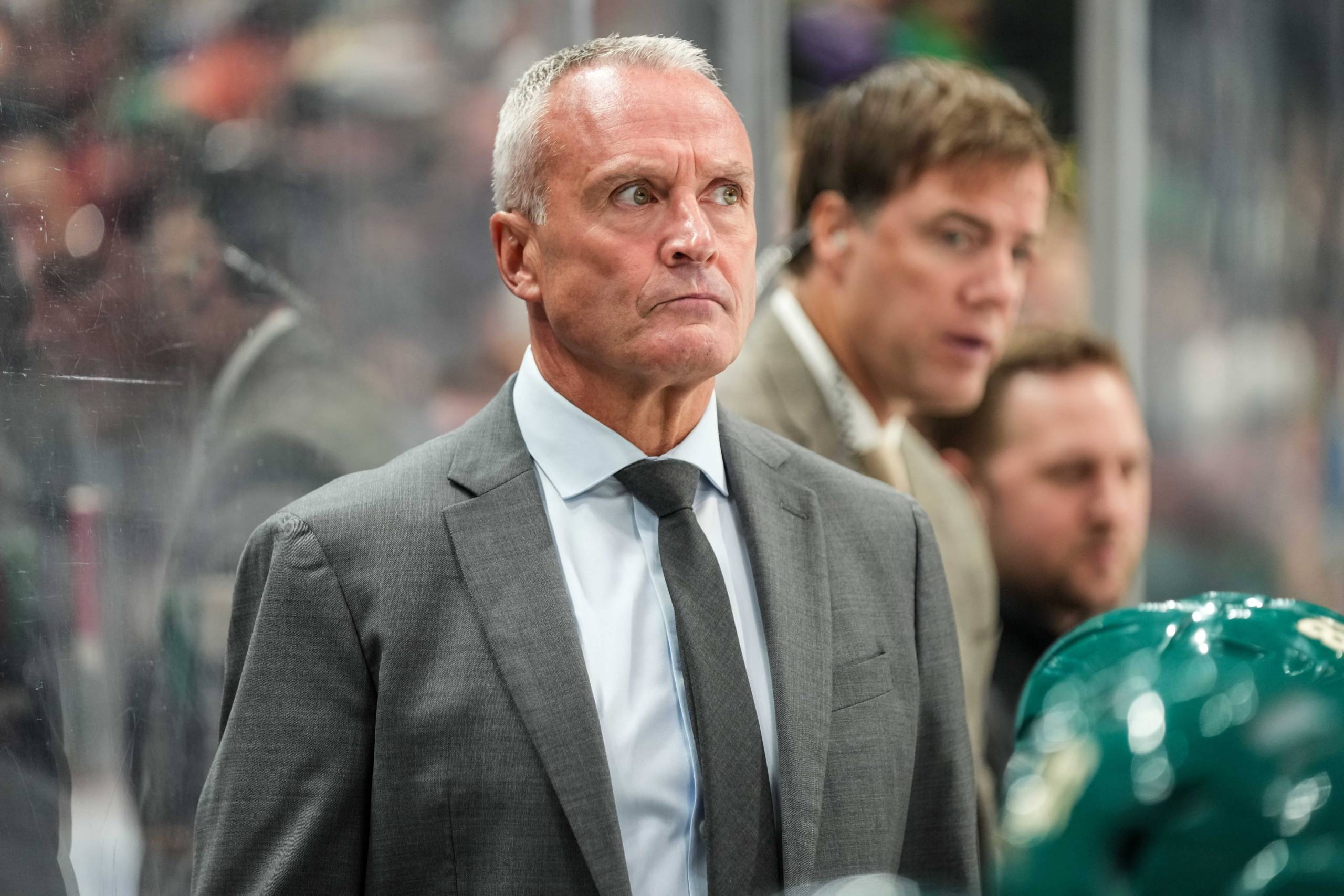 In the third period of Saturday's 3-2 win over the Washington Capitals, Dean Evason and the referees ran into some confusion. It appeared as though he wanted to call timeout, but the referees wouldn't allow it. The Minnesota Wild were down one and had an empty net, so why didn't the referees allow a timeout?
"I didn't want a timeout," Evason answered after the game when asked about the confusion. "I said, 'No, we're not calling a timeout yet. The guys know what we're doing. Good gosh, we've pulled the goalie to know what our set-up is.'"
Evason was right on every account. Minnesota did know what they were doing, as Mats Zuccarello tied the game on a shot through a Marcus Foligno screen. It was the Wild's 11th goal this season with an empty net through only 33 games.
He was also right that, yes, they sure have pulled the goalie a lot. The Wild have played 51:37 with an empty net this year. That not only leads the NHL but is nearly 20 minutes ahead of the second-place Vegas Golden Knights.
This gap between the Wild and everyone else is partly due to Minnesota needing to come back in many games. However, that doesn't fully explain the gap between the Wild and the rest of the NHL. Evason is straight-up more aggressive than anyone else when pulling the goalie.
He pulled Cam Talbot with 2:47 left in a one-goal game against the Winnipeg Jets on Oct. 20. It worked, and the Wild tied, then won the game. Since then, he's pulled his goalie with 2:30 or more remaining eight times, including a whopping five incidents of trying this with five or more minutes left.
But nothing takes the cake quite like what Evason did against the Dallas Stars and St. Louis Blues on Dec. 20 and Jan. 1, respectively. Evason yanked Talbot with 9:20 remaining, trying to get a push for the Wild to surmount a three-goal deficit. The Wild got a goal back, but Jamie Benn's empty-net tally iced the game with 1:32 left.
He was nearly as aggressive at the Winter Classic, taking Kaapo Kahkonen off with 8:19 on the clock. Minnesota got another goal, but they also couldn't put together the three goals needed to tie despite some close chances.
This is basically unheard of in the NHL. A 2020 Hockey Graphs article tracked the pull times of goalies in various end-game score states. With a one-goal deficit, coaches pull the goalie with somewhere around four minutes left. In a two-goal game, that number goes down to 2:30, and then further to about 1:30 in one-goal games.
Those numbers have trended up a touch in recent seasons, but Evason is shattering the mold. Why's that?
Asked after the Dallas loss, he said, "[We were down by] three goals, and that's what we do. It was a no-brainer for us." Not the most detailed answer, but the logic is clear and simple: why not? Goals for rates jump from ~2.25 at 5-on-5 to ~6.4 at 6-on-5. Why not triple your odds to score? Sure, the puck could go into an empty net, but you don't get a point for losing 6-3 instead of 7-4.
The brightest minds in hockey have long concluded that, get this, NHL coaches are conservative. 538 cites a 1976 study from Stanford academic Donald Morrisson that concluded 2:30 was the ideal time to pull a goalie in a one-goal game. A more modern study estimates an aggressive goalie-pulling strategy should yield an additional 1-2 standings points in a season.
So if this knowledge dates back to the Gerald Ford administration, why don't we see this aggression in hockey? How many teams missed the playoffs in the last 45 years by two points that could've benefitted from an aggressive strategy?
Sure, a lot of it could be laid at the conservatism of coaches, who in the last decade are just grappling with the idea that possessing the puck is good, actually. But it probably didn't help that Patrick Roy was the Patron Saint of pulling goalies aggressively. After a fluke first season, Roy became exposed as woefully behind the NHL's coaching abilities, making his few innovative ideas seem like a recipe to get fired.
Even Evason, who could easily hang his hat on his team's 6-on-5 success, emphasizes he'll only use that aggressiveness as a last resort. "Our sense of urgency has to be way quicker than the last ten minutes of a game when we're pulling goalies. We shouldn't be pulling goalies with ten minutes left. It's not something we want to do."
But it's hard to deny the results, either. They took two points against Winnipeg when they'd otherwise have zero. Minnesota pulled Talbot against the Pittsburgh Penguins with 3:44 left down two goals and were rewarded with another two points. They stole yet another point from the Tampa Bay Lightning after pulling the goalie with 5:03 on the clock.
That's five standings points in 33 games, the difference between being solidly in a Wild Card spot and in the hunt for a division title, or tied for the second Wild Card and trailing the Nashville Predators by nine points in the Central. Whether the Wild sneak into the playoffs, gain home-ice advantage in the first round or capture first place in the Central, chances are, it'll be on those five points Dean Evason stole by getting aggressive.