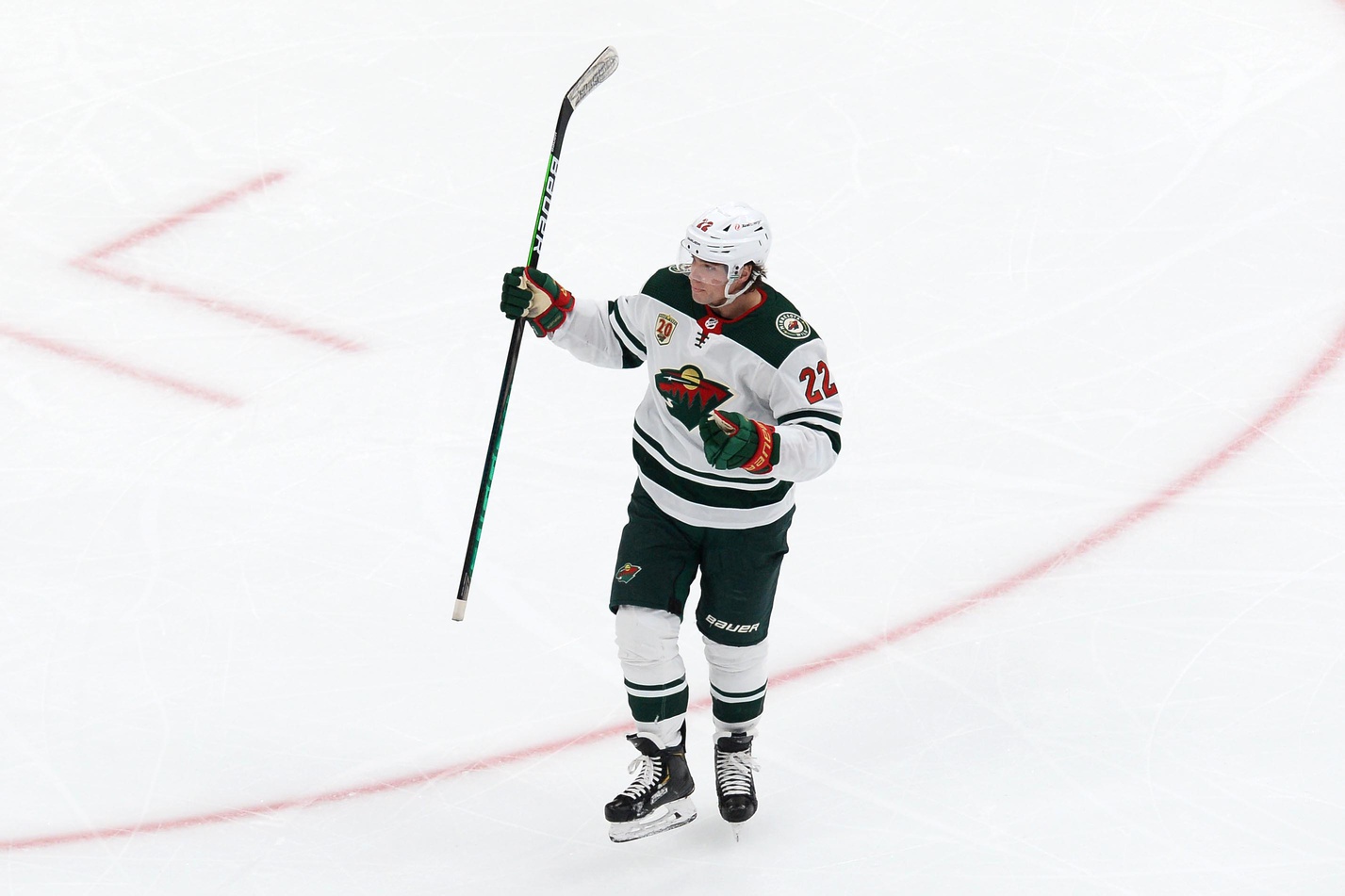 It's rare to see someone deliver on the hype, at least on the Minnesota Wild. Long-time fans will surely remember when Dany Heatley and Devin Setoguchi were going to solve the team's goal-scoring woes. They'll also recall when Mikael Granlund and his prospect comrades were the next wave of stars.
Or when Zach Parise and Ryan Suter were going to bring a Stanley Cup home, instead of lead them into salary cap hell.
So when someone does deliver on the hype, it's not just noticeable. It's electric. There's a level of disbelief in the State of Hockey when that player delivers big goal after big goal. Improbably getting a star player out of nowhere? These things happen to other franchises. They don't happen at all, in fact.
But it did happen. On March 8, 2020, Kevin Fiala scored two goals against the Anaheim Ducks, including an overtime winner. One year before, he was traded straight-up for Granlund in one of the most unpopular trades in team history.
He not only had to fill the shoes of Granlund, a fan favorite, and was not just a referendum on the tenure of general manager Paul Fenton, who was widely seen as a chaotic buffoon. Fenton thrust the title of "game-breaker" upon him, and it became a point of derision for frustrated Wild fans.
By March 2020, though, "game-breaker" became spoken in reverential tones. That overtime winner capped a stretch where Fiala scored 14 goals and 26 points in 18 games. He was fast, he was dominant, and he looked like a future cornerstone of the Wild.
What a difference a year makes. And what a difference another year makes.
Since Kirill Kaprizov scored an overtime winner in his NHL debut, Minnesota's been consumed by Kirillmania. And rightfully so. He was a long-awaited prospect who also lived up to every drop of hype he arrived with. Kaprizov earned national recognition for his skill, skating, and enthusiasm en route to winning a Calder Trophy.
The phenomenon that is Kaprizov left Fiala swept aside in every way in the State of Hockey. Kaprizov, not Fiala, is the face of the franchise. When Kaprizov got a solid running mate in Mats Zuccarello, Fiala got stuck playing with Marcus Johansson. When Kaprizov earned the adulation of coaches, fans, and media, Fiala's game often got nitpicked.
Even now, Kaprizov's contract dispute vastly overshadows the showdown going on between Fiala and Minnesota.
Fiala might finally take center stage in Minnesota, but not for a pleasant reason. After being far apart on negotiations for his next deal, the Wild elected to take their game-breaker to arbitration. Unless the two sides come to a deal, Fiala's next contract will be a one- or two-year deal at a dollar amount decided by a third party.
As we noted with the Kaprizov negotiations, a bad outlook can change to a mutually beneficial agreement in a hurry. Still, everything seems to point towards a nasty divorce between Minnesota and Fiala.
Arbitration cases often get ugly under normal circumstances. Going in front of a neutral arbiter to say "Actually, our player isn't very good" leads to hard feelings. The damage may already be done, as Minnesota has apparently made clear that they don't much value Fiala.
On belief printed by The Athletic's Michael Russo on Tuesday, Wild GM Bill Guerin's offers haven't exceeded the $5.5 million dollar range. Russo also speculates they aren't willing to give him long-term security, either, likely offering him no more than four years.
That's a clear message. We're talking about Granlund money, Jason Zucker money, Nino Niederreiter-type money. You know, the guys who couldn't turn Minnesota into contenders, leading to Fiala's arrival in St. Paul in the first place. Offering that meager of a commitment is telling him "We don't think you can get it done, either. We made a lateral move trading for you."
It's an odd conclusion to make about someone coming off one of the best two-year stretches in franchise history. Since the start of the 2019-20 season, Fiala has scored 3.08 points per hour in all situations. Here's where that rate of scoring ranks among the Wild's best all-time two-season outputs (minimum 1000 minutes):
2007-09 Marian Gaborik, 3.48
2019-21 KEVIN FIALA, 3.08
2021 Kirill Kaprizov, 3.04
2016-18 Eric Staal, 2.83
2016-18 Mikael Granlund, 2.75
Fiala's point production comfortably stands above the best seasons Granlund, Zucker, or Niederreiter ever had. He's absolutely worth a sizable bump over the salaries those players made.
In fact, Fiala should be able to go into arbitration with some extremely favorable comparables league-wide. That 3.08 points per hour in all situations ranks 22nd in the league over the past two years. Some big-money wingers Fiala's out-performed in that span include William Nylander ($6.9M), Kyle Connor ($7.1M), Matthew Tkachuk ($7M), Gabriel Landeskog ($7M), and Patrik Laine ($7.5M). Of course, you can pencil Kaprizov onto that list very soon ($InfinityM).
Forget $5.5 million. How can you look at those players, see that Fiala's out-produced them, and say he's worth less than seven?
That's not to say Fiala's a perfect player, but his flaws are sensationalized by locals. He's not a great defender, but Evolving Hockey rated his defense last year as being in the 49th percentile. In other words, average. Others are maddened by his high rate of giveaways, ignoring that the most turnover-prone players in the league are inevitably star players who have the puck a lot. It's the price of doing business with a star player. His discipline rightly comes under fire at times, but he still draws more penalties than he takes.
Whatever gripes anyone might have with Fiala, there's no doubting he does two extremely important things for Minnesota: He scores goals and attacks the offensive zone with speed. Fiala got the worst linemates of anyone on the Wild last season, and he still managed to score 20 goals in 50 games (an 82-game pace of 33).
At the end of arbitration, Fiala will have a choice to accept a one- or two-year deal. Given that he is two years away from unrestricted free agency, Fiala will almost certainly choose the latter. There's no reason to go through this process again. It's also a safe bet that the team would eventually trade Fiala, rather than lose him as a UFA. Heck, rumors were swirling around him long before things got to this point.
Are there scenarios where trading Fiala makes sense? Sure. Minnesota has few untouchables, and if Fiala can facilitate them landing a top center like Jack Eichel, that makes sense. Other than that, though? The Wild waited years to have a young, fast goal-scorer of Fiala's caliber. Why give a player that fits that profile away?
Especially when the team's future with Kaprizov is so unclear. Right now Kaprizov is trying to engineer a path to UFA status in three years, and if his mind is set on it, there's little Minnesota can do to stop him. Last season Kaprizov and Fiala combined for 47 (26.1%) of the Wild's 180 goals. If they're already at risk to lose one of that duo, why not work harder to secure the other half?
Pushing Fiala out the door seems like an insane thing to do, but trading for him seemed insane to many at the time. Look at how that worked out. Guerin has a lot of credibility with the fanbase, and they're likely to give him the benefit of the doubt. And if moving on from Fiala leads Minnesota to true Cup contention, it's doubtful anyone will be upset by it.
But if in two years, Kaprizov and Fiala are gone, and the Wild remain stuck in neutral, Guerin's going to have to answer for why he spent the summer of 2021 alienating the two most dynamic talents the franchise has seen in over a decade.
All data via Evolving Hockey.