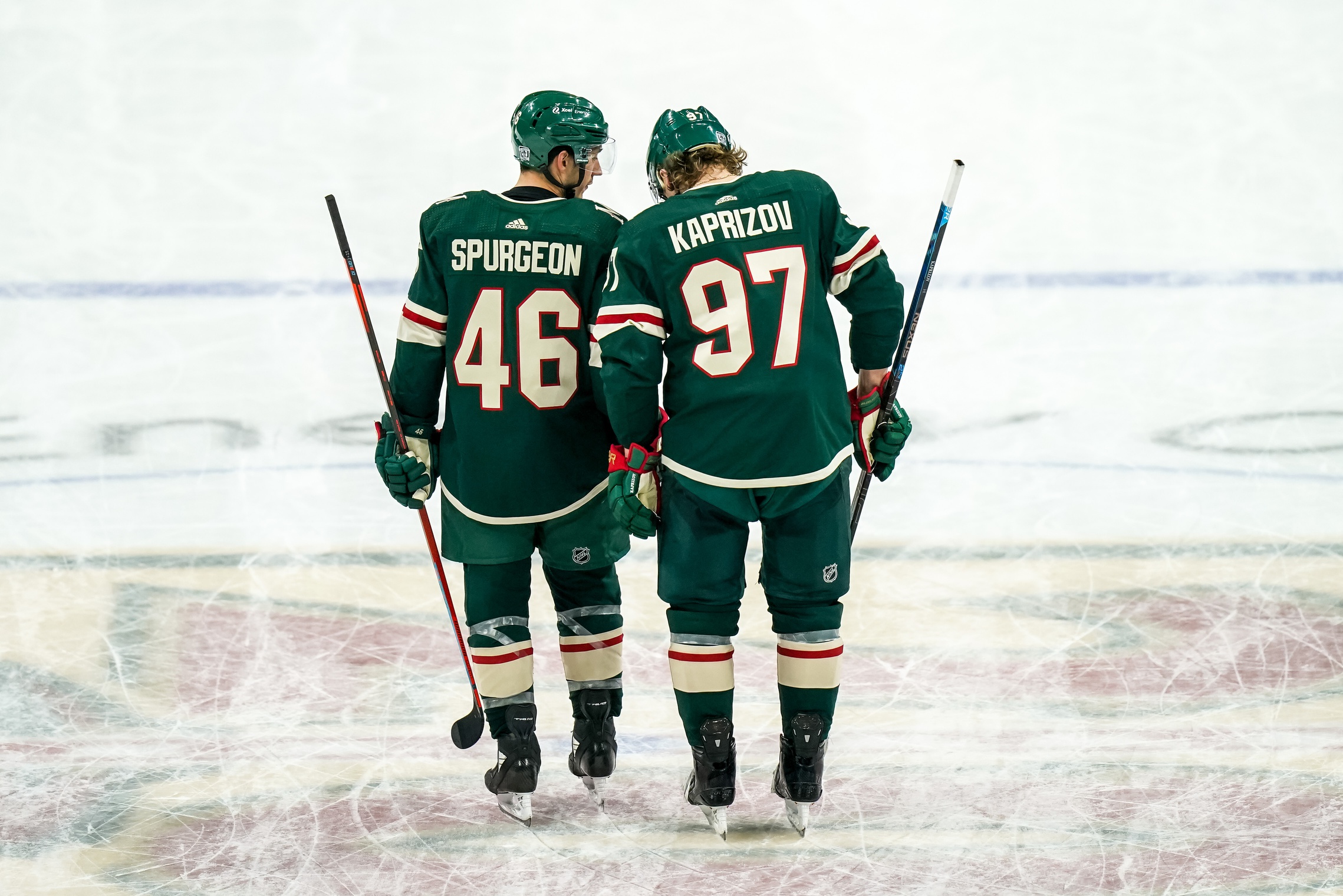 The Minnesota Wild put their first retired number into the rafters in March. Of any player, anyway. Raising Mikko Koivu's banner gave Wild fans something to be proud of, in a way that retiring No. 1 for WILD FANS or winning a defunct division 15 years ago just can't quite scratch.
There was a not-entirely-surprising debate on whether Koivu was worthy of the honor. His traditional stats didn't necessarily pop, and there was little team success during his career. Still, he's the author of most franchise records, the first permanent captain in team history, and a top-3 defensive forward of his era.
Even if you don't love the decision, it's there, and it's there for a reason.
Now that the first number retirement in history is done, we get to ask ourselves: Who's next?
Let's go through some of the top candidates and break down their credentials, and odds of joining Koivu, and hopefully displacing WILD FANS.
The Case For: For 502 glorious games, Gaborik was the only reason to watch the Wild. He scored 219 goals, or 36 every 82 games, and was one of the three best scorers in the world during his peak. Of anyone to wear a Wild sweater, he may have the best Hall of Fame case.
The Case Against: There was that breakup where the Wild offered Gaborik 8-years, and $80 million, but he jumped ship to the New York Rangers. Time's healed those wounds, but at this point, it's put him out of the consciousness of Wild fans.
Outlook: If you're waffling on retiring a jersey number, you're probably not giving it to folks with as little credentials as Jordan Schroeder, Matt Read, and Tyson Jost. Just saying. It's not happening.
The Case For: Parise came to St. Paul as Minnesota Hockey Royalty, as the son of former North Star J.P. Parise. His relentless work ethic around the net allowed him to score 199 goals in his 558 games in Minnesota. Injuries took their toll and limited him to just one 30-goal season, but his game and status as Minnesota's best playoff performer weren't in question.
The Case Against: How many guys have had their number retired after getting bought out? It's maybe not fair. If he retired at age 36, for instance, it might be a different story. But the unfulfilled expectations of his 13-year, $98 million contract, and its lingering effects today, complicate his legacy. Also, his prime unquestionably came with the New Jersey Devils, with five 30-goal seasons there.
Outlook: Arguably, there's still a chance. No one claimed No. 11 last season, and the Minnesota legacy may push Parise over the top. Still, the way it ended probably ends those hopes.
The Case For: On the ice, there's no question that Suter has a better case for jersey retirement than Parise. He was an iron man, playing huge minutes over 656 games with the Wild, rarely missing any time. His 369 points as a defenseman included 40-plus in all but one full season (plus a lockout year where he scored 32 in 48 games). His three top-5 Norris Trophy finishes, including runner-up status in 2013, made him the most widely-recognized part of the Wild's successes in the last decade.
The Case Against: Off the ice, we're starting to get confirmation that Suter maybe isn't a guy Minnesota's rushing to honor. Parise's buyout, by all accounts, was amicable. However, Suter hung up the phone on GM Bill Guerin after hearing the news. And again, there are the same issues Parise faces, though Parise is far from blameless for how he conducted himself in Minnesota.
Outlook: It's hard to see there being any reconciliation between Suter and the Wild anytime soon. Guerin doesn't appear to have many positive feelings towards Suter, and the feeling seems mutual. It's a potential Wolves/Kevin Garnett situation, and that's if the Wild ever get around to trying to retire Suter's number.
The Case For: Brodin is second to only Niklas Hjalmarsson as the best defensive defenseman of the Analytics Era (2007-08 to today). That bears out statistically, and through the eye test, and Brodin takes on tough assignments with regularity, and frustrates them all. It's very rare to see him have a bad play, let alone a bad game.
The Case Against: Defensive defensemen usually don't have the resume of a jersey retirement. It's not impossible. Ken Daneyko, Adam Foote, and Rod Langway stand out as examples, but they won three, two, and one Stanley Cup with their teams, respectively. Brodin may need to win hardware to bolster his case.
Outlook: The source of hope for Brodin comes from Chris Phillips, who doesn't have nearly Brodin's statistical case, getting his No. 4 retired by the Ottawa Senators. Even then, though, he played nearly 1,200 games as a Senator, including a Stanley Cup Final appearance and another Conference Final run. But Brodin is just 28 and already has 681 games with the Wild, and six years left on his deal. This is probably the most likely so far.
The Case For: What if Brodin, but offense? That's the recipe for Spurgeon. In 772 games, all with the Wild, he already has the record for most goals by a Wild defenseman with 99. He should also set the record for points next season, as he's at 345, just 25 points away from the record. In earning his team an estimated 59.6 standings points in his career, he ranks third behind Shea Weber and Mark Giordano among the best defensemen of the Analytics Era. Carrying the captaincy torch from Koivu also helps his case.
The Case Against: He's spent most of his career living in Suter's shadow, with Suter eating into his power-play time and offensive numbers. It's stopped him from getting the Norris Trophy votes Suter got throughout his career.
Outlook: There's something very poetic about no one wearing 46 before Spurgeon, and no one wearing it after him. As recognition of advanced metrics becomes more appreciated, Spurgeon's case will only get stronger. As it stands, his records, longevity, and likelihood of surpassing Koivu's all-time games played franchise record (1,028) makes Spurgeon the closest thing to a lock of anyone, including...
The Case For: Everything he's done, literally from Game 1. In just 136 games, Kaprizov already is 17th in franchise history with 74 goals and 21st with 159 points. He broke the Wild's franchise record for goals (47) and points (108). As for the latter, he obliterated it, increasing it from the previous record (83) by 30%. His talent is obvious, and he's already on a Hall of Fame track.
The Case Against: He's 25, and anything can happen. Jersey retirements come with longevity plus greatness. Kaprizov definitely has one of them but will need to have several more great seasons — as well as have those seasons in Minnesota — to get that honor.
Outlook: No one's made money on betting against Kaprizov before. If he plays, say, 800 games in a Wild uniform, he's getting there. Will he get to that point, though? The difficult nature of getting him to North America, plus his contract negotiation and trade protection clauses raise some doubts. But if he stays long-term, he'll get a spot right next to Nos. 9 and 46.