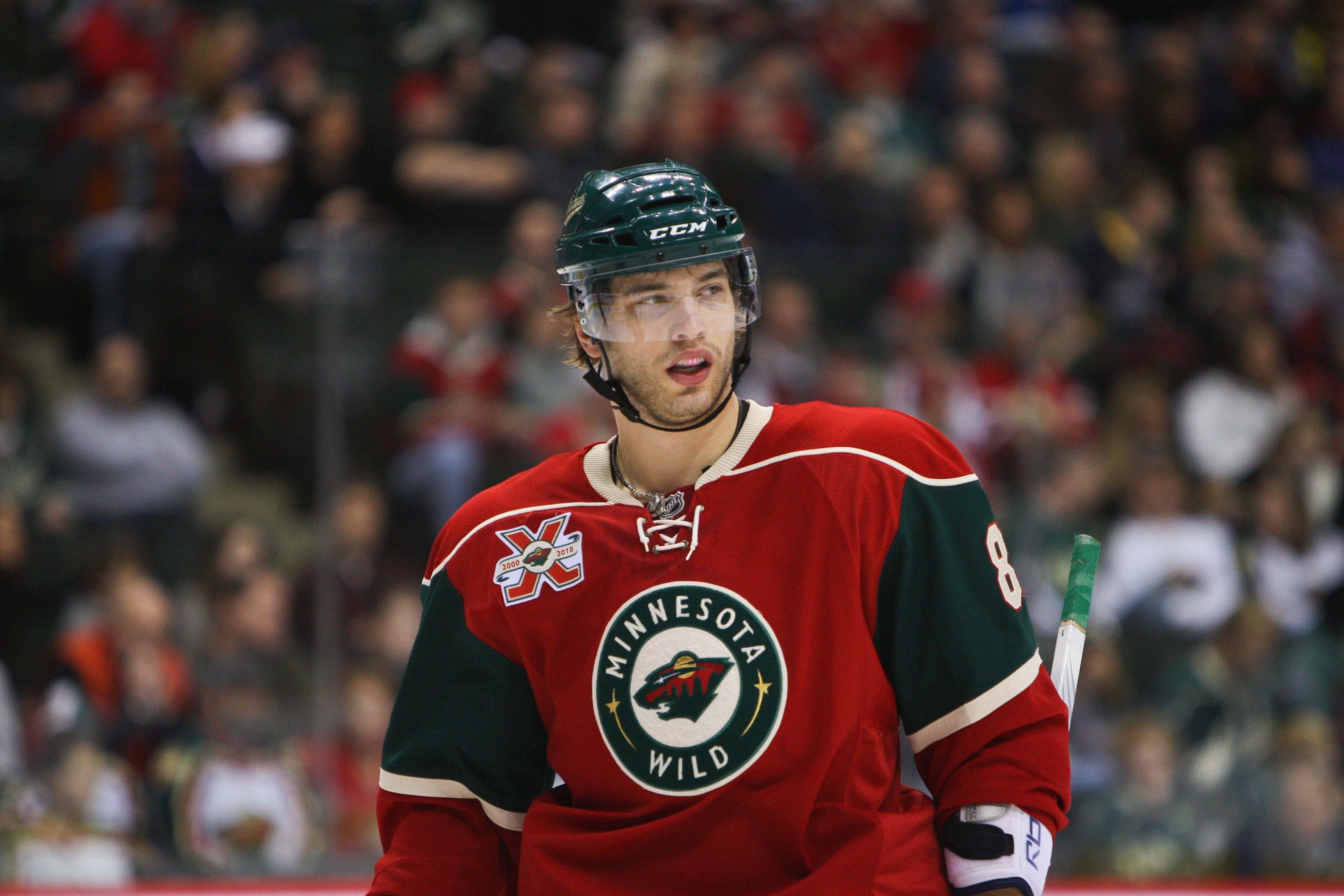 Image courtesy of © Brace Hemmelgarn - USA TODAY Sports
We're in the middle of a long, boring summer in the State of Hockey, so let's take today and have some fun. Let's imagine that Gary Bettman decides to offset the Zach Parise/Ryan Suter cap hits to allow Minnesota Wild can transport a former player from their past and add them to the roster. Their cap hit has already been paid from a previous year, so would cost only a roster spot.
But, there's a catch: It's not fair, the NHL decides, for Minnesota to add too great of a player. So we have to work around some restrictions. Said player can not have finished in the top-10 in Wild history in games played, nor in the top-5 in either goals, assists, or points, whether single-season or all-time.
So the easiest answers: Marian Gaborik, Mikko Koivu, Zach Parise, Jason Zucker, Andrew Brunette, Ryan Suter, Pierre-Marc Bouchard, Mikael Granlund, Eric Staal, Kevin Fiala, Brian Rolston, Matt Dumba, and Nick Schultz are all off the table. With 13 prominent members of Wild history all off the table, who's left? Who would you pick? Here are our thoughts for candidates:
2013-14 Jason Pominville
One way to start off this exercise is: Who had the best season outside of those 13 guys? As it turns out, only one eligible player has ever scored 30 goals in a Wild uniform: Jason Pominville.
We might remember Pominville most from his abrupt decline after this season, scoring 18 goals in 2014-15, then 11, before "bouncing back" with 13 to go with 34 assists. But at the height of his powers, you had to admit: The dude could play.

Peak Pominville was a sneaky-good volume shooter, and he got 2.76 shots per game for Minnesota that season. It's not an outrageous mark, but the only players who've shot more times per game over their Wild career are Rolston, Kirill Kaprizov, Gaborik, Parise, Fiala, and Matt Boldy. Speaking of Boldy, that feels like a good fit for Pominville in the lineup. Peak Pominville and Boldy are both dual-threat types who can thrive off each other.
Now, you can poo-poo his candidacy by virtue of not being a center. But Pominville could present the next-best thing: A center enhancer. A line where Marco Rossi is surrounded by 30-goal players in Pominville and Boldy could definitely work. Remember, Granlund's best season as a center came alongside Pominville in 2013-14, where he scored 41 points in 63 games. 
Even better, Pominville's something of a playoff performer, ranking fourth all-time among Wild history in career points (23) and sixth in points per game (0.64). Is that damning with faint praise? I'd rather not think about it!
2007-08 Brent Burns
It's kind of surprising to see Burns fall through the cracks in our parameters, because he's maybe had the best career of any player in Wild history. Unless I've made a mistake, he's one of just four Wild players to ever have won a major award (Fleury won a Vezina, Kaprizov and Dany Heatley both won Calders). He's been a finalist for two more. He's second this century behind only Shea Weber in goals by a defenseman, and behind Erik Karlsson in points by a defenseman -- and that's only after taking out the five seasons he spent as a forward.
But here he is, eligible to put on our team. This is by virtue of finishing just 14th in games played (453, 36 behind 10th-place Brunette), 21st in career points (183), and 26th in goals (55). We chose the 2007-08 vintage, his first year as a defenseman, over his last season as a Wild in 2011-12. Burns scored 15 goals and 43 points while driving offense better than anyone in Wild history.

The biggest problem with Burns is that right defense is arguably the position Minnesota needs the least help with. Jared Spurgeon is a reliable force there, at least during the regular season. (However, it should also be noted that Burns had 5 goals and 12 points in 34 playoff games in his 20s). Brock Faber is ready to step into a shutdown role with the Wild. Calen Addison just quarterbacked one of the best power plays in team history.
But even if we're leaving something on the table at forward, Burns is a great enough player, even before his Norris Trophy contender days, that he merits consideration.
2016-17 Nino Niederreiter
What about a player who fits the Wild's identity as a big, fast team? Imagine the glow-up in linemates that Joel Eriksson Ek would experience going from Marcus Foligno and Jordan Greenway to Boldy and Peak Niederreiter in a year.
Niederreiter is a version of Foligno, both being elite defensive wingers. Swap out Foligno's physicality (which Minnesota would still have anyway) for a lot more scoring touch. Boldy is something like we've always wanted to see from Greenway. Greenway was more of a finesse player, but he never shot nearly enough. And while his skill was impressive for someone his size, he was rarely capable of overwhelming his opponents. Boldy has both those qualities with elite defense, to boot.
What if you made an entire "GREEF" line out of first-liners who dominate at 5-on-5? With Peak Nino, we'd have the answer. He was 15th in the NHL in points per hour at 5-on-5 that season, between Nikita Kucherov and T.J. Oshie. Niederreiter's position might not be of need, but the 5-on-5 scoring is for a team that finished near the bottom of the league last year.
Plus, Niederreiter was one of the most likable players on his Wild teams, and his personality would be fun to watch in an era of Wild locker rooms where "having personality" and "being under 30" aren't major violations of the team culture.
2006-07 Pavol Demitra
Perhaps this very slick graphic I created describes your emotions right now.
OK! I hear you! The only problem is the two players we'd pick to play center among former Wild players -- Staal and Koivu -- aren't available to us right now. With the clear-cut two best "pure" centers off the table, we're here to settle for... oof... Matt Cullen?
So we're going to do the time-honored Wild tradition of throwing a wing/center 'tweener in there and hope for the best. Enter Demitra, who the Wild traded to be the playmaker and center-by-default for his fellow countryman Gaborik. Demitra put up 25 goals and 64 points in 71 games during his first season in Minnesota.
Only 45 of those games were alongside Gaborik, but when they were together, it went according to plan. During that time, Demitra scored at a 27-goal, 82-point pace, with Gaborik set to clock 49 goals and 95 points. It's not hard to think of what to do with Demitra in today's lineup. Just throw him between Kaprizov and Mats Zuccarello, and out-score the hell out of the opposition.
Now, is that chemistry going to live on without the bond between the two Slovaks? Probably. It's not like Demitra wasn't a scorer in the NHL. He spent the previous eight seasons dropping 552 points in 544 games with nary a Slovak in sight. He was a great player, and even entering his decline phase, he's got a resume worthy of consideration here. 
Other
Anyone else you can think of? Let us know in the comments.
1