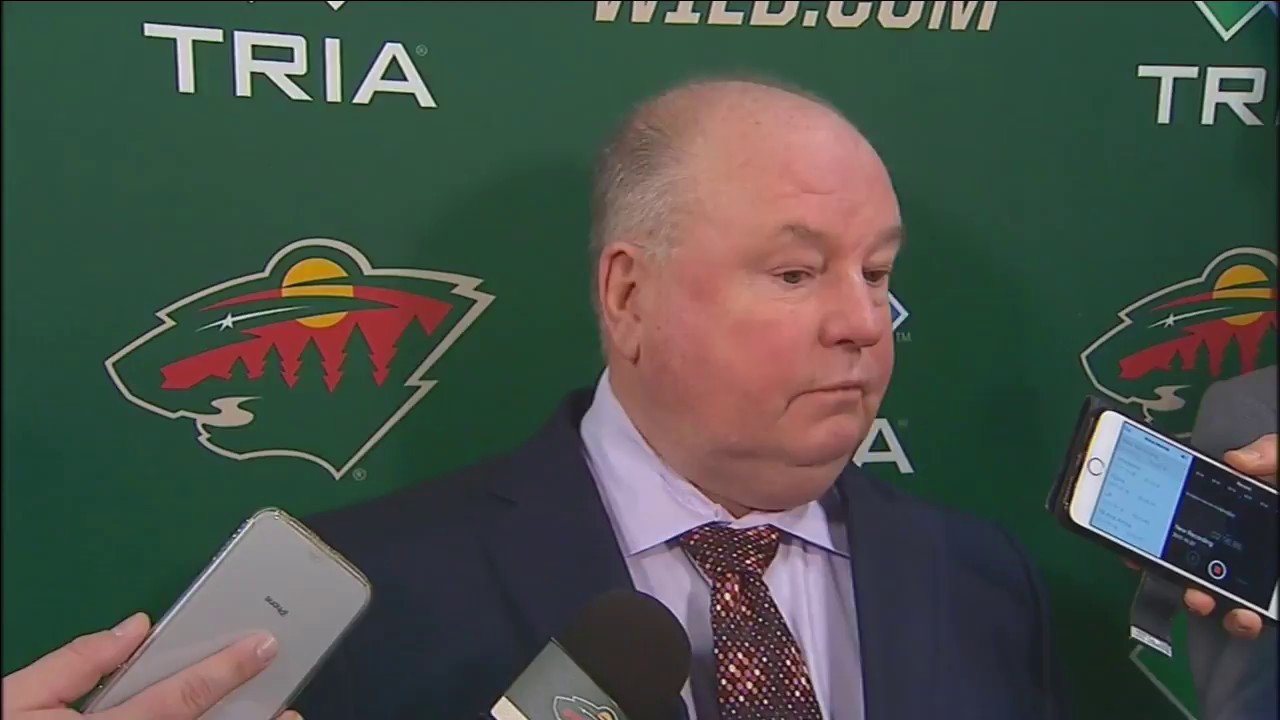 Monday night's 7-2 loss at the hands of Winnipeg was the crown jewel of an underwhelming start to the season for the Minnesota Wild. The season is over a quarter of the way finished, and there have been just a handful of players on the roster who have performed up to snuff.
The common theme from head coach Bruce Boudreau after every game has been along the lines of 'effort' and players 'not doing their job.' That's not exactly something you want to hear from a coach who guided this team to a franchise-best 106 points last season.
Speaking of those 106 points, there were lofty expectations on this team headed into the season, despite their quick exit from the playoffs last year. Team owner Craig Leipold has basically said it's Stanley Cup or bust for this team, this season. And so far on the season, his 'Stanley Cup or bust' squad has lost 14 out of 25 games.
Woof.
Now if you're general manager Chuck Fletcher, where do you go from here? The team you have assembled is not playing up to the high benchmarks set by your boss, and you must certainly be feeling that the seat under you is getting a bit toasty as your club has only made it out of the first round of the playoffs two out of the past five seasons.
He has some options ahead of him to close out the season. Let's take a look at what he can do with his team:
Start selling - begin to rebuild
The realization hits Fletcher that this team is on the wrong side of its peak, and it is obvious they won't be able to make a playoff run this year. With so few teams looking to sell by the trade deadline every year, Fletcher sells off his valuable assets -- Jason Zucker, an RFA looking to cash in big time at season's end, comes to mind -- and begin to stockpile draft picks and prospects to try and rebuild the Wild.
Given the length of time this process would take -- seeing that the Wild have many players locked under contract long term -- this option is very unlikely to be seen as Fletcher would almost certainly not survive this process. His boss (Leipold) does have a track record of trust with those who work under him, but given the aforementioned expectations on this team, it would be very likely a change is made.
This option is also a very dangerous path to go down, as some teams who try to tank and rebuild -- see: Coyotes, Sabres, Oilers -- find themselves in continuous rebuild modes as they can't get out of the muck after getting favorable high draft picks.
Stand pat and let this team try and figure it out
Wild fans cringe at the thought of this idea, seeing that the first 24 games of the season have yielded very poor results. But instead of making rash decisions that could (even more) negatively affect the franchise, Fletcher stands pat and lets his team try and figure out their problems. He brings back Joel Eriksson Ek and Luke Kunin from the minors to try and spark a bottom six that has been absolutely horrific, but that's all the more moves you see from him. Well, ok, maybe Kyle Quincey going on waivers helps too.
The Wild have one of the better bench bosses (Boudreau) in the league -- or, in terms of regular season success -- so there is still a high chance that he can guide the Wild out of this mess and into the playoffs. He kicks the Wild veterans in the rear somehow and squeezes some productivity out of them to get them on a roll and the Wild manage to make the playoffs for a sixth straight year.
Given how the Wild fared at last year's trade deadline, Fletcher decides to not mess with the team and lets them ride it out into the playoffs. Incredibly, the Wild would go into the offseason with eight draft picks -- including a first-round draft pick (!!!) and three third round picks -- as they try and restock the prospect cupboard after back to back drafts with a low number of picks.
Make a huge trade to get more scoring, AKA, a final hurrah
This is the most likely option of the lot. Fletcher, seeing how his team is underperforming and would most certainly not survive another failed postseason, pushes his chips even further all in and goes out to get a player who can score -- or so he thinks.
The trade market isn't exactly shaping up to be anything special, but there are still some prominent names out there even though the big name - Matt Duchene - is no longer on the market. Fletcher could easily pick up the red phone with Buffalo again and make a deal for Evander Kane, a player that is likely to be moved before the start of 2018-19. He is currently having a big year for the Sabres -- 23 points in 24 games -- but with Buffalo's problems, they are seemingly willing to part with Kane for the right price.
Given Buffalo's woes on the back end, Minnesota could come up with a package along the lines of a young defenseman -- Mike Reilly or Gustav Olofsson come to mind -- their 2018 first-round pick, and their second round picks for the next decade to get the UFA to be at season's end.
The best case scenario is Kane could give the Wild some dynamic offensive up front and it gives the Wild a bit more depth on offense as the trickle-down effect gives them more balance in the lineup. On the flip side, Kane doesn't mesh with the Wild like past trade deadline rentals (Moulson, Hanzal) and the Wild went all in for nothing as they miss the playoffs. They then are left with no picks in the draft until round three, again, Kane leaves via free agency, and Fletcher gets shown the door as the franchise gets slightly more crippled by the trade.
Other names the Wild *could* (emphasis on 'could') trade for if they don't want to deal for Kane: Alex Galchenyuk (MTL), Rick Nash (NYR), James Neal (VGK)
---
Those are the three scenarios Fletcher thought over this morning while having his morning coffee. Where does he go? Who knows. Odds favor the huge trade, as he makes a last attempt to save this team and - more importantly - his job.
General managers often do not do teams favors when they make last desperate attempts to save their jobs, so be wary about what comes next for the Minnesota Wild. Because after so badly whiffing on moves this past summer, confidence in Fletcher to right this ship is low and only getting lower.
Uneasy times are ahead if you are a Wild fan. Tread easy, friends.
---
Never Miss an Episode of Giles & The Goalie!