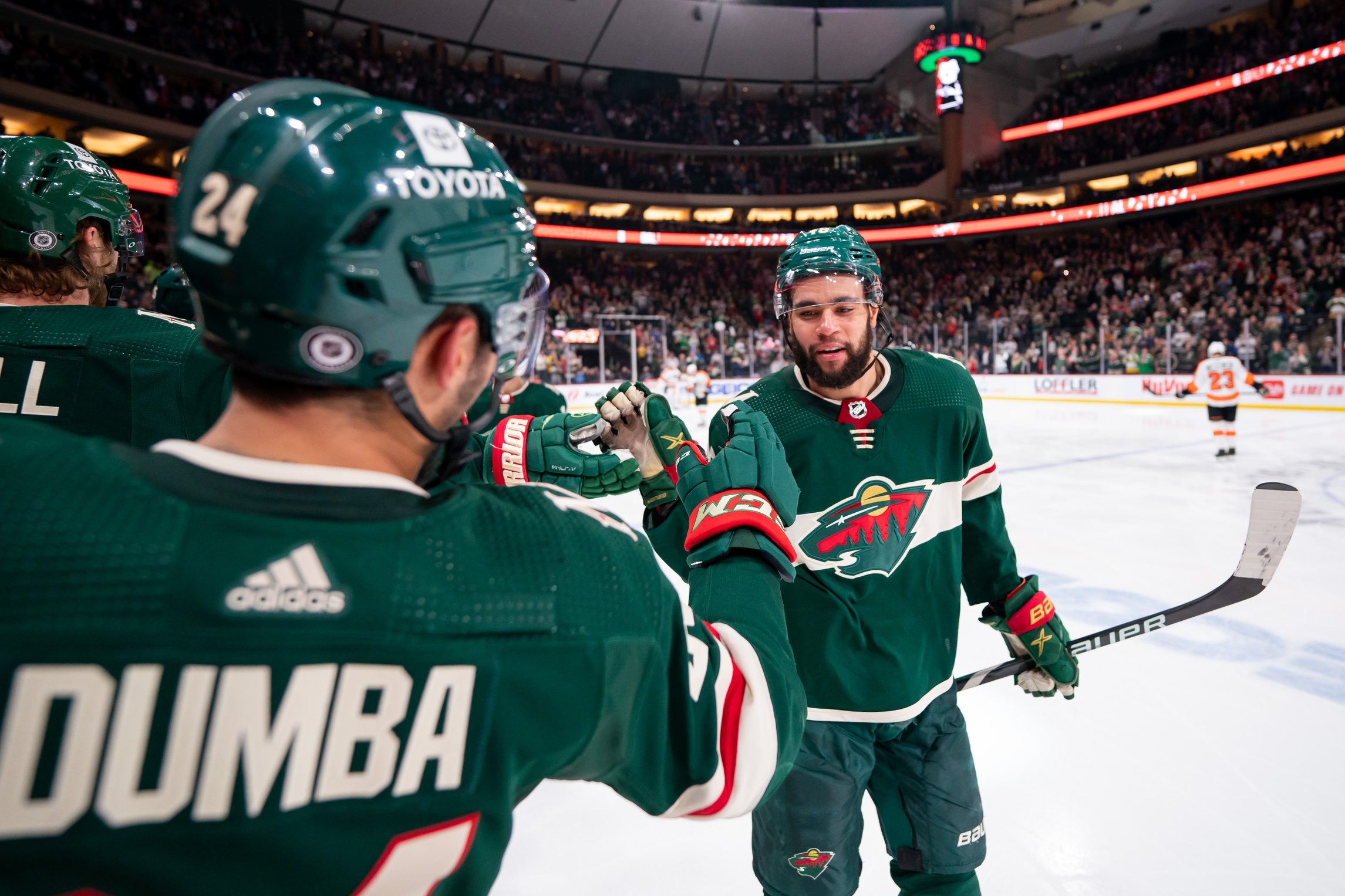 Jordan Greenway has had a very unorthodox season. The 25-year-old New Yorker has battled injuries and inconsistent play all year. With his decrease in production, movable cap hit, and occasional lack of professionalism, Greenway could soon find himself in a different sweater.
It's been almost a year since Bill Guerin signed Greenway to a three-year, $9 million extension. Bill Guerin had a meeting with Greenway before the 2021-22 season, and Guerin challenged him to take his play to another level. Guerin saw enough through the first half of last season and rewarded him with the extension.
Greenway has a unique skill set. At 6'6", he's a load and can be incredibly effective in a checking role. He's been a fixture on the "GREEF" line, with Joel Eriksson Ek at the center and Marcus Foligno on the wing. This is often dubbed by the media the "identity" line for the Minnesota Wild. They play a hard, checking, defensive style that wears opponents down and is difficult to play against. The GREEF line has been effective defensively, but they lack offensive firepower. Foligno and Greenway have both regressed, failing to shoot the puck and put up points.
With only six points in 31 games, he's on pace for a career-low 12 points in 65 games. Among Minnesota's regulars, Greenway is second to last on the team among Wild regulars in Corsi % and is third to last among relative Corsi % with an abysmal -3.6.
Injuries may be hampering Greenway's play. He had shoulder surgery in the off-season that caused him to miss training camp and the first part of the season. He returned to play, re-injured the same shoulder, and then was out for a few more weeks.
Additionally, The Athletic reported that Greenway overslept and missed a meeting. In early January, Evason subsequently scratched him for the second half of a back-to-back. Guerin had spoken highly of Greenway, complimenting his maturity and commitment, but that was before this incident.
Greenway has opened up about his struggles with sitting on the sideline due to injury. "I guess more than anything, I guess it's just made me more motivated, more excited to go back with the guys," Greenway said about his process of recovery and how he had to wait again after re-injuring his shoulder. "It's been different, a little adversity, but I grew from it for sure."
It sounds like Greenway has handled the setbacks well. I can't speak to anything that has happened with Guerin and Greenway since his healthy scratch, but his production on the ice is unacceptable to either of them.
Greenway's contract is the final reason he's in trade rumors. $3 million is usually not a concern for NHL teams, but Minnesota's cap situation is unusual. The Wild are in a tight cap crunch with the Matt Boldy extension. $3 million could be the little extra the Wild need to bring back players like Calen Addison and Filip Gustavsson.
However, the Wild would be trading Jordan Greenway at his lowest value. He's unlikely to develop into something more than he is. He's not going to miraculously score 25 goals or put up 60 points – that's just not his game. Still, Greenway plays an effective checking role that could be valuable to other playoff contenders who need more beef.
From an analytical perspective, the Greenway contract is not an albatross for the Wild. It's not like he's been awful, just not as effective as hoped.

Evason recently elected to break up his beloved GREEF line, creating a rare opportunity for the trio of forwards who played the 16th most minutes in the league together last season to play on other lines.
Foligno was moved up in the lineup, and Ryan Hartman coming off a healthy scratch took his place and skated next to Eriksson Ek and Greenway.
Evason's dismantling of the GREEF line signaled an end of an era in Minnesota. Greenway has been a fan favorite and delivered some big moments for the Wild over the years, but it feels inevitable that they will trade him. I don't know if the Wild will move the Big Rig before the trade deadline on March 3rd, but the momentum seems to be swinging in that direction.
Should the Wild really move on from their identity line?
Each player seems to play better when they are together. All of Greenway and Folignos's best seasons have come when Eriksson Ek is centering them. The GREEF line is critical in defensive situations, and Evason loves to use them in high-leverage defensive scenarios.
Greenway is a key cog in how the Wild want to play hockey, and it's a style that will be needed come playoff time. While Greenway has been disappointing, he's still a player that any team would love to have down the stretch and in the postseason. So why not keep him where he wants to be? Foligno said the Wild lineup is much better with him than without him.
I agree tenfold. If a team is offering a ridiculous package for Greenway, you shouldn't turn that down, but Greenway is a valuable player and a good asset. If you're still disappointed in him and want to move on. Address it in the offseason.
For now, keep the Big Rig around.