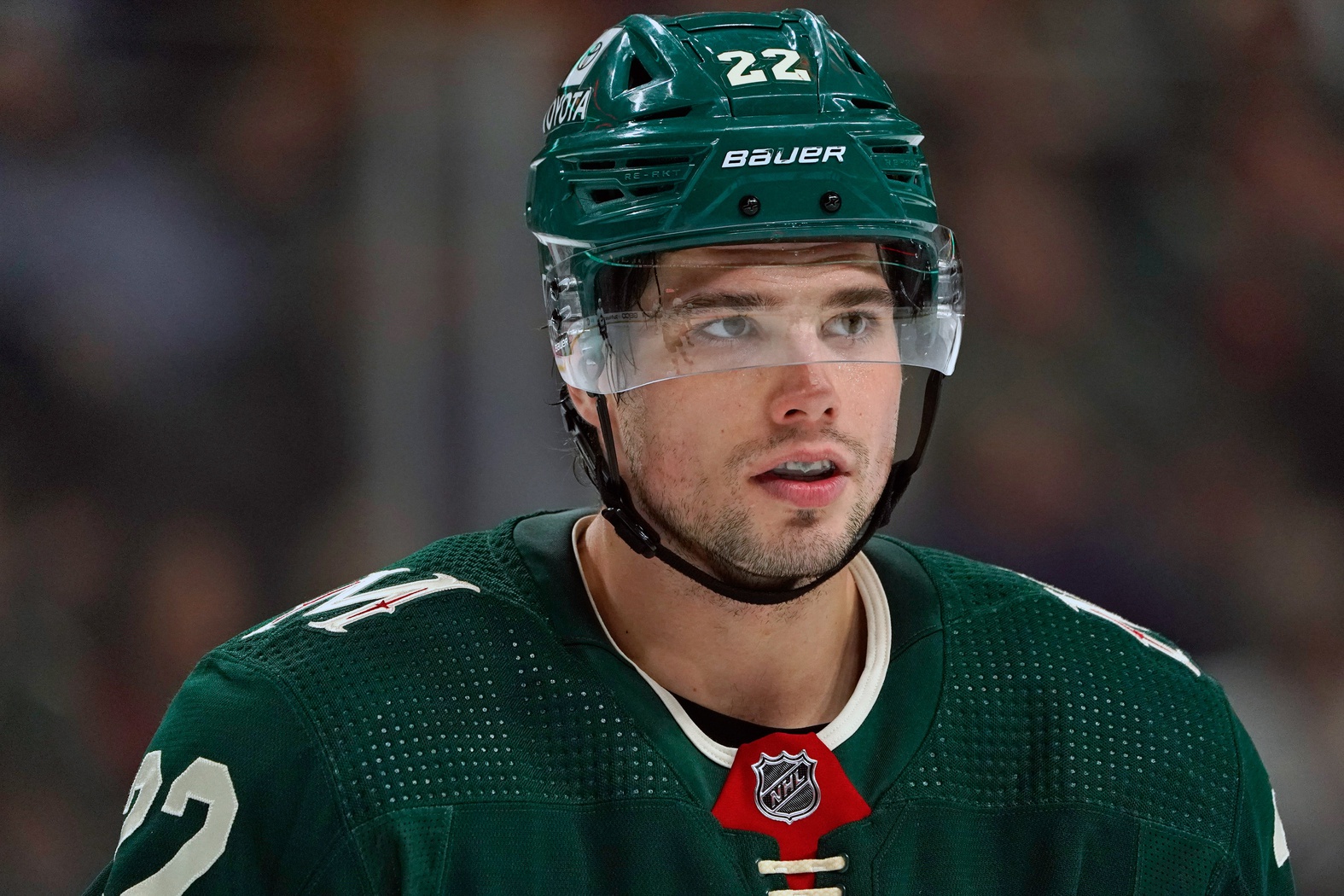 Kevin Fiala was on fire as the season came to a close. He scored a career-high 85 points and was finally performing like a star in the NHL. The BFF line of Matt Boldy-Freddy Gaudreau-Fiala was on fire. However, Fiala has only contributed to one goal in the playoffs, with a secondary assist in Game 4. Boldy, Gaudreau and Fiala have combined for only three points. The trio will have to step up their game if they want to be true contenders for the Stanley Cup.
Fiala's regular season was incredible, to say the least. But he's been unable to make a difference in the playoffs. Fiala was pretty much invisible in the seven-game first-round series against the Vegas Golden Knights last year. He only registered two points and was -6.
It's not looking good for him so far this postseason, either. Fiala scored 33 goals in the regular season. So why is he having trouble finding the back of the net in the playoffs?
Not only does Fiala have trouble scoring, but he's racking up penalty minutes, with 14 in four games. Although, to be fair, four of those minutes shouldn't count, as his 'high sticking' double minor in the first period of game four was Niko Mikkola's fault. The Blues defender lifted Fiala's stick into his own face and caused the penalty on Fiala. He still has to be careful with his stick, though, as he has two double minor infractions for high sticking in this series. Those kinds of calls cannot do well for the Swiss winger's confidence and add to the cloud of frustration over his head.
It's been well documented that Fiala has struggled with confidence issues as an athlete. His lack of scoring often gets to his head, and it's evident. He frequently groans and looks up to the rafters when he's in a slump.
It was evident that Fiala was frustrated Sunday afternoon. His play disrupted the flow of the game and kept the Wild from playing 5-on-5. Guys weren't playing their usual minutes because the penalty killers spent so much time on the ice. Therefore, Minnesota's best 5-on-5 players were frequently glued to the bench. Fortunately. Game 5 presents a reset for the Wild. They'll be playing in front of their home crowd again on Tuesday.
"Frustrated or not, it's a new game," Fiala said. "If it's going or not it's a new game. We're going to do everything we can to just refocus and clear the mind and forget this game and take the positive with us. New game, new chances."
The BFF line has struggled as a whole, but Boldy and Gaudreau face less criticism because they didn't have a season like Fiala did. However, they seem to feed off of Fiala's play. Usually, when Fiala is not scoring, no one is.
The Wild need Fiala's line to score when Kaprizov's line isn't scoring. Luckily, Minnesota's first line of Kaprizov, Ryan Hartman, and Mats Zuccarello has combined for 14 points. But you cannot win games with only one scoring line. Fiala's job is to provide depth scoring, and he's not doing that right now.
The silver lining is that the BFF line finally scored a goal in Game 4. Matt Boldy netted his first Stanley Cup Playoff tally, with Jacob Middleton and Fiala recording assists. That momentum is hopefully going to translate to Game 5. Boldy's goal should galvanize the BFF line and could lead to more chances and more goals in the rest of the series.
Boldy is confident that the end of the game on Sunday was a sign of good things to come.
"[in the] third period we found our step a little," he said, "we had more confidence with the puck, making more plays like we usually do, but it's not always gonna be perfect. That's something we stressed after each game we played, be patient and just wait for it to come. We got one, but we gotta keep going and play like we did in that third for the rest of the series."
Boldy is also aware that his line needs to improve their play.
"I think we can be better for sure," he said. "Between all three of us talking about it, we definitely know that we can help our other guys out a little bit more. We have other guys scoring goals. Obviously, it's not going to be perfect or go your way, but we've gotta find a way to be better and take the momentum we created in the third and use it to our advantage. We have to be better for sure."
The Wild were able to win two games without much help from the BFF line, but they need to rediscover their chemistry and play the right way. That means not drawing reckless penalties like cross-checking and roughing, and not thinking too hard.
"They've got to play the way we want to play," Dean Evason said. "They've got away from it a little bit. They're a little perimeter, little bit not getting to the inside. This time of year, it's not the tic-tac-toe stuff. It's more of the straightforward stuff. And that's how our hockey club plays, and that's what they have to push themselves to do."
It's now a best of three series. With two at home, things still look good for the Wild. But they will need every line to be a factor, and that means Fiala's line needs to restore the magic they had in the regular season.