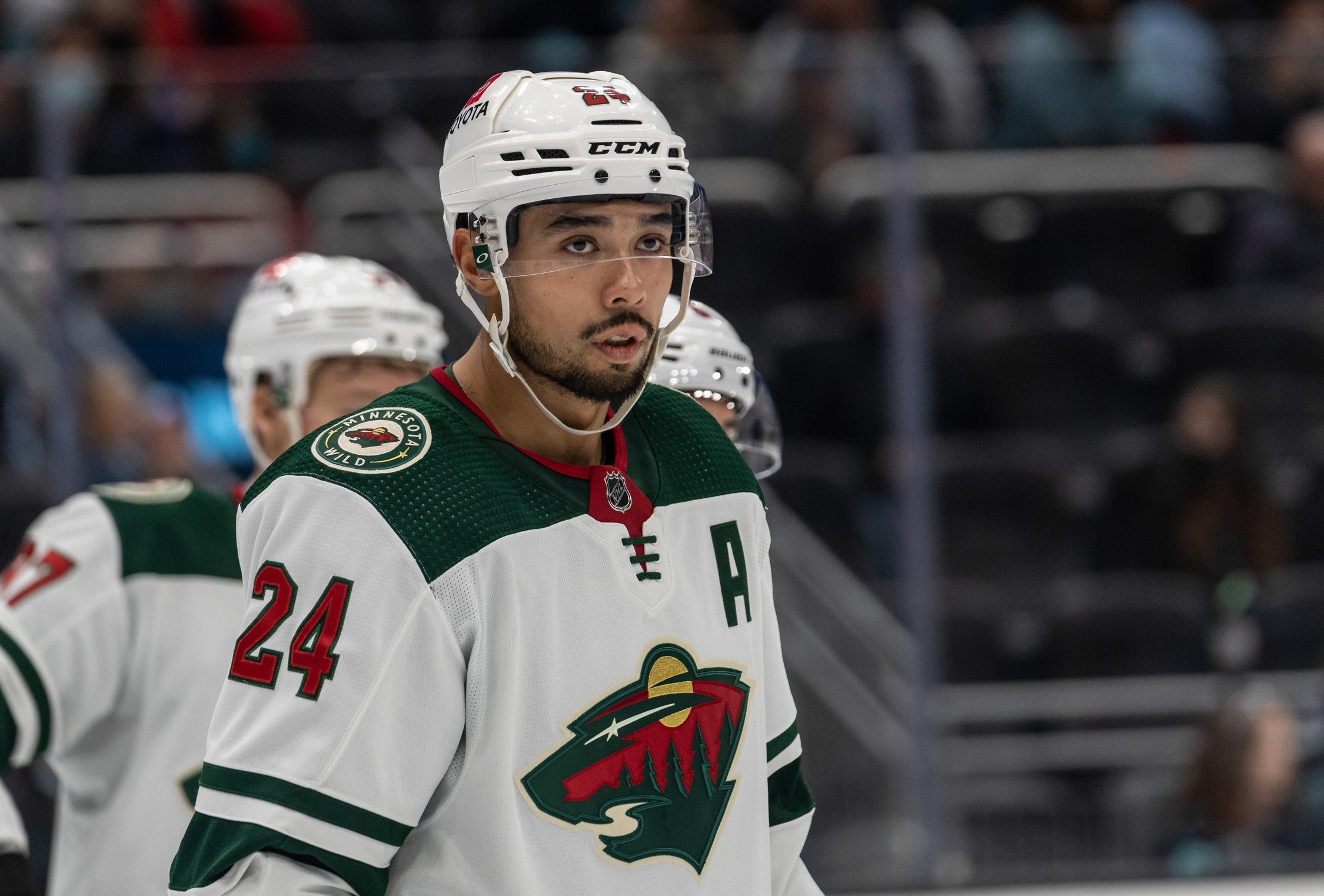 The Minnesota Wild front office has some tough conversations ahead of them this summer. With Jordan Greenway inking a 3-year, $9 million extension earlier in the week, the Wild now have just over $12 million in cap space for next year with 15 players signed. Notable UFAs include Nico Sturm, Alex Goligoski, Victor Rask, Nick Bjugstad, and Jordie Benn.
Sturm is playing his way into a well-deserved payday elsewhere. Rask likely won't be back, while the others could stay so long as they take team-friendly deals. Kevin Fiala and Kaapo Kähkönen, two integral parts of Minnesota's scorching hot start to the new year, are both RFAs in the summer as well. If one thing is clear, it's that the Wild will lose a core member of the team this offseason. The logical conclusion is that one of Fiala or Matt Dumba must leave to make the money work.
Fiala has struggled with consistency during his tenure in Minnesota, but his ceiling is incredibly high. He's playing some fantastic hockey alongside Matt Boldy, perhaps the best of his career. While it once looked like he was a prime candidate for a trade, Fiala is stating his case for a long-term deal in Minnesota. However, if Fiala were to extend with Minnesota, that would likely spell the end for one of the longest-tenured Wild players.
In that scenario, moving Dumba makes sense from a dollars and cents standpoint. For almost a decade, the 27-year-old has been a mainstay on the Wild blue line. But his play has plateaued over the last few seasons. He never truly blossomed into the true top-pairing defenseman it once seemed he could be.
With one year left at $6 million, he could garner some interest from GMs should he hit the block this summer. Dumba is a lovable guy, a leader in the locker room and the community. He was promoted to alternate captain this summer. Trading him would be one of the most challenging decisions a front office can make. But it may just be necessary to keep the Wild competitive through the brunt of the incoming cap squeeze.
Assuming that the off-season rolls around and Dumba is the odd-man-out, where could he go? And for what return?
We can start by looking at recent trades involving top-four defensemen. Last summer, Seth Jones fetched a haul for the Columbus Blue Jackets. They got two first-rounders, a second-rounder and Adam Boqvist from the Chicago Blackhawks. If Dumba could fetch a similar return, he would be gone already. The Philadelphia Flyers got Rasmus Ristolainen for a 2021 first, 2023 second, and defenseman Robert Hagg. Ristolainen is a logical Dumba comparison in terms of age and pedigree, but it's still unlikely Dumba fetches a similar return.
The deal that sent Devon Toews to the Colorado Avalanche is likely the closest comparable to a hypothetical Dumba trade. The New York Islanders were pressed hard against the cap and had to lose a valuable piece from their Eastern Conference Finals team. Joe Sakic recognized that, sending two second-rounders back the other way. The trade has turned out to be pretty lopsided for the Avalanche. Toews has played like a true Norris contender the past two seasons in Denver.
A Dumba trade could look quite similar to the Toews trade. Every GM knows that Guerin has little-to-no leverage if Dumba is available. Still, Dumba has the experience and talent to fetch a similar return to what the Isles got for Toews.
Now the question is, which team would bite on at least one year of Dumba?
Philadelphia sticks out immediately. Chuck Fletcher is the GM there, and he drafted Dumba. Also, CEO Dave Scott held a mid-season press conference announcing they had no intention of rebuilding soon. If the Flyers won't commit to rebuilding, could Fletcher see Dumba as a potential piece of the retool puzzle? The only issue is Philly doesn't have any second-round picks in the next two drafts, so the value would have to be made up with third-round picks or prospects.
The Vancouver Canucks have long been desperate for top-four defensemen. Could their new administration see Dumba as a piece of the future? Outside of Quinn Hughes and occasionally Oliver Ekman-Larsson, there's not a lot of talent on the Vancouver blueline. They also have their 2023 and 2024 second-round picks and just put Bruce Boudreau behind the bench.
The Ottawa Senators and Detroit Red Wings are two teams that are light on the blueline. They are inching closer to the end of their respective rebuilds, and have the cap space to make a Dumba trade work. Ottawa could use a top-four defenseman to play with Jake Sanderson when he becomes an NHL regular. Detroit could use another right-handed option behind Moritz Seider.
Losing a fan favorite, leader, and all-around great human in Dumba is no fun. But there may be no way around it. The Wild already have an NHL-ready replacement for Dumba with Calen Addison waiting in the wings. A player of Fiala's caliber and skill set is much harder to come by in today's NHL. As painful as the decision may be, keeping Fiala over Dumba makes the most sense for a Minnesota club that will have to spend wisely to compete in the next few years.