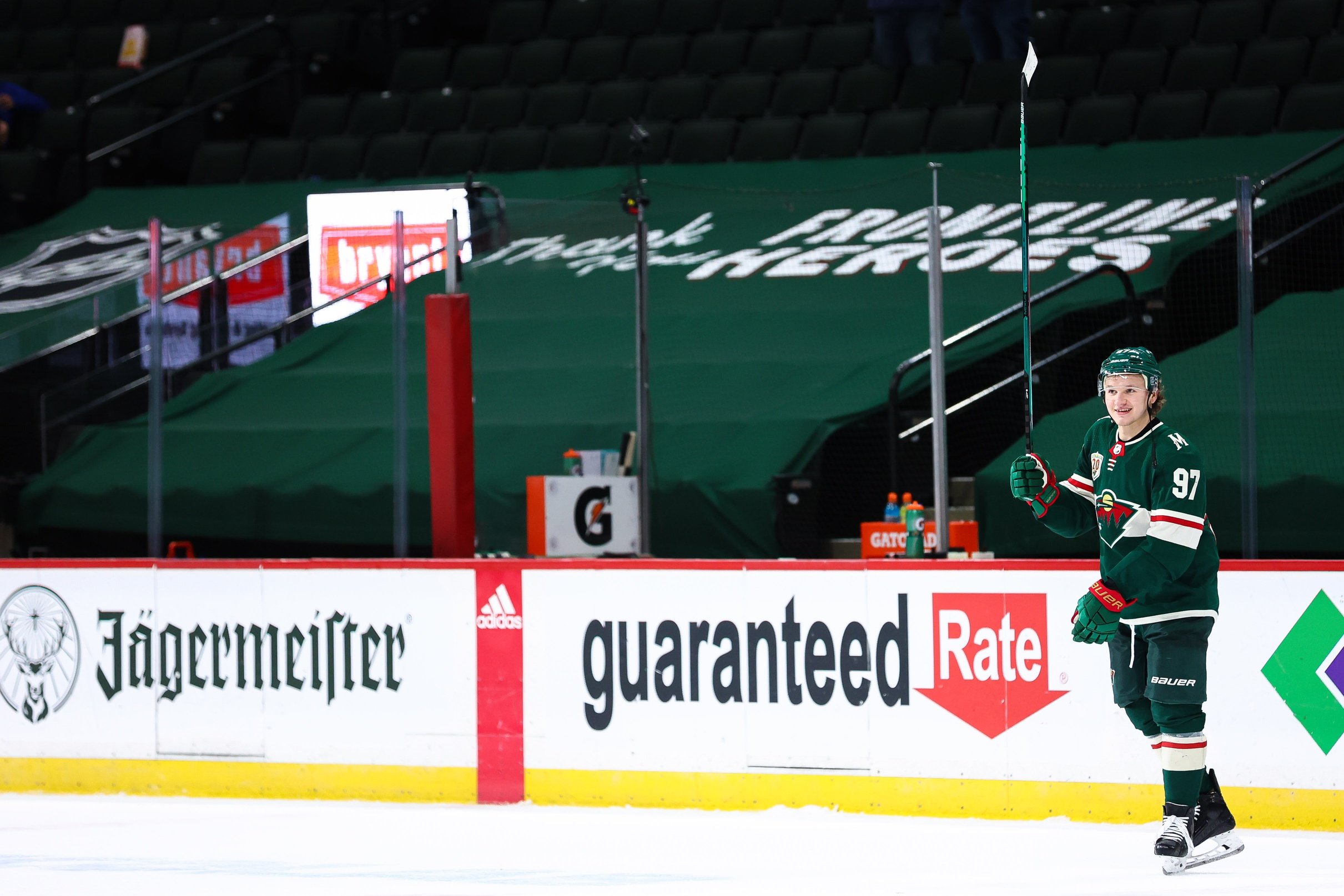 Don't let the headline induce any more anxiety about this situation than there already is. There is no "news" here.
This was written because the prized forward has indeed not been re-signed yet. Although things began to look like they were moving along with conversations between general manager Bill Guerin and Kirill Kaprizov and his agent, things have come to a standstill yet again, per the Athletic's Michael Russo on Sept. 13. Training camp begins on Sept. 23, giving the team and player just over a week to figure things out. Even if things finish quickly, getting over to North America takes time and could result in him missing part or all of training camp.
What if Kaprizov misses more than training camp?
The preseason starts on Sept. 25, and Minnesota's regular season begins on Oct. 15. That leaves a month for a contract to be signed and the player to get to the country and work towards being ready for NHL games.
For the sake of the following exercise, let's say Kaprizov is either unsigned or not ready to join the team to play on opening night against the Anaheim Ducks. What is impacted by his absence? The team's playoff chances, everyone else's job, the fans' interest, and the NHL as a whole because the game is less entertaining without Kaprizov in it. So, basically, it impacts everyone.
The real question is who this impacts most. Especially in the player pool, who can take advantage of an extra roster spot in camp and try to fill Kaprizov's big shoes and make a good impression on the hockey operations folks in Minnesota and around the league?
Fiala would have a chance to prove to everyone that he is near Kaprizov's level. This offseason, he went to arbitration (the team elected to do so, not the player) because the two sides couldn't agree on a deal for the upcoming season. Fiala is on another one-year prove-it contract, so he has everything to play for: more money and an elevated role.
It's no secret that he's been the Wild's best forward across the past two seasons. Fiala has 94 points across his last 114 games played in the past two seasons. Beyond that, he had a successful 20-goal, 20-assist stretch of 54 games last season, justifying that he's made the leap to be a consistent top-end NHL forward -- at least offensively.
With Kaprizov out, Fiala could now take up the role of the top winger. An elevated spot in the lineup could do even more for Fiala after being among the best Wild forwards the past few seasons. The key point to that elevated spot in the lineup is playing with (hypothetically) a better center. The Wild are thin down the middle, and it might help Fiala, just as it might have made Kaprizov even more productive last season to have a better player with the puck down the middle. Fiala could jump the line and have a better shot at a stronger offensive presence if Kaprizov stays away for longer than training camp.
Greenway found significant success on a line with Joel Eriksson Ek this past season. That line might return this upcoming year, but Greenway could stand to move throughout the lineup or see increased skill in the players he is going up against every night.
He would likely cede a place on the top line Fiala, especially given his chemistry with Eriksson Ek. Still, Greenway's big body could prove useful on a smaller line and make a difference with smaller wing and center combinations.
Matt Boldy
Boldy is intriguing because of his emerging status as an AHL player this past season. He shined when he arrived in Iowa, and fans are now clamoring for the forward to make his mark in the NHL. While the roster is largely full of wingers, especially in the top six where Boldy would need to be, Kaprizov's absence would present almost a tailor-made opportunity for Boldy to play himself onto an opening night roster.
The former Boston College forward has training camp and six preseason games to work with. If Kaprizov is not in Minnesota, Boldy stands a decent chance of getting reps in practice or even preseason games with Minnesota's top players — those same players who would be Kaprizov's linemates during the regular season.
If Boldy can make an impression on the coaching staff and GM, especially with a gaping hole at a premier top-six winger spot, he has a good chance to make his way onto the roster, and potentially stay.
This is dependent on many things, though. One is making sure Boldy actually impresses in camp enough to earn a spot. Guerin has been adamant that there will be no handouts to younger players hoping to make the team despite more spots being available on the roster. Another is the Kaprizov issue, obviously. The longer Kaprizov is not with the team, the better for Boldy to make a lasting impression. If Kaprizov comes over soon, Boldy's window may be smaller or closed until later in the season, and he'd likely start the year in Iowa.