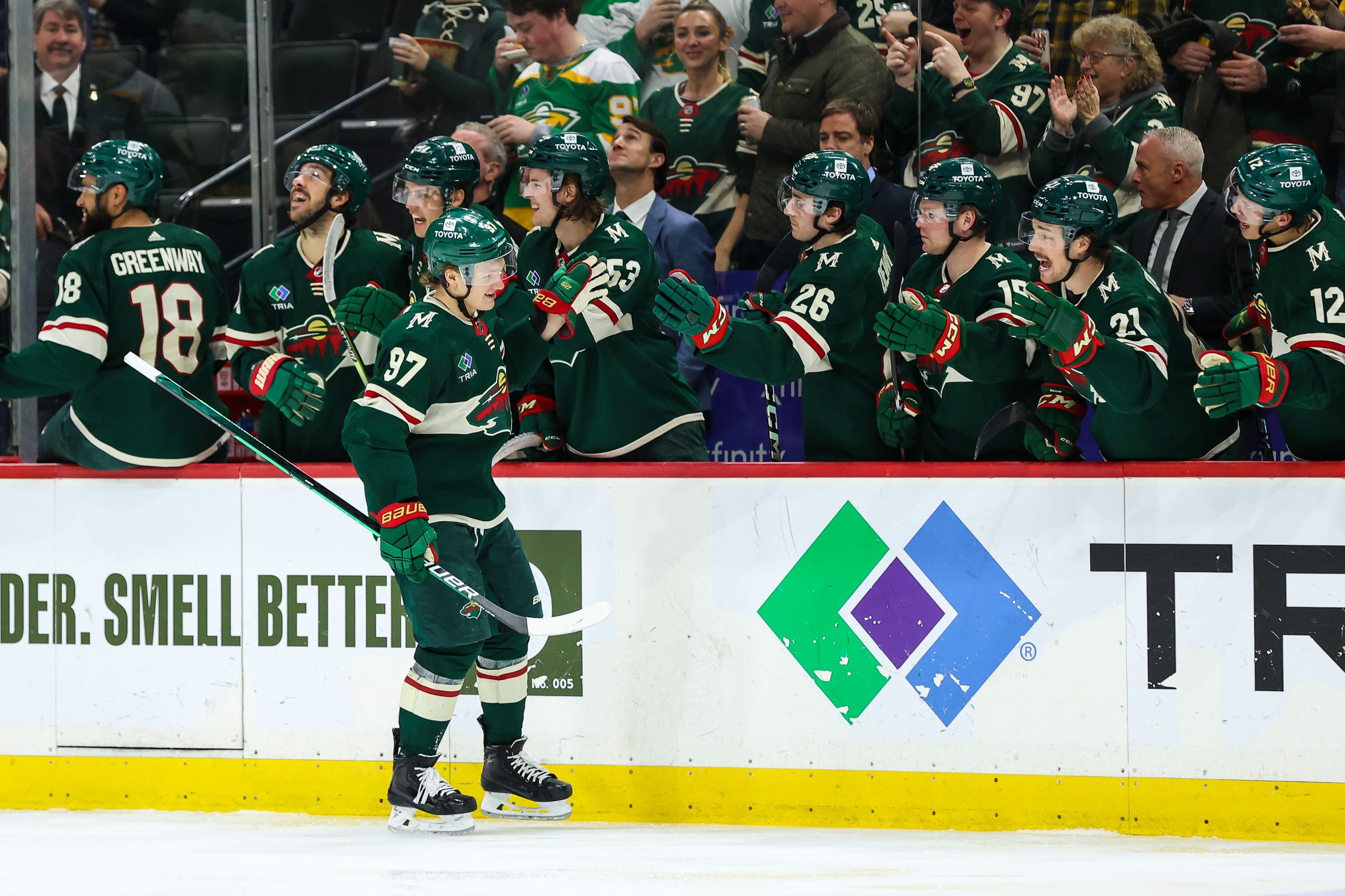 Image courtesy of © Matt Krohn - USA TODAY Sports
Some teams have a standard song they play when their team scores a goal. Some have individual songs for each player, like walk-up music in baseball. But what if it could be customized even further? Not just for individual players, but for types of plays or goals? 
Here are a few ideas that the Minnesota Wild could try:
Never Let You Go by Third Eye Blind
Remember those long walkabouts that Kirill Kaprizov goes on sometimes? He circles the entire offensive end of the ice. Sometimes he almost does it twice. He just doesn't want to let the puck go.
Teenage Dirtbag by Wheatus
Ryan Hartman has a little nastiness to his game, and that is exactly why everyone loves him. 
Basket Case by Green Day
Brandon Duhaime is a good hockey player, but he also eats paper.
My Name is Jonas by Weezer
Pretty straightforward. It'll be a good way to keep Jonas Brodin's name in everyone's mind.
You Ain't Seen Nothing Yet by Bachman-Turner Overdrive
This should be played after the first Wild goal of the game. Because the other team ain't seen anything yet.
Baba O'Riley by The Who
"Out here in the fields, I fight for my meals. I get my back into my living." Poor Joel Eriksson Ek fights for every goal he scores. And while we all know that he doesn't need to fight to prove he's right, the other team usually ignores that.
Mr. Brightside by The Killers
The Tkachuk brothers think they can claim this song? Nah. Let's play it every time the Wild score on the Florida Panthers or the Ottawa Senators. It's okay to be petty sometimes.
Best of You by The Foo Fighters
Jordan Binnington hates it when the Wild score on him. So let's add to that hatred by playing a song that asks him if someone is getting the best of him. It's all about the mental game sometimes. 
Love Love, Kiss Kiss by Alkaline Trio
There are those times when the Wild have fallen behind, and they're playing like junk. Fans start to get bitter. The chorus says, "Love love, kiss kiss…blah blah blah. You're making me sick. I wish you'd just stop showing off…"
Sugar, We're Goin Down by Fall Out Boy
When things are getting a little spicy down on the ice, it's a nice reminder that the Wild will always go down swinging.
Can't Feel My Face by the Weeknd
Just a handy song to keep in the back pocket for the next time Minnesota hosts another outdoor hockey game.
Quarter Past Midnight by Bastille
The next time that a Wild playoff game goes into double overtime, this song might as well get some airtime.