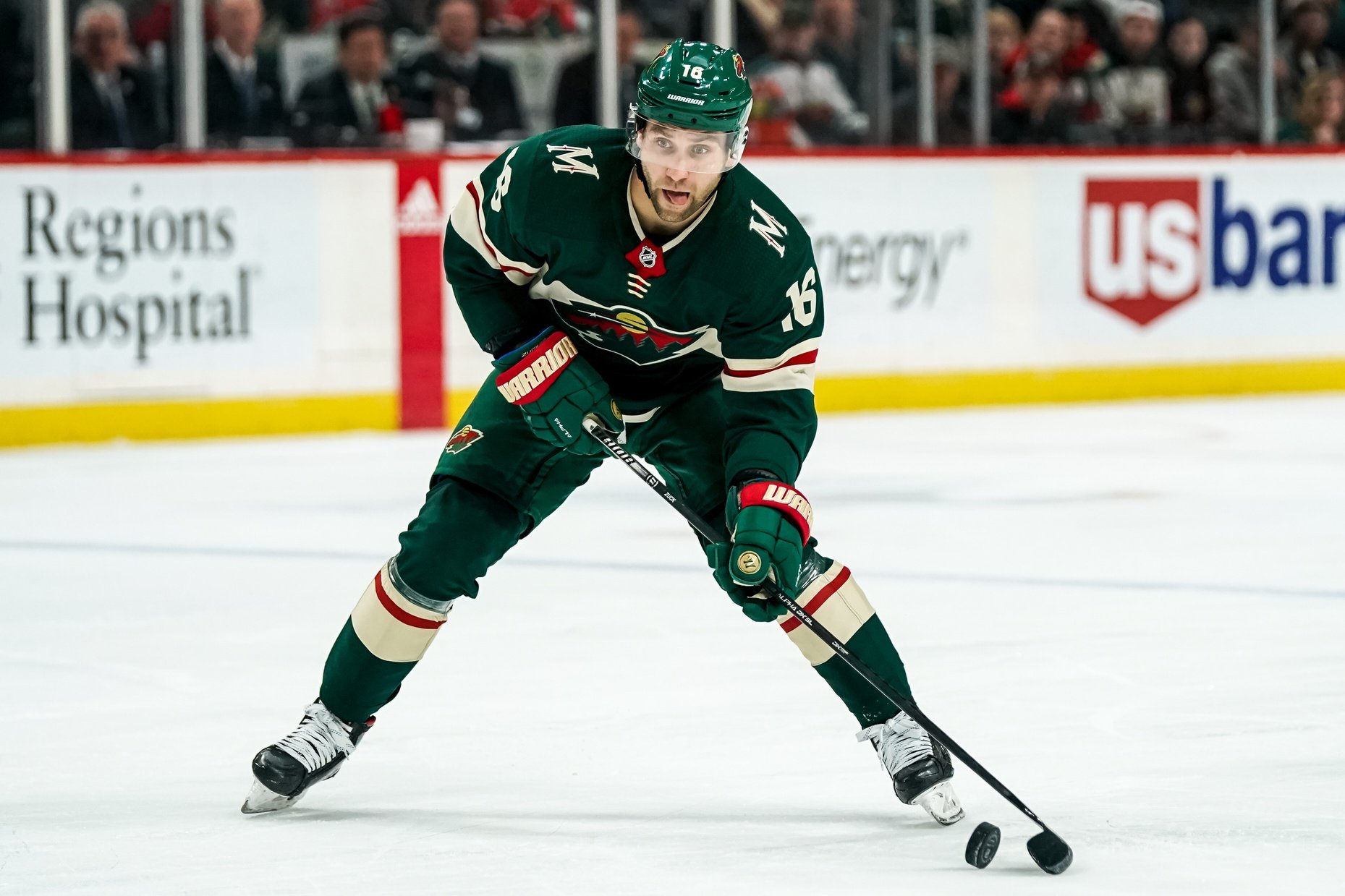 Not waiting any longer to put his stamp on his new team, Minnesota Wild GM Bill Guerin has finally made a big trade. He traded forward Jason Zucker to Guerin's former team, the Pittsburgh Penguins, in exchange for Alex Galchenyuk, Calen Addison and a conditional first-round pick in 2020.
Alex Galchenyuk
The loss of Zucker will certainly be felt on the ice. His immediate replacement -- Galchenyuk, who will slot into the newly vacated spot on the second line -- has a lot to prove. A former third-overall pick, Galchenyuk has had exactly one season where he's performed to the level of his draft status. Over the last four seasons, according to Evolving-Hockey's Goals Above Replacement model, the newest Wild forward has been decidedly below replacement level.
He's a wreck defensively. However, there are offensive players who are just as bad defensively, yet still can justify their roster spot because of their innate ability to create and produce offense. Since 2015-16, he has produced while on some good teams. Montreal had some good offensive talent to help foster him through the years. It didn't so much work in Arizona, but this last season, he's been abysmal playing on a roster that includes Sidney Crosby and Evgeni Malkin. In 45 games this season, he's only managed five goals and 12 assists.
Couple it with Galchenyuk's pending unrestricted free agent status at the end of the season, it's clear that the Milwaukee-born Galchenyuk was not the real target of this trade.
Calen Addison
Addison was considered the top prospect in a relatively shallow prospect pool for the Pittsburgh Penguins. That doesn't mean that he isn't good. A right-shot defenseman, a very strong skater and a defenseman who can shoot the puck is definitely on the wish-list for many teams. For Minnesota, he becomes the top defensive prospect immediately. He'll be placed over Brennan Menell, Louis Belpedio, 2018 first-round pick Filip Johansson and 2019 sixth-round pick Marshall Warren.
Addison has performed at, or near, a point per game in each of the last three seasons with the Lethbridge Hurricanes. He's also added 10 or more goals in each of those seasons. This past January, Addison added a Gold Medal in the IIHF World Junior Championships for Team Canada. He was a star defenseman -- that quarterbacked the Canadian power play -- and scored nine points (one goal, eight assists) in seven games of the tournament.
Mark Allan of DobberProspects.com said this about Addison back in November of last year:
The dynamic young defenseman continues an almost-point-per-game pace as a junior. After 22 appearances, his 21 points are third among WHL blueliners and his 17 helpers are one off the league lead for back-enders. In a series pitting Canadian juniors against Russian counterparts, Addison was named WHL player of the game after he scored the overtime winner in a 2-1 decision.
While defensively he needs to get better, scouts have said that his game is improving on the defensive end. One thing he needs to understand is how to be effective at his height. At 5-foot-10, he'll need to be smarter when going against taller opponents and learn how to be better with his stick. With either Jared Spurgeon or Jonas Brodin as mentors for the young defenseman, Addison could learn the tricks of the trade without sacrificing his offensive instincts.
2020 FIRst-Round Pick
Lastly, the 2020 first-round pick received is a big get. Not only did Guerin get a top prospect, but an NHL player (I guess we'll see with Galchenyuk), and the first-rounder. With Pittsburgh entering Tuesday's action just four points behind the Washington Capitals for first place in the Metropolitan Division, the odds of that pick being a late first-round selection are high. However, if the Wild continue on with their current trajectory, they will have three picks in the first 45 selections. For a team that badly needs to continue to restock the cupboards with top talent, having three picks in a draft that is rumored to be very deep with talent is gigantic.
At this time, if the Penguins finish in the same spot, the selection looks to be around pick 28 the first round. Some might say that when it's that late of a pick, what's the big deal? But there have been some really good players picked that late in the first round. Last season, Ryan Suzuki, a top center prospect for Carolina was taken at 28. Rasmus Sandin was selected by the Toronto Maple Leafs with pick 29 the year before that.
And it's possible a few really good players will be picked this year late in the first round.
Ultimately, the Wild aren't going to replace Zucker and what he's meant to the community. However, with more development and smart drafting, the Wild can eventually replace him on the ice. Guerin is focused on that future, and this first move to put his stamp on the team shows that it's all about building this team into a winner.