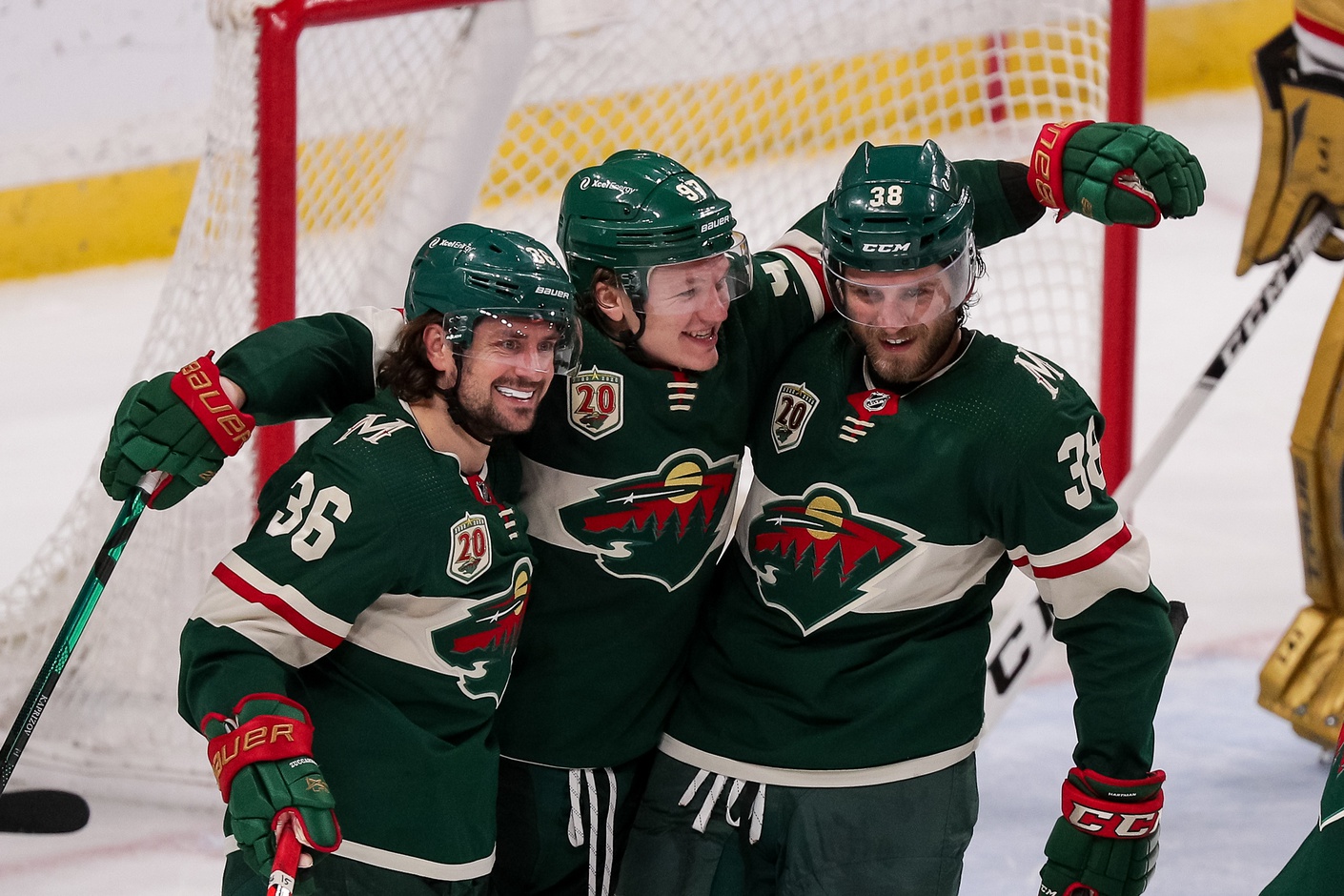 In the aftermath of Tuesday night's Game 2 defeat, there were calls for line changes on the Minnesota Wild heading into their next matchup with the Vegas Golden Knights. The changes revolved around one Marcus Johansson, who did not play a good game by any means and had the turnover that directly led to the Knights' go-ahead goal, which ended up being the game-winner.
However, if you read between the lines of what head coach Dean Evason said on Wednesday morning, it would appear that line changes might not be forthcoming for Thursday's pivotal game.
The Wild were obviously much improved from their Game 1 performance but were stopped by red-hot goaltending from Marc-Andre Fleury more times than one would care to remember. It is by no means outside the realm of possibility that Evason would rather stick with his lines from Tuesday night and try to get that great performance out of his team again rather than switch things up and risk a flatter effort from his squad as they try and adapt to new lines.
If Evason does indeed keep his lines static (or at least the top nine intact, as Nico Sturm was benched for the third period and could easily swap out on Thursday), he will have to look back at his previous home matchups with the Golden Knights for some tips on how to beat them. The common theme in those wins at Xcel Energy Center, where Minnesota went 3-0-1 against Vegas this season and 21-5-2 overall, is that the Wild got their preferred matchups against the Knights and exploited them. They will have to do the same on Thursday and Saturday night if they want to get back in the win column.
Evason should at least try these matchups again so the team can get back to generating offense, which has amazingly found another red-hot goalie in the playoffs for the 372nd straight time, or so it seems.
The primary matchup Evason will have to focus on is getting Kirill Kaprizov away from Mark Stone. Stone has largely played against Kaprizov in this series and throughout the season, but the success of the Wild's dynamic rookie against the Knights has come when he has gotten away from the league's most elite two-way forward. Kaprizov has been held off the scoresheet in both games so far this series. He has not gone three games without a point all season. Getting him matched up against other forwards on the ice, not to mention away from Vegas' top defensive pairing, should help him have more ice to work with and generate more offense for Minnesota.
Another matchup that the Wild have favored during home games is getting Joel Eriksson Ek out on the ice with Stone. If that surprises you, you are not alone. But in Wild home games, Eriksson Ek drove offense and kept Stone off the scoresheet at even strength. According to Natural Stat Trick, Eriksson Ek was on the ice for four Minnesota goals at even strength against Vegas this season while being out there for just one goal against with Stone on the ice.
Eriksson Ek was the Game 1 hero for Minnesota and should be heavily relied upon, along with his line of Jordan Greenway and Marcus Foligno.
If you wonder where Kevin Fiala fits, well, just hope he can be as electric as he was on Tuesday night. Fiala ate up whatever line combo and defensive pair the Knights threw at him, culminating in eight shots on goal and a 0.66 expected goals mark, which was nearly 20% of the team's Tuesday-night total.
Defensively, having the push up front thanks to matchups made things a bit easier on the blueliners. Vegas struggled to get into the high-danger area at the Xcel Energy Center, and it showed as the Wild obliterated the Knights in high-danger chances during those four games. Minnesota only allowed 17 high-danger chances (averaging out to just over four per game) while having more than double that total themselves (35).
Eliminating the Knights' high-danger chances should make for a much smoother 60 minutes on Cam Talbot, who has faced 70 shots already in the first two games and has undoubtedly been Minnesota's best player.
You might not like the fact the Wild stick with their lines in Game 3, but they have a recipe for success at home against Vegas, based on getting some key matchups. If the coaching staff can get back to those matchups, things should get easier for the Wild on offense.
That is, if Fleury steps down from the insane level he is currently playing at right now.