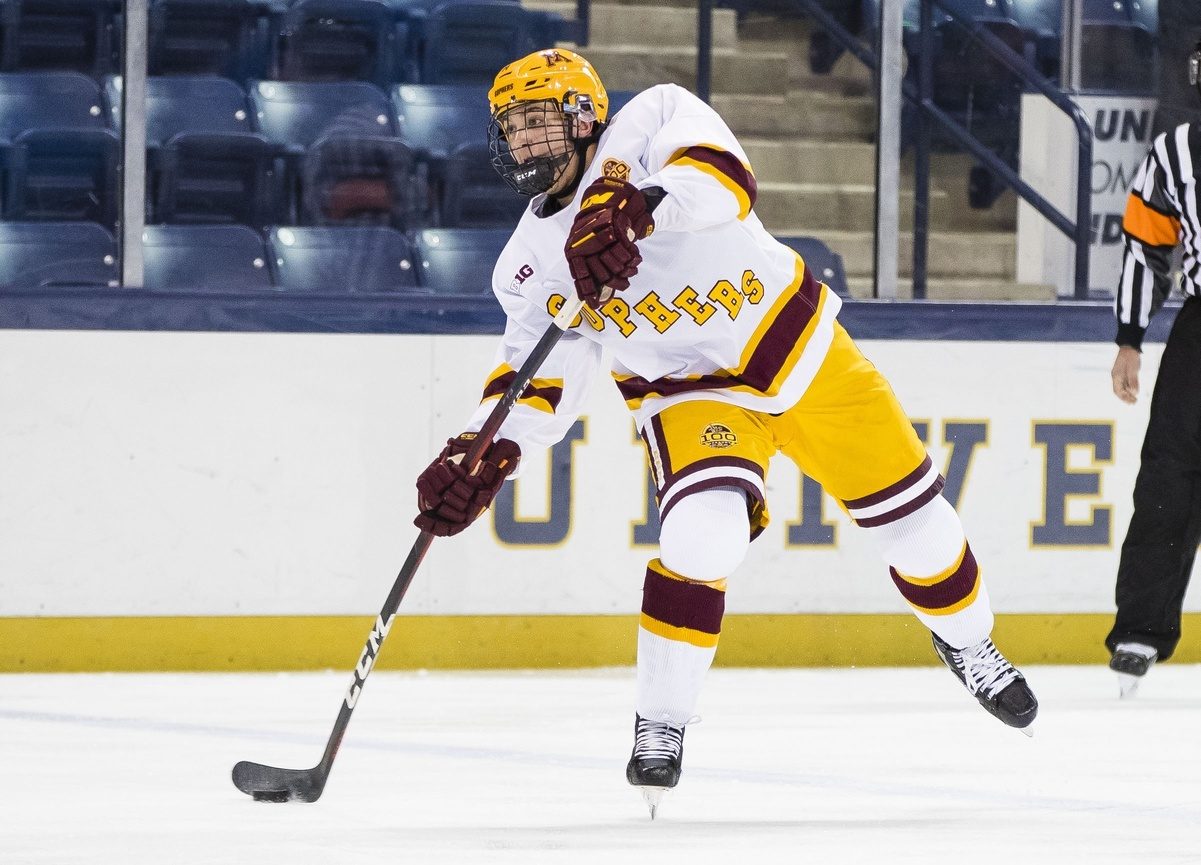 April showers will bring May Faber's for the Minnesota Wild. Brock Faber and the Minnesota Golden Gophers hockey team have had an incredible run this year. When that comes to an end, Faber is expected to make the jump from the NCAA to the NHL. What can Wild fans expect from him?
If you are an observer of college hockey and you happen to also be a Wild fan, then you've had the treat of watching Faber and the Gophers taking on Jack Peart and the St. Cloud State Huskies. It was an electric game, with both teams having players coming back from the World Junior Championships.
The Gophers took this one in overtime with this great play on Sunday. Faber snuffed out a rushing Husky with 30 seconds left in overtime, recovered the puck, chipped a pass to Logan Cooley, and crashed the net to open up space for Cooley to bury the winner.
The play above is indicative of how Faber plays. His strengths include his superb skating ability and his calm demeanor. He is excellent at getting pucks out of his own zone and uses his stick incredibly well. All of these traits were on display in the clip above.
His coach, Bob Motzko, lavished praise on Faber after the game. "He may have been the best player on the rink," said Motzko. "He makes the play in the defensive zone, stays on top of the puck, breaks it up, and then Cooley is gonna do what only a guy like Cooley can do."
So far this year, Faber has 16 points in 22 games played. His point total has already eclipsed his freshman and sophomore seasons. The 20-year-old from Maple Grove is having a great season offensively, even though he is not heralded as an offensive defenseman. His calling card is not his production, but he made a jump by elevating his game by joining the rush and making smart pinches.
Faber's game is really reminiscent of Jonas Brodin's. He plays a really calm, cool, and collected game. Faber never really panics. He's efficient and calculated in his own zone and rarely makes mistakes with the puck on his stick.
All of these things contributed to his selection on the 2022 United States Olympic team. Faber skated for the USA in China a few months before the Los Angeles Kings dealt him to his childhood team in the Kevin Fiala trade.
The Gophers named Faber a captain again for his Minnesota Gopher team, and the junior wears the burden well. He leads as if he's just another guy. Faber said earlier this month that he tries to be loving and caring to all his teammates, and he has not changed his routine or leadership style since he was named captain.
Wild management likes players who have a letter on their chest. They have a recent track record of drafting young players who have sported letters, such as Marat Khusnutdinov, Liam Öghren, Ryan O'Rourke, Pavel Novak, and more.
The defensive side of his game has never been in question, as he is the Big Ten's reigning Defensive Player of the Year. It's just such a loaded resume: Golden Gophers captain, Olympian, World Junior Championship Gold Medal-winner, and a second-round pick. Come April, he should add "NHL defenseman" to that resume, but how big of an impact will he have?
We assume there will be a spot on the blueline waiting for him. There have been numerous reports that the Wild are shopping Matt Dumba and will look to trade him regardless of where they sit in the standings.
So if we assume Dumba is gone, there is a hole in the top four of the Wild's defensive core. Faber could slot in to play with a more offensively-minded guy like Calen Addison or Alex Goligoski and play a similar style to the Dumba-Brodin pair. Jared Spurgeon and Jake Middleton don't seem to be a pair you want to break up. Therefore, either Faber or Addison will get a jump into the top four if Dumba is out.
In a perfect world where the Wild stay healthy, their defensive pairs should look something like this:
Middleton - Spurgeon
Brodin - Addison
Goligoski - Faber
That leaves Faber in a bit of a sheltered role while also playing with a veteran who can attempt to cover for the mistakes he'll make as a rookie playing in his first NHL games.
Merrill and Goligoski are pretty interchangeable in this scenario. It's splitting hairs, but on paper, Faber's style of play seems to complement Goligoski's skill set rather than Merrill's. Brodin and Addison also showed some chemistry earlier this year, so they'd probably get the nod.
Faber could see a big role, though, getting lots of penalty kill time, though he may not push Addison or Spurgeon for power play minutes. It's a big responsibility, but not too big for him. He's shown he can do good things against men and in international competition. He's humble, collected, and doesn't shy away from big moments.
After the Golden Gophers' season ends, Brock should make a fairly seamless jump to the NHL. He'd have two years left on his rookie deal after the year, which is perfect for the Wild, who will be cap-strapped for the next two seasons.
Faber's style of play and calm demeanor look for him to be efficient and smooth in a sheltered role. He probably will not light the scoresheet up, but look for him to take chances when the opportunities present themselves. Faber will be steady and can take over a game the way Brodin does. Not by his wicked offensive skills but with his skills defensively and in transition.
He'd better pick a new number to replace his 14 in maroon and gold soon because the moment he needs one will be here before he knows it.