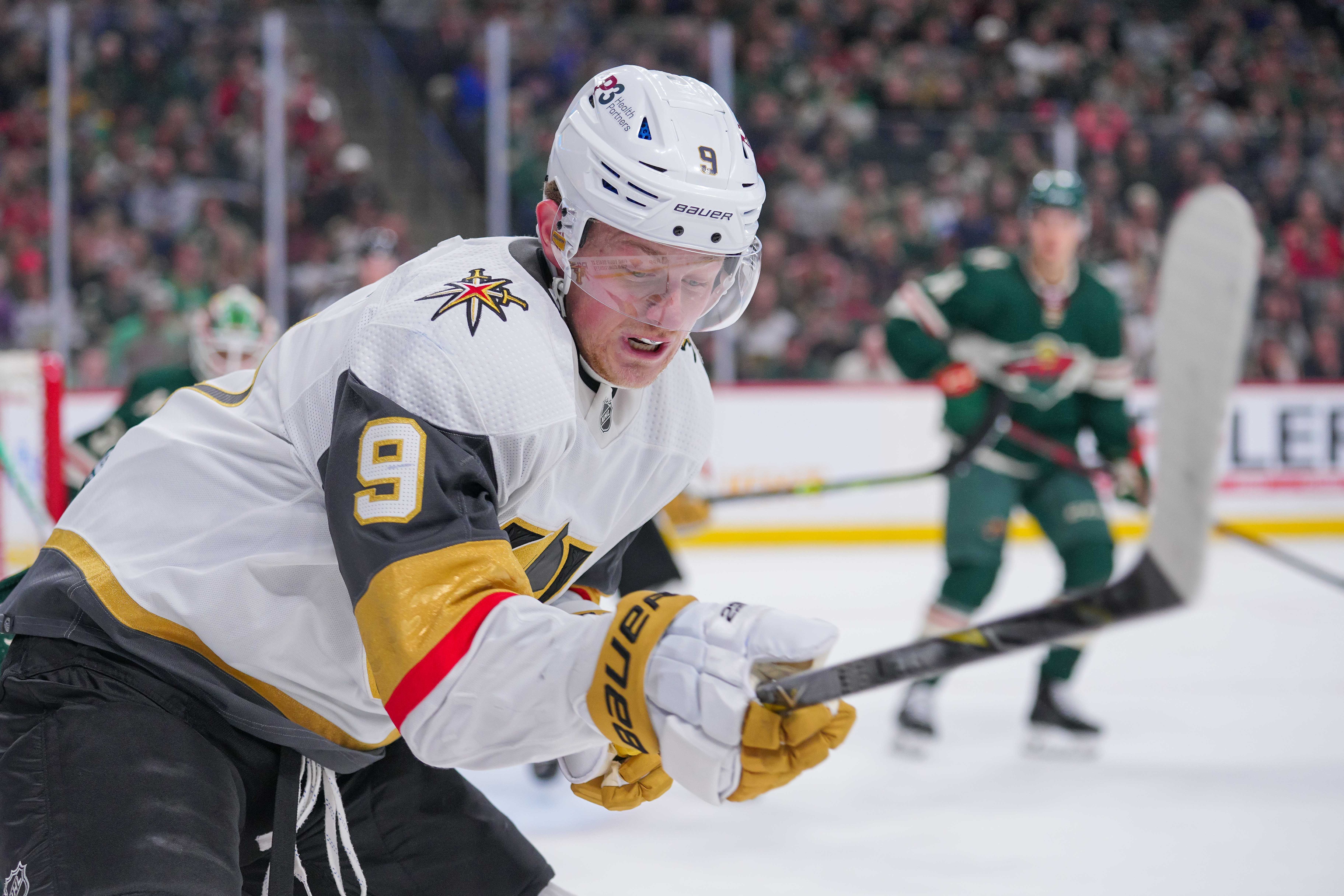 Image courtesy of © Brad Rempel-USA TODAY Sports
The Minnesota Wild have not reached the Stanley Cup Finals since joining the league 22 years ago. It's a trend that they would like to end sooner than later. However, there are many challenges on the long and winding road to the Stanley Cup Final. Minnesota still has some holes to fix on the roster and some strides to make in the playoffs before they can reach the Cup Finals. They have moved on from Chuck Fletcher's core group, but Bill Guerin's Wild still can't seem to get over the hump. 
The NHL is a copycat league. Thirty-two teams are working toward the same prize. Naturally, other organizations will try to emulate the best team's strategies. So what can the Wild learn from the Florida Panthers and Vegas Golden Knights? 
Looking at their roster construction, a few areas stick out. The Golden Knights and Panthers have both a No. 1 center and center depth. They both have top-end defensemen who affect the game on both ends of the ice. Vegas and Florida have unexpected and erratic goaltending. Both teams have experienced ups and downs but built rosters designed to score.
Vegas and Florida are both top-ten teams in goals per 60 this year. While the Panthers barely snuck into the playoffs, they haven't had trouble scoring in the postseason. Florida is third in playoff goals; the Knights are first. 
So it's all about the offense? Well, maybe. Vegas and Florida have gotten scoring from their forwards and their defense. Both squads have a ton of offensive depth and multiple scoring options on the back end.
Florida has two premium offensive-defensemen: Aaron Ekblad and Brandon Montour. Vegas has Shea Theodore and Alex Pietrangelo, who are capable offensive contributors. Assuming Matt Dumba walks, the Wild don't have a defenseman who has come close to hitting 50 points. Jared Spurgeon is good but doesn't produce many points.
Calen Addison is an offensive-defenseman option, but the Wild neglected to use him in playoff lineups. Therefore, Minnesota has no current players on the roster that they want to play who fit the bill of an offensive dynamo. Some players in the system may develop into offensive defensemen. However, they're unlikely to impact the team next season. 
They also have needed a true No. 1 center and center depth for a long time. It's another glaring difference between Minnesota and the two teams in the Stanley Cup Finals.
The Panthers and Golden Knights are both three top-six-caliber centers deep. Vegas has a trio of Jack Eichel, Chandler Stephenson (he's their Ryan Hartman; I don't like it either), and William Karlsson. Meanwhile, Florida trots out a gnarly trio of Sasha Barkov, Sam Bennett, and Anton Lundell. However, the Wild have a less desirable trio down the center. And Joel Eriksson Ek's absence exposed that weakness even more.
It goes deeper than that. The Wild need an elite center like Eichel or Barkov. Both of those players could be considered top-five at their position. The Wild have an excellent center in Eriksson Ek, but not an elite one or any capable depth beyond that. 
As an organization, the Wild also are averse to aggressive trades. When the Wild shop at the deadline, they tend to be the team that dips their toe in the water and does not risk a lot when making trades. They ship a mid-round pick here or a late-round pick there to get back some okay pieces but never game-changers. The Filip Gustavsson gamble paid off, but they only traded away an aging Cam Talbot.
The Wild have yet to be willing to pay the price it takes to acquire those elite difference-makers. The Golden Knights and Panthers understand the value of getting those elite players. Vegas gambled on Eichel, and Florida acquired Matthew Tkachuk. The Golden Knights took their limited resources and were able to swing a trade for Eichel. They gave up a good player, Alex Tuch, and some of their limited assets to get Eichel from the Buffalo Sabres. They took a massive risk on a disgruntled, injured, and expensive player, which worked well for them. 
Florida did the same thing when it acquired Tkachuk. They took Jonathan Huberdeau, a fan favorite, and some additional assets to acquire a franchise-altering superstar in Tkachuk. Where are the Panthers now? In the Stanley Cup Final on the back of an absolute US Military grade aircraft carry from Tkachuk. The "Rat King" is truly a hero in South Florida, bow down.
We've seen the strategy of taking a very good player and packaging him with some other assets to get a superstar player work in the past. There are other examples beyond just these recent deals that Vegas and Florida pulled off. 
In 2017, the Columbus Blue Jackets took a swing to compete and pulled off a trade for Artemi Panarin. They took a very good player in Brandon Saad, wrapped him up with some other assets, and got an elite player. That led to them winning their first playoff series in franchise history. Even with hindsight, I bet they make the same deal, even knowing he leaves. 
Maybe the Wild have nothing to learn from the recent title contenders. The same thing doesn't work for everyone. But perhaps they should follow in their footsteps. Next time a superstar center comes available or a game-changing defenseman is on the block, instead of dipping their toe in the water, take a cannonball off the high dive and make a big splash. 
All stats and data via Evolving-Hockey and HockeyDB.
3