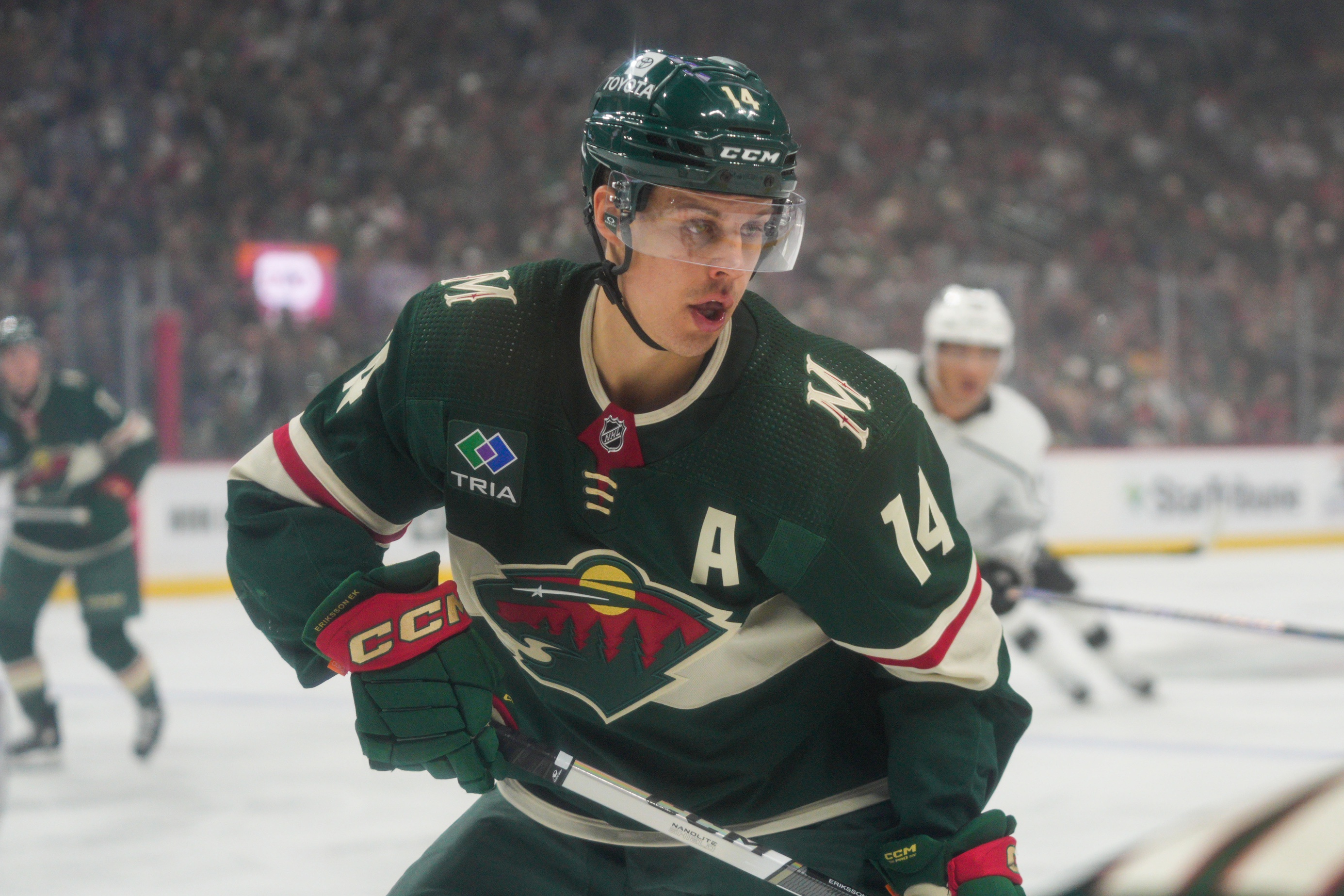 Image courtesy of © Matt Blewett - USA TODAY Sports
The Minnesota Wild are starting to see how they can get the most out of Joel Eriksson Ek in 2023-24. He's arguably their most valuable player after Kirill Kaprizov, and that's been evident since he missed time against the Dallas Stars in last year's playoffs. 
Now Eriksson Ek has to make a new chapter after being out of the playoffs, and he's off to a good start. He's picked up where he left off and showing the Wild how they can best use him. 
Dean Evason finally mixed up the forward lines, putting Matt Boldy, Marco Rossi, and Kirill Kaprizov on the same line. He also put Eriksson Ek with Patrick Maroon and Marcus Foligno. Don't be surprised to see Evason juggle his lines more often now.  Mats Zuccarello, Eriksson Ek, and Marcus Johansson look like an interesting line that can set up Eriksson Ek on many goals and rebounds. 
Eriksson Ek is Zuccarello's magnet. He should continue firing pucks on net for him. Johansson's speed transitioning the puck will be followed by Eriksson Ek attracting defensemen in the slot, which sets up screens for Zuccarello to shoot. Johansson is the primary playmaker now. Zuccarello can focus on scoring goals while Eriksson Ek wins puck battles. 
It's also time to make Eriksson Ek the star of the Wild's powerplay. Unlike his teammates, Eriksson Ek cleans up the garbage around the net. In other words, he shoots the puck. He doesn't waste time on scoring chances by being pretty. Simplicity wins on the power play. 
Let's visualize the top power-play unit, but think of a giant arrow on the ice as you view it from overhead this time. The goal is to get the puck to Eriksson Ek when he's in front of the net. Kaprizov, Calen Addison, and Rossi will be rotating continuously, but that's only to create more openings for Eriksson Ek to do what he's best at. No more being stagnant! Get ready to see Addison get pucks on net to generate goals from the point, deflections, or rebound chances. 
Boldy starts at the top of the arrow. Kaprizov is on Boldy's left. Rossi is on Boldy's right. Eriksson Ek is the middle. Calen Addison is the end. Each player has a role. Addison's quarterback 1. Boldy's QB2. Kaprizov's QB3. Rossi's QB4. And Eriksson Ek's the primary shooter. 
Boldy, Kaprizov, Addison, and Rossi rotate around the perimeter to set up Eriksson Ek or take the shot themselves. Now that Kaprizov is by himself on the top unit, he gets to dominate the powerplay with his age group. Kaprizov, Boldy, and Rossi also take part in setting up goals from behind the net – not to mention better cross-ice passing. 
Boldy has a new responsibility on the power play. He starts as the net-front presence, and Eriksson Ek is the bumper. While they begin there, it doesn't mean they'll end there. Boldy could go from the net to either the half-wall or the bumper. He knows how to make plays from behind the net like he's taking Addison's role from the opposite end. 
Rossi gets to be Zuccarello in training; Evason must use him as an actual center. While he doesn't get to play with Kaprizov regularly in this scenario, Rossi gets to experience being one of the league's best young setup men next to one of the best superstars. That's how you motivate them to make Eriksson Ek into what we need him to be. 
This new system should give everyone the confidence to perform at their best because it maximizes Eriksson Ek, enabling him to achieve new things. It makes him a dual threat so that the team's center depth can reach a new level. Mats Zuccarello, Marcus Johansson, Patrick Maroon, Ryan Hartman, and Brock Faber will play on the second unit.
Eriksson Ek and Kaprizov can team up with each other in other man-advantages because Kaprizov can use Eriksson Ek's determination to make him the engine that drives this team. Kaprizov is motivated, but something is missing from his complete game. 
Eriksson Ek can be Kaprizov's magnet because he can grind through bigger defensemen so that Kaprizov can unleash his talents. Kaprizov needs to focus on his nose for the net to get scoring again. This newly-constructed power play will do that. 
Eriksson Ek gets to be more of a pain on the top penalty kill. Brodin and Faber are the top penalty kill's defensemen. Eriksson Ek and Connor Dewar are centers with great penalty-killing talent. They will make teams play hot potato with the puck to cause turnovers, making Eriksson Ek top center material. Brandon Duhaime plays with Hartman, but expect Freddy Gaudreau to slot in there once he gets back from injury. Eriksson Ek and Dewar set the tone again for shorthanded chances. 
Changing the lines and power play creates a beginning for Eriksson Ek. Can he improve his 61 points in 78 games last year? His next milestone will involve breaking 70 points. Will he exceed that and score at a point-per-game? We can only hope. 
1