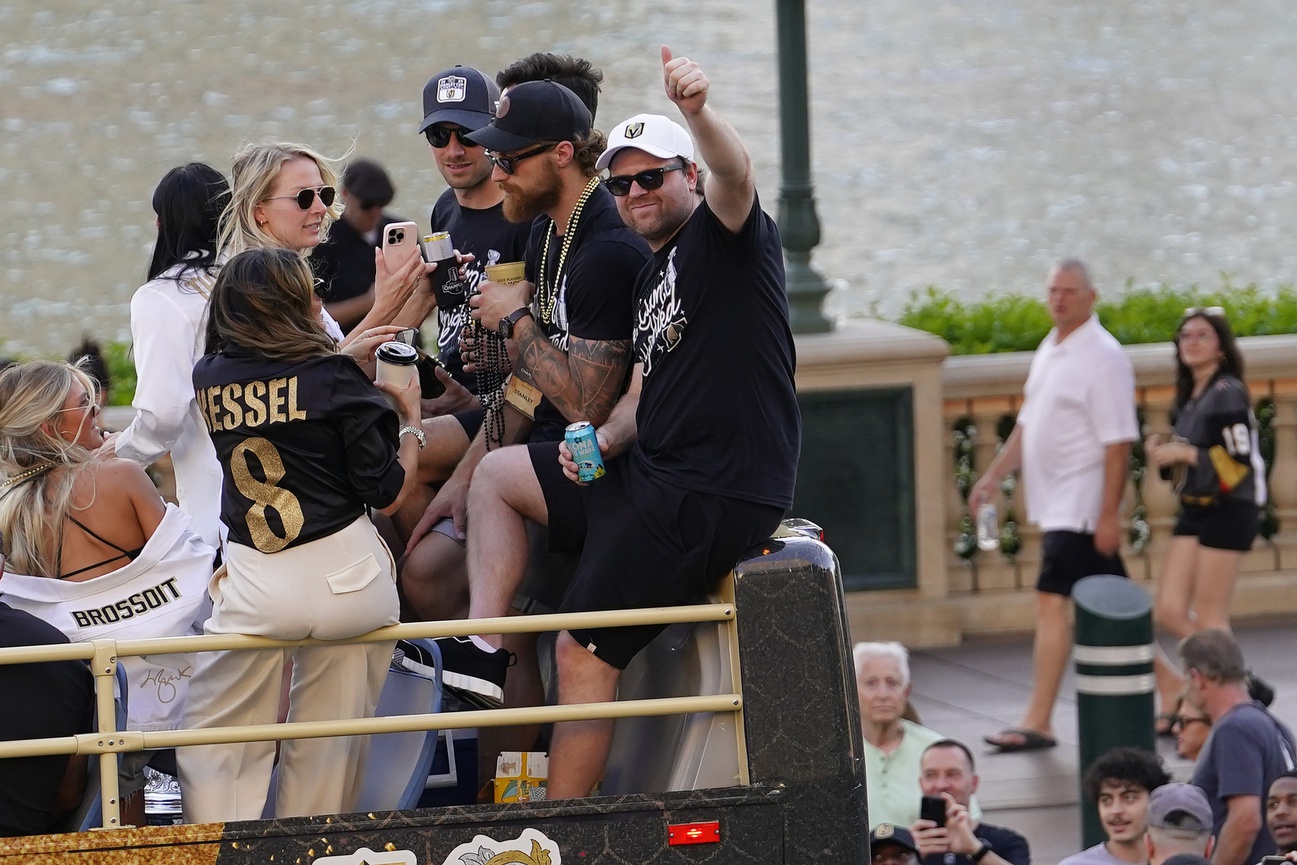 Image courtesy of © Lucas Peltier - USA TODAY Sports
The Minnesota Wild have around $1.65 million remaining in cap space after signing Filip Gustavsson to a three-year, $11.25 million deal. Assuming prospects Marco Rossi and Brock Faber make the team on opening night, Calen Addison is the only other remaining player who hasn't signed a contract for next season. He will most likely sign his qualifying offer for $787,000. That would leave the Wild with just under $1 million in cap space. 
That would be enough wiggle room to bring in exactly one player on a minimum deal. The Wild do not really have any holes on the current roster, and there is not a player out there who could really push to be a top player. At least, not within the Wild's budget. 
That takes guys like Patrick Kane, Tomas Tatar, Joonas Donskoi, and Josh Bailey off the table. Matt Dumba is also probably still more expensive than the Wild can afford. He probably won't make $6 million again, but he won't take $925K. Guys like Jonathan Towes, David Krejci, and Paul Stastny are in the twilight of their careers and won't want to go to a team that's not a surefire contender like Minnesota. 
Zach Parise is still a free agent. There's a spot on the New York Islanders roster for him if he chooses to resign. He's proven he still has some gas left in the tank, scoring 20 goals last year. But he's also 38 years old and retirement is looming for him. Given how things ended in Minnesota, don't expect a homecoming next year. 
Still, that leaves us with a few intriguing guys out on the market for the Wild to snag. Let's go over a few. 
Maxime Comtois - LW - 24
Comtois is in a similar situation to Sam Steel from a year ago. He was a high draft pick (50th overall, 2017) who showed some offensive upside, but he couldn't keep it up. Comtois had 33 points in 55 games in the 2020-21 season, his second year. He had been productive in the AHL and was just 21 years old. The Anaheim Ducks were a young team, and optimism was high. 
But Comtois was not able to keep up his point pace the next two seasons. He never eclipsed 20 points or 65 games again, as injuries and inconsistencies have haunted him. The Ducks were also one of the worst teams in hockey, which didn't help. 
Comtois is a talented scorer when he is healthy, but he hasn't been able to play a full season since 2020-21. He is certainly in the Wild's price range, and he could be a valuable guy to snag on a cheap deal. He's got the potential to be a good depth scorer and maybe more given a bigger opportunity. 
Pius Suter - C - 27
Suter back in Minnesota? Not exactly: Pius, not Ryan. 
There was some buzz around him two years ago after he left the Chicago Blackhawks to sign with the Detroit Red Wings. He was a defense-first center who potentially had untapped offensive upside. Suter played a lot of his early career in the Swiss league before turning in a 27-point, 55-game performance for the Hawks in the 2020-21 season. 
Suter almost hit 40 points in Detroit the next year. He regressed a little bit this last year but still put up great two-way numbers. His 2.39 goals against per 60 was fifth best on the team, and his 25.88 shots against per 60 was second on the Red Wings. 
I'd assume he'd be out of the Wild's price range, but he remains unsigned this deep into free agency. Maybe he'd take a one-year prove-it deal to redeem the Suter legacy in Minnesota. 
Phil Kessel - RW - 35
Just picture this for a moment, you're sitting on the couch, watching the Wild game as usual. They need a goal as time winds down. Jonas Brodin makes a great play to clear the puck out of the defensive zone. Kirill Kaprizov skates up the ice, and another man joins him on the rush. They skate in tandem, elegantly carving up the defense with their speed and skill. 
Kapriozv dishes the puck to the former Gopher, and he sends a one-timed beauty to the back of the net. The Wild win the game as the final horn sounds. Hot dogs everywhere immediately become half-off. You cheer as the energy brings you back to the good old days when Gopher hockey was good. A time where hopes of Jacque Lamerie and Marian Gaborik delivering a Stanley Cup to the State of Hockey were still high. Only one man could fit this dream. 
Phil the Thrill.

He's coming off a Stanley Cup victory with the Vegas Golden Knights. While Vegas scratched Kessel for most of the playoffs, he scored 14 goals and 36 points while playing a full 82-game season. The NHL's All-Time Iron Man may not have the legs he once did, but his hockey IQ and shot are still there. He's been a 90-point guy before, and he's scored 20 goals 12 times. He's still got some hockey left in him. 
He had a chance to play in Minnesota in 2019 when the Pittsburgh Penguins offered him to the Wild, but Phil turned it down and ended up with the Arizona Coyotes. Kessel and Bill Guerin are familiar with each other from their time in Pittsburgh. A cheap deal or even a PTO for Kessel would be awesome, at least from a storyline perspective. 
Phil rejected Minnesota once. Would he dare do it again? 
Do I personally think that the Wild should add any of these guys? Eh, maybe, maybe not. I'm a secret Phil Kessel fan, and I'd sell my soul for an 81 Kessel reverse retro jersey, so there's bias there. Comtois and Suter are young and could be great depth additions with upside, but they probably take a roster spot from another young player or a veteran leader. 
Barring unforeseen moves or injuries, taking on any other free agents would likely be a disservice to the current roster and probably the player they'd bring into the fold. The Wild have a full roster, no money, and a lineup that's already pretty set. But the upside and depth some of these players could provide, especially at the minimal cost they'd have to pay, might be enough to tempt the Wild to bite.
2

1