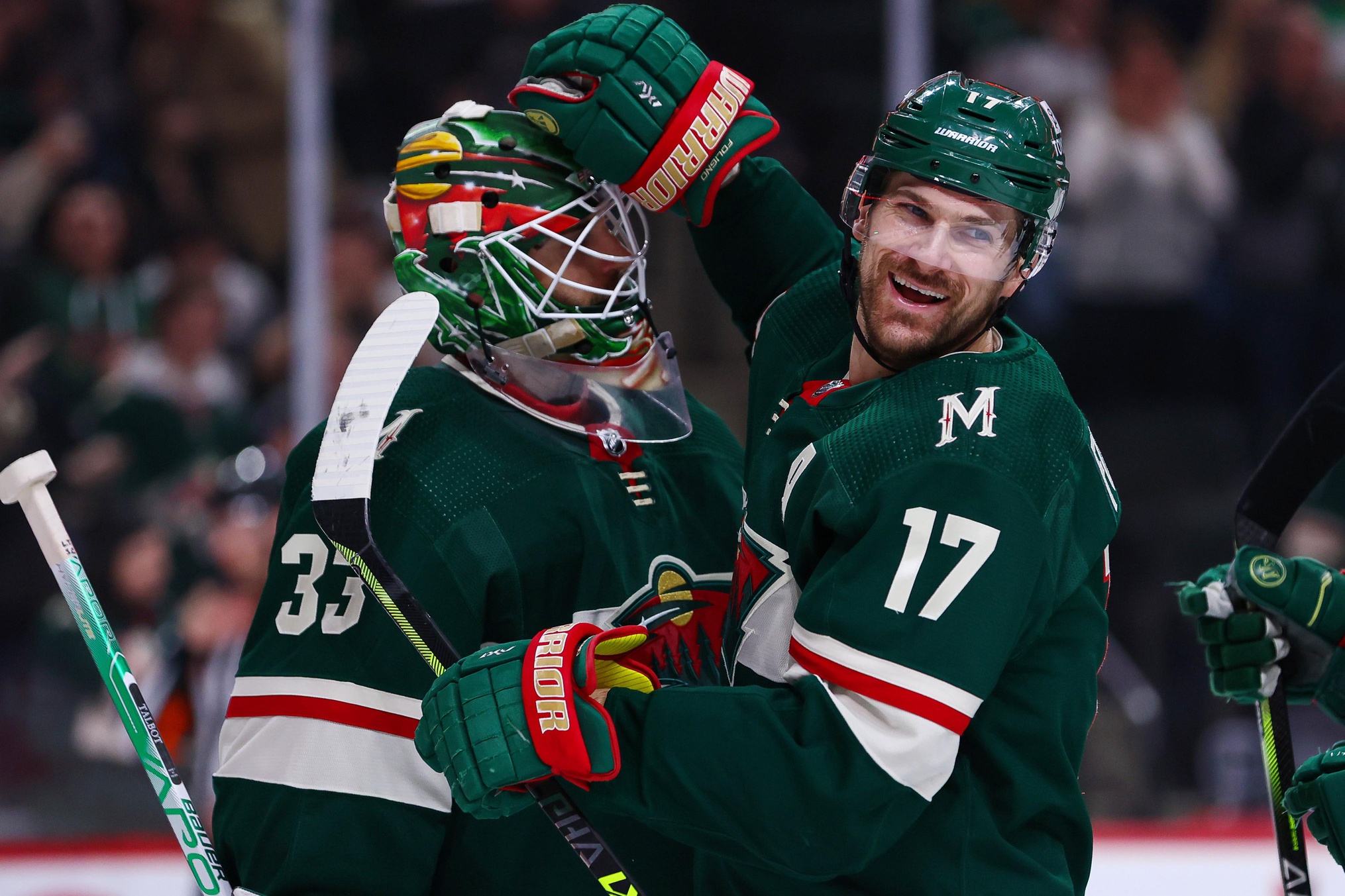 Sunday's loss to the St. Louis Blues featured 40 minutes of abysmal hockey, followed by 20 minutes of semi-inspired play. Tuesday's performance featured 20 minutes of above-average play, followed by 40 minutes of lackluster hockey. The Minnesota Wild suddenly cannot play a complete game for some reason.
What went wrong in those two losses? The same things that have plagued Minnesota all series. Kevin Fiala and Matt Boldy continue to be invisible, the Blues won the goaltender duel, and the Wild got routinely outworked in all facets of the game.

The silver lining from Game 5, and the whole series, is that Kirill Kaprizov continues to cement his status as a franchise-changing player. Now up to seven goals in the series, Kaprizov is tied with Wes Walz and Andrew Brunette with the second-most goals in a single Wild playoff run. That may say more about Minnesota's playoff despair than anything, but it's still an impressive feat from the 25-year-old.
The fourth line was particularly brutal on Tuesday night. Together, they combined for a 27% expected goals share, four shots, and .01 individual expected goals at even strength. Coach Dean Evason's trust in Brandon Duhaime and Nicolas Deslauriers is particularly puzzling.
Since December, Duhaime has been a non-factor with only two points in his last 34 games (and counting). The Wild acquired Deslauriers almost exclusively to fight, which doesn't happen in the playoffs. For most of the series, they've been liabilities on the ice, yet Evason's trust in them is unbreakable.
It makes you wonder if Minnesota's lack of inventiveness is catching up to them down the stretch. Connor Dewar impressed in limited minutes this season with his speed and energy. Perhaps that speed would complement Tyson Jost's game better than Deslauriers. Marco Rossi is injured right now, but you can't help but feel like his skill set would've been a huge addition towards the end of the regular season.
The same can be said for the defense corps. Calen Addison has a valuable skill set and has been NHL-ready for two seasons. Jon Merrill and Alex Goligoski are far from Minnesota's biggest problem this series, but they're still unremarkable at best. Keep in mind that Scott Perunovich — selected eight picks before Addison in the 2018 Draft — has two points in two games since entering the Blues lineup in Game 4.
In a year where a first-round exit is unacceptable, there's no excuse not to exhaust every option. The fact that Addison didn't get a single look with the club the last few months, even with Matt Dumba's injuries, is quite puzzling. The same can be said for Rossi. Was the fear of hypothetically having to pay him a lot of money in two years instead of three worth potentially hamstringing their playoff roster?
Minnesota's refusal to lean on young blood and make the necessary tweaks to the lineup caught up with them in Game 5. Instead of having NHL-ready, offensively-gifted young prospects in the lineup, Evason has rolled with familiarity, experience, and grit. So far, St. Louis has capitalized on that lineup's deficiencies.
With just five goals scored by players not wearing "97" or "14", the roster's performance is simply not good enough, and the Wild should make changes.
A change in goal is in the cards, with Wild insider Marcus Foligno reporting Cam Talbot as in for tonight's start. Dewar is the logical choice to get some fresh legs in the lineup. He could potentially slot in for Duhaime or Deslauriers, should Evason go that route. Perhaps Dmitry Kulikov slots back in the lineup for one of Merrill or Goligoski, who were overwhelmed at times on Tuesday.
Whatever changes the Wild make, the effort level has to be better than on Tuesday evening. The Wild dropped duds in back-to-back must-wins. They now have to put everything behind them and get back on the right track in St. Louis.