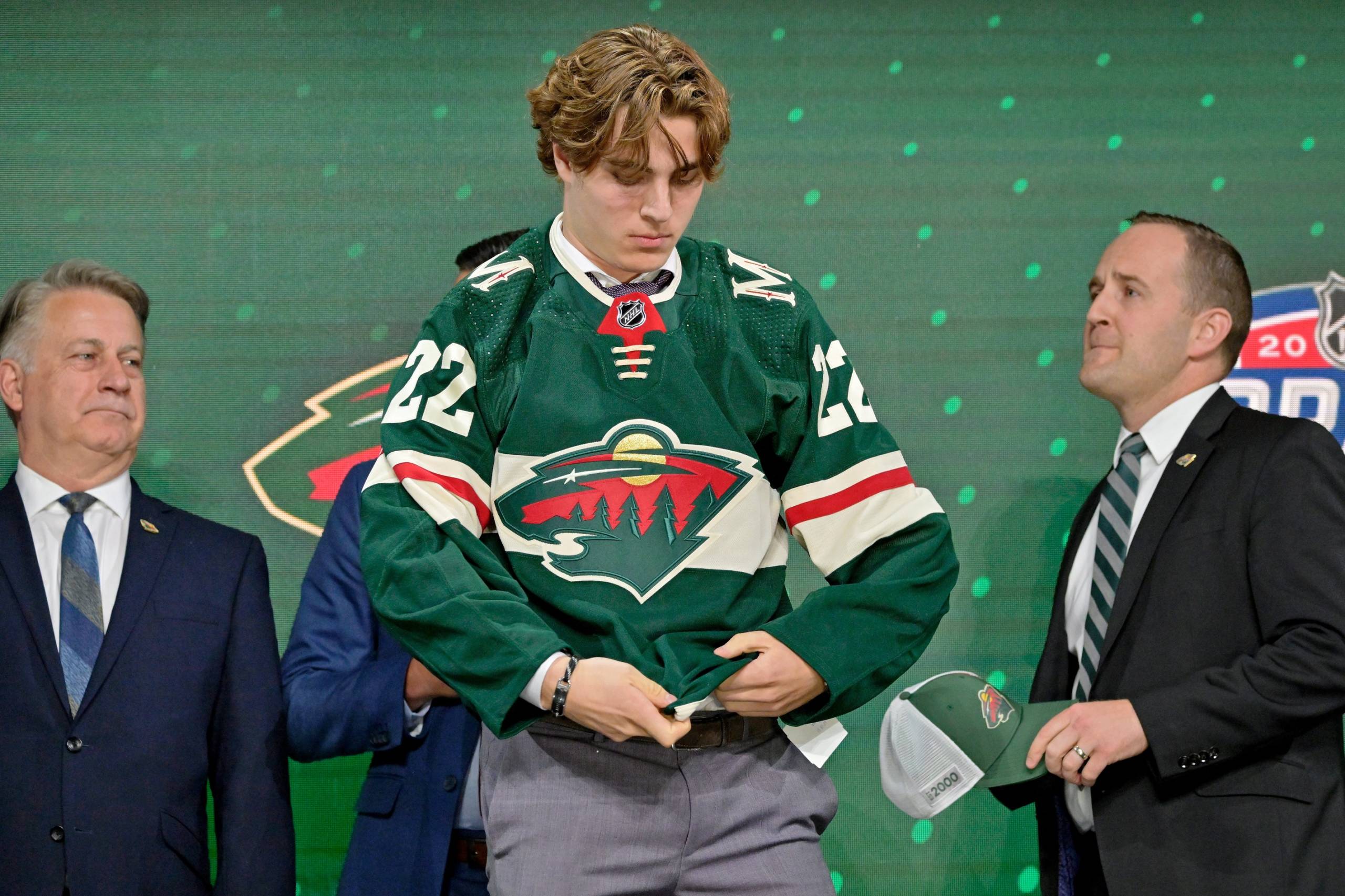 While there's been a lot of fun and excitement in St. Paul, Minnesota Wild fans should pay attention to what is happening across the pond in Sweden. Last year, the Wild used the No. 19 pick they received from the Los Angeles Kings in the Kevin Fiala trade to acquire Liam Öhgren.

 

Öhgren does not have the raw high-end offensive talent Fiala had as a rookie in 2014. He played a much more well-rounded game that showcased some top-end offensive skills. Öhgren has been playing this year in Sweden's Allsvenskan, where he is a rarity as an 18-year-old. Öhgren has shown the strengths that made him a first-round selection. Draft experts compared his game to New Jersey Devils breakout star Jesper Bratt's because their style and production in Sweden.

 

Liam Öhgren is a name you should get used to hearing if you are a Wild fan. Despite inconsistent playing time and line combinations, he has nine goals and 14 points in 26 SHL games this year. While that may not seem very impressive, It is incredibly rare for an 18-year-old to produce at the level Öhgren is. He is top-ten in plus-minus in the Allsvenskan, essentially the AHL of the Swedish professional league (SHL). He's top 60 in scoring, leads all players 18 years and younger, and is fourth among players that are 21 or younger.

 

 

Öhgren is one of the headlining forwards for the Swedish team as they head into the 2023 World Junior Championship. Sweden is headlined by offensive stars like Fabian Lysell (Boston Bruins), Isak Rosen (Buffalo Sabres), and Jonathan Lekkerimäki (Vancouver Canucks), unlike the more defensive style they've played in the past.

 

Öhgren captained the U18 team for Sweden, making him another in a long line of Wild prospects in leadership roles on their teams. Bill Guerin and Judd Bracket seem to value players who serve as captains.

Ryan O'Rourke captained his junior team for two years.

Brock Faber is the captain of the Minnesota Golden Gophers.

Marat Khusnutdinov was named an assistant captain for his team.

Pavel Novak has been a captain for his national team, Czechia.

Öhgren has also been a very clutch playoff performer. He does not back down from the spotlight and thrives on the biggest stage.

 

 

He had 16 points in only five games for the U16 Swedish team in the 2019-20 playoffs. In 2021-22, he played for the U18 and the U20 teams. Öhgren was also over a point per game for the U18 team and a point per game for the U20 team. He's produced at every level and has turned it on when it matters most.

 

 

Draft experts and scouts named Öhgren one of the top finishers before the 2022 NHL draft. For a Minnesota team that has historically lacked scoring and finishing, he'll eventually be a great addition to Minnesota's top-six group of forwards.

 

 

Most scouts agree that Öhgren does not excel in any aspect of his game, but he has no discernible weaknesses. He'll just need to get stronger and more mature as his game develops.

 

Sounds like someone else we know.

 

 

There were many of the same criticisms in Matt Boldy's game when the Wild took him 12th overall. Boldy has developed into a fantastic piece of the Wild's future. Hopefully, Öhgren can make himself into a key piece as well.

 

In terms of Öhgren's timeframe for coming over to North America, he is on a similar path to the one that Joel Eriksson Ek took. Öhgren signed his entry-level contract with the Wild after they drafted him, so he will be a restricted free agent after his contract is up at the end of the 2024-25 season. He most likely will not see North American ice until after the end of next season. He'll finish this season out playing for Djurgårdens IF, and he'll try and work his way up to the big club in Sweden next year. After his stint in Europe, the Wild could bring him over for seasoning in Iowa before giving him a shot in the NHL.

 

The Wild also have a few other prospects to showcase in the tournament.

Minnesota native Jack Peart (2nd round) will roam around on defense for the American team.

Defenseman David Spacek (5th round) is on the Czech national team.

At forward, Servac Petrovsky (5th round) will suit up for the Slovakian team, and Caden Bankier (3rd round) will play for the Canadians.

Canada surprisingly cut Wild defensive prospect Carson Lambos (1st round), so we will not get to see him play.

Danila Yurov (1st round) would be on Team Russia, but they were banned from the tournament.

The Wild are well represented in this year's World Juniors tournament, and it should be a treat to watch. Tune in to the Swedes because they're going to be fun, and don't forget to watch Liam Öhgren closely to get a sneak peek at what Minnesota could have in store for the future.