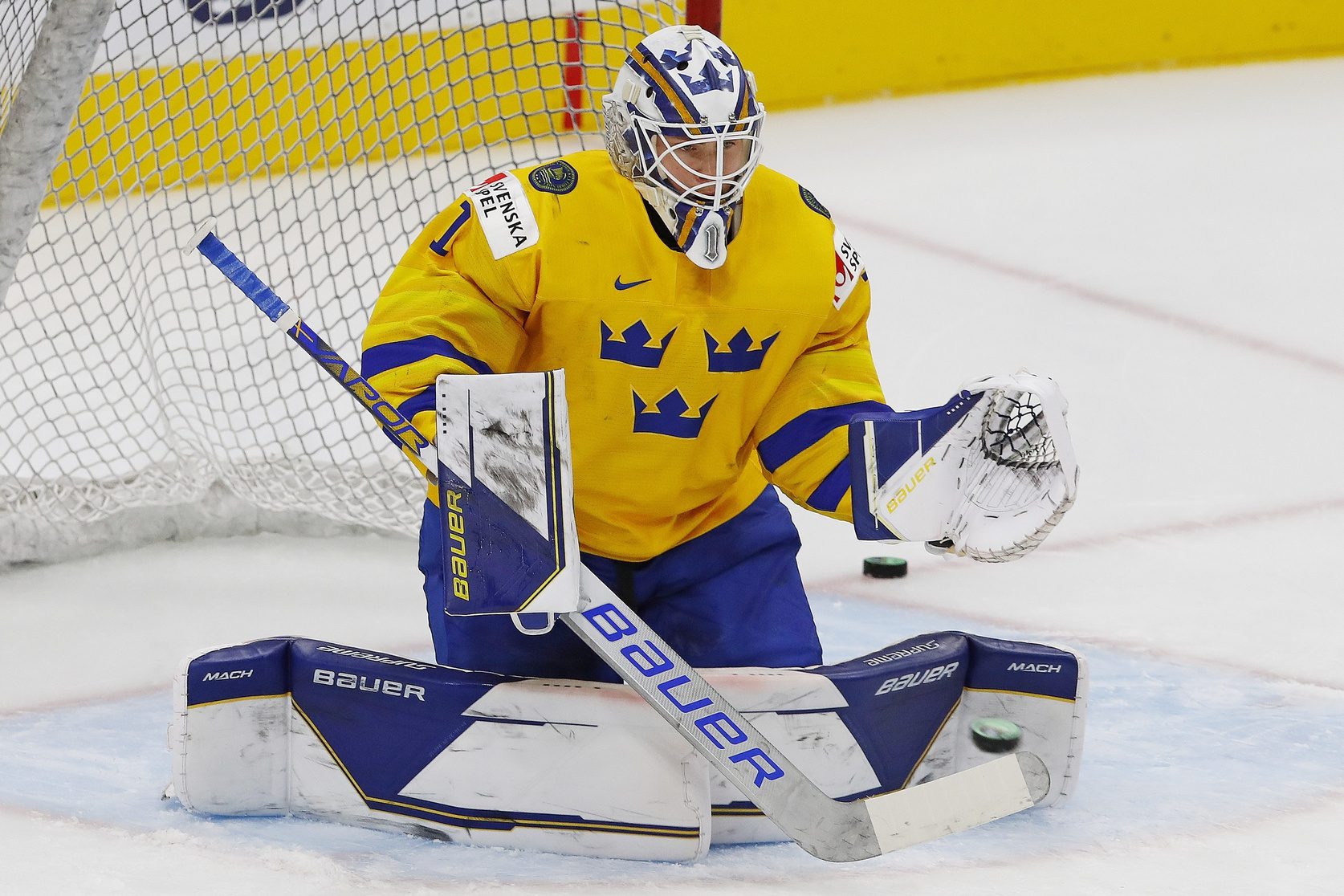 The Minnesota Wild's prized goaltending prospect, Jesper Wallstedt, dragged Team Sweden to a Bronze Medal at the World Junior Championships this past weekend. Wallstedt played brilliantly. He was named as one of Sweden's three best players of the tournament and Sweden's Player of the Game in the semi-final loss against Finland. That sounds weird for a goalie in a loss, but he stopped 27 of 28 shots in a 1-0 defeat.
To top it off, the tournament selected Wallstedt as the Best Goaltender, and the media chose Wallstedt as the goalie of their All-Star Tournament Team. He couldn't have done more to secure his status as Minnesota's Goalie of the Future after the World Juniors.
Based on all the accolades he managed to rack up in the past few weeks, he certainly looks like he is well on his way to becoming the game-changing goalie the Wild have always needed.
We've seen great defensive teams carry mediocre goaltending in Minnesota. We haven't seen too many great goalies carry mediocre defenses. Wallstedt did that. He had some fantastic saves, and even when Sweden's defense got sloppy, or their scoring vanished, he kept them in every game he played.
Overall, he stopped 125 of 133 shots faced and ended his tournament with a .940 save percentage. Include the two games he played in December before the WJCs were canceled and the stats were reset, and that gives him a .946 save percentage.
In nine total games, including the two completed but canceled games from December, his save percentage comes out as .941. He saved 241 of the 256 shots he faced. Out of all goaltenders who have played more than seven games in World Junior Championships this century, he ranks third in save percentage. Only Andrei Vasilevskiy and John Gibson have better numbers than Wallstedt.
Those numbers also put him ahead of guys like Marc-Andre Fleury, Jacob Markstrom, Juuse Saros, and Jack Campbell.
Safe to say, he's on top of his game. But the way he carried himself is another thing that stands out from this tournament. Like he did the whole tournament, he kept his team in the game against the Americans, yet he still was not satisfied with his game.
Wallstedt's comments after he and the Swedes lost to the Americans are evident of that. He only gave up three goals, and you could arguably blame them on the defense, but he still said, "I'm disappointed in myself. I betrayed the whole team."
His comment might've been a bit much, but it's exactly the attitude needed to be a starting NHL goaltender.
Wallstedt led the Swedes into the bronze medal game happened with determination. "Already last night, we decided to not lose the match," Wallstedt told Swedish reporter Rasmus Kågström after stopping another 27 of 28 pucks in a 3-1 win.
"We weren't going to leave here empty-handed, and we sent in the team chat right away that we were going to bite the bullet and reload. This evening and the journey home will be a lot nicer and more fun now."
There's only so much you can do as a goalie, but he left it all out there. His performance in the semi-final game against the Finns said it all. He kept his team in the game, only giving up a five-hole power play goal. He gave his team a chance to win but still puts pressure on himself to improve.
That kind of attitude will only do him good once he plays in North America this season. To be so dramatic with post-game comments is a good thing as an athlete. Taking responsibility for his team shows incredible dedication to the game, no matter how well he plays. It shows that he will always strive to improve himself as a player, no matter the game's result.
The Athletic's Corey Pronman listed Wallstedt as one of the standouts of the tournament, but he also listed all of Sweden's forwards as disappointments. So as the goalie of a team whose forwards were not great, to be good enough to win a bronze medal along with everything else is pretty damn impressive.
"There weren't a ton of great goaltending displays in this tournament, but the few of them often came from Wallstedt," Pronman said of Wallstedt. "He was one of the rare goalies put under pressure from his team to carry them, and he came through when asked. He's so smart and technically refined that he made a lot of tough stops look easy."
Now that Wallstedt is past the junior era and onto the pros. He'll likely start his career in the AHL with the Iowa Wild. He says he's ready.
"Of course, it feels a little empty and strange, but now it's time for me to take that next step in my career," he told Kågström after the game. "I'll be staying over here on the smaller ice, so this was a nice tournament to get before the adventure here in North America begins."
After this tournament, there's no ceiling on what he can accomplish on his adventure.