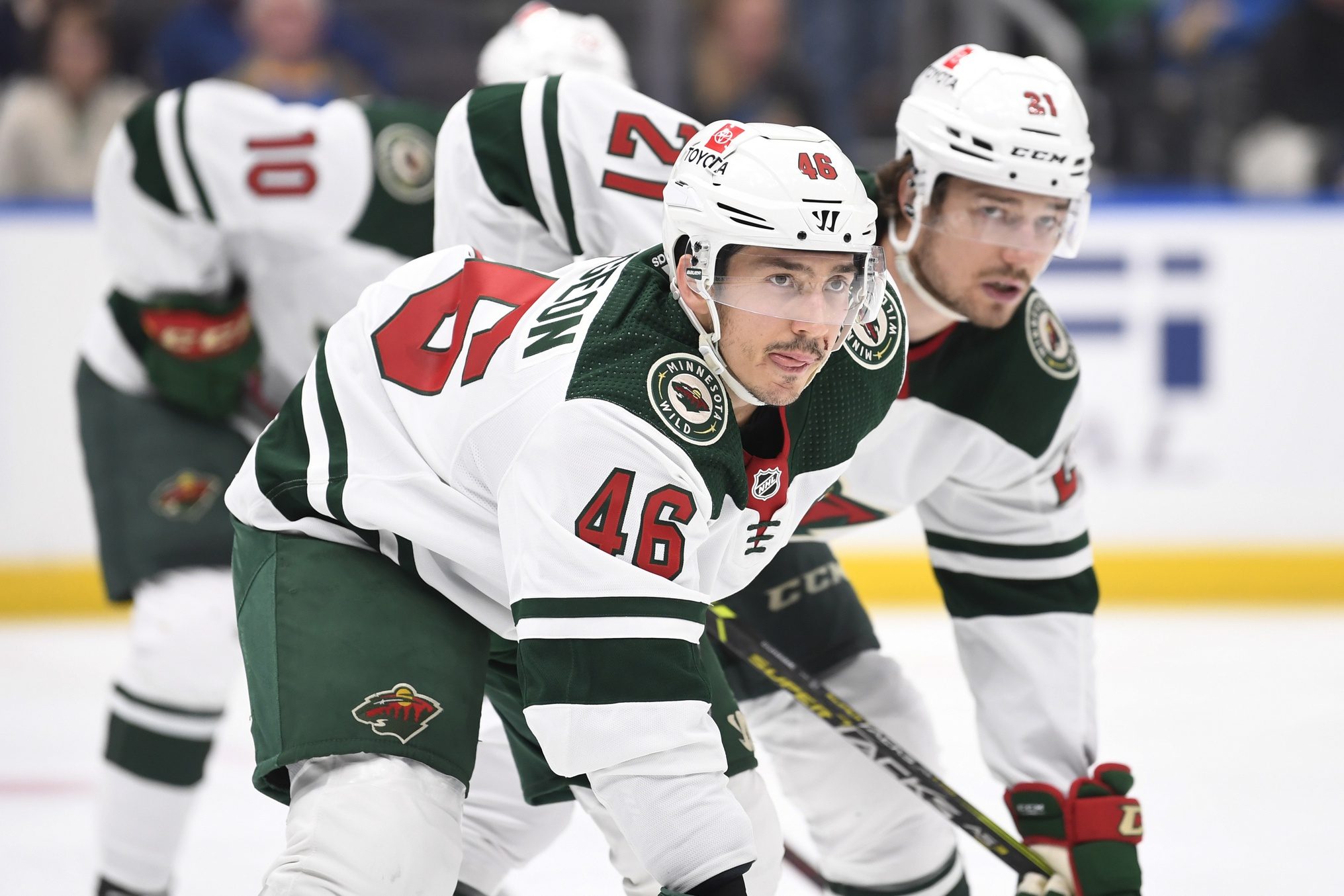 The summer is a great time to take a breath, reflect on the past and future, and do anything you can to forget how the Colorado Avalanche are about to win the Stanley Cup. Minnesota Wild fans got a chance to do all three this week. The Athletic's Michael Russo dropped the results of his annual fan survey, which takes the pulse of the fanbase (a tick under 5,000 fans participated) on several hot-button topics.
There are plenty of answers that won't particularly shock you. You may expect fans to think Kirill Kaprizov will repeat and surpass last season's heights. It's not shocking almost half of the Wild faithful believes Marco Rossi will contend for the Calder Trophy next year.
What is surprising, jaw-dropping, even, is how a significant minority of the fanbase wants the team to trade its captain, Jared Spurgeon.
Responding to the question, "Would you be a proponent of Guerin seeing if one of his big-money players — namely Spurgeon, Jonas Brodin, or Mats Zuccarello — would waive their no-trade protection?" over 17.1% responded, "Yes, Spurgeon." That's compared to 9.9% who wished to shop Zuccarello and 2.8% who believed shopping Brodin to be a good idea.
It might be easy to dismiss that 17.1% as cranks who are in the vast minority, but those are pretty big numbers. That's over 800 respondents, or just over one in six Wild fans.
Regardless of the number of fans who want the move to happen, you can file a Spurgeon trade in the "Never Gonna Happen" file. It's not only that Spurgeon wields full control over his contract with a No-Move Clause for the next two seasons. Bill Guerin has also made it clear that Spurgeon's his guy.
If there was a time to trade Spurgeon, it was three years ago, before he signed his current seven-year contract. Spurgeon didn't seem eager to commit. Out went Paul Fenton as GM, and in came Guerin. Guerin's first order of business? Inking Spurgeon to that 7-year, $7.58 AAV deal. The following summer, he anointed him as captain. Spurgeon's not going anywhere.
But this doesn't get at the question. Why is there a bubbling Anti-Spurgeon sentiment in the fanbase? It's hard to say without asking the fans, and some helpful Athletic commenters helpfully shared their insights.
Jake G.: "His height (5'9") is a continued detriment in the playoffs."
Tyler L.: "I think [his contract] is too long and we have a lot tied up in an aging defensive corps."
Randy B.: "Can't see this team winning anything with Spurgeon, Dumba, and Brodin as three of your Top-4. It's been proven time and again. They need a much better QB for their PP."
Steve S.: "Watching the Finals, it dawns on me that Spurgeon and Cale Makar [Editor's note: $9 million AAV] are signed for nearly the same amount of money for the exact same term. That is depressing."
Now, this is the internet, and we can't take everything said as a genuine opinion. The presence of Vladimir P. ("This team will never win a Cup with Spurgeon on the back end.") in the comment section also hints at potential interference from the Kremlin. Boiling down the sentiment to a sentence, though, we get He's a lil' guy who's kinda gettin up there in age, makes a lot of money, and hasn't won in the playoffs.
Age is always a concern with a player on the wrong side of 30. (Spurgeon turns 33 in November). But Spurgeon rebounded from a somewhat underwhelming COVID season to one of his finest ever. Evolving Hockey's xGoals Above Replacement model had him as worth 6.5 points to the Wild last year. That's seventh in the NHL, despite missing 17 games to injury. His 0.62 points per game were the highest of his whole career.
There's some track record to suggest Spurgeon won't fall off a cliff. It's not a perfect way to measure this, but some of his most similar skaters, according to Evolving Hockey, include Shea Weber, Ryan Suter, and Mark Giordano. Weber broke down at age 35, almost entirely due to injury. Suter had a productive, Top-4 caliber season at 35 last year. It took Giordano until 37 before decline started hitting him.
Spurgeon's deal takes him through age-37. Those last two years might get rough, but he's elite now and a good bet to be worth the cap hit for at least the next three years.
Certainly, a better bet than anyone Minnesota could hope to get in free agency.
Say Minnesota traded Spurgeon and freed up $7.6 million in cap space. What then? It's one thing to have the money to throw at an elite young defenseman. Finding one, on the other hand, is nearly impossible.
The top defenseman on the UFA market, Kris Letang, is 35, and Evolving Hockey projects him to command over $8 million a year in salary. He's out. That leaves John Klingberg, Ben Chiarot, and Nick Leddy as the remaining big fish.
Klingberg is only 29, but his overall game has fallen in recent seasons, both offensively and defensively. His contract projection has him at six years (one year longer than Spurgeon has remaining) at a nice $6.9 million AAV.
Chiarot, 31, played decently for the Florida Panthers but brought negative value to his teams in two of the last three seasons. He figures to cost $5.5 million over four years. Leddy's projected price tag is four years, $4.9 million, despite having negative value in four of his past five seasons.
How is that useful if Minnesota has money to throw around but no one decent to spend it on? Especially if that means jettisoning an elite defenseman to free up the space?
Sure, Minnesota could flip a haul of prospects to bring in Jakob Chychrun, but his price tag is just $4.6 million for the next three seasons. The Wild would hardly need to move any salary, let alone $7.5 million, to facilitate that move. Why go for a lateral move on the trade market when they can load up instead?
They'd have to go outside the organization to fill that hole, too, because they sure aren't ready to replace Spurgeon. His absence puts Dumba, over half the fan base wishes to trade and has one year remaining on his deal, at the top of the depth chart. Behind him is top prospect Calen Addison and... Jon Merrill? All due respect, but does any Wild fan want to be an injury away from 22 minutes a night from Merrill?
The only way a Spurgeon trade makes sense is if you want to burn it down to the ground and play for three years from now. It's a reasonable impulse, but that also wastes three prime years of Kaprizov's contract. Minnesota already has a top farm system that should only expand at the draft and with a Kevin Fiala trade. What's the point of flushing three of the four years they have Kaprizov under contract for a slightly bigger pile of magic beans?
Like it or (apparently) not, the Wild have made their bed with Spurgeon and this team. There's no improving on him as long as they look to remain competitive. And as long as they try to compete — which make no mistake, they absolutely will — Spurgeon has a place on this Minnesota squad. Will it work and end with a Stanley Cup run? Who can say? But this is almost a guarantee: as currently constructed, the Wild's plans won't work without him, either.