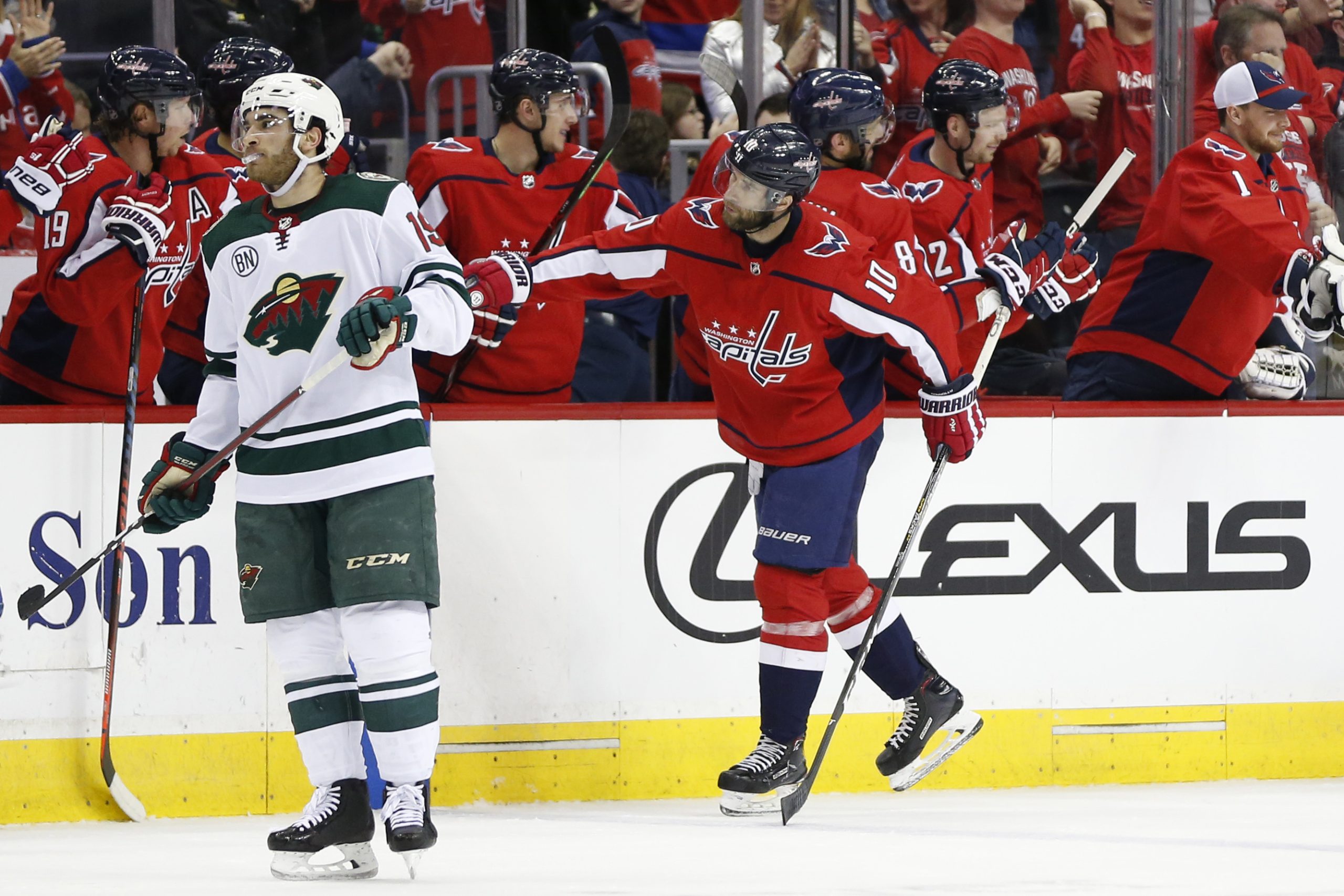 It is no secret the Minnesota Wild are in the market for a free agent winger to bolster their stagnant offense from the end of last season.
Thursday we highlighted some of the high profile free agent right shot wingers and measuring their impact they would bring to the team in terms of Wins Above Replacement value and the team's expected point totals. But again, those are the higher profile right shot wingers who will demand some higher dollar/term amounts.
Let's say Paul Fenton and staff do not want to break the bank on those right shot forwards and want to dive into the value bin of free agent wingers. There are certainly some decent options available in terms of driving offense, especially from the middle six where Minnesota would certainly be needing a shot in the arm next season.
With the following options, we are using Evolving-Hockey's contract projection model for the term and dollar amount estimates. You can find their full list here, which also gets updated when a pending UFA signs a new contract so you can compare their projection along with the actual contract that was signed.
Previous team: Washington Capitals
Contract Projection: Three years, $3,472,185 Average Annual Value (AAV)
Connolly is one of the younger options out there, coming in at the age of 27. He is coming off a career year in which he tallied 22 goals and 24 assists for the Capitals as a staple on their third line. He had previously averaged 13 goals and 25 points over the three seasons prior to 2018-19 between Boston and Washington, but was still a decent driver of offense among his respective teams.
Connolly is not much of a boost to the power play, so given Minnesota's options they already have he would need to necessarily go on their man advantage units. He would just be a boost of offense to their 5-on-5, which is severely lacking. He is not necessarily good defensively, but Minnesota's great defensive group could certainly help cover up his inefficiencies there.
[caption id=attachment_51900" align="alignnone" width="1684]

Connolly's past three seasons, via Evolving-Hockey.com[/caption]
The concern moving forward is that Connolly will not be able to replicate his 46-point season moving away from the nation's capital. It is a fair concern, but say he regresses back into a 15-17-goal scorer and 35-point player, he would certainly be a welcomed addition to Minnesota's projected third line alongside Jordan Greenway and Joel Eriksson Ek who combined for 36 points in 2018-19.
Previous Team: Philadelphia Flyers
Contract Projection: Two years, $2,507,731 AAV
It was not a good year for Hartman, who was sent to Philadelphia from Nashville in a deal for Wayne Simmonds at the trade deadline just a year after Nashville acquired him for a heavy cost. Hartman was sent to the Stars earlier this week, but Dallas did not extend the forward a qualifying offer and thus made him an unrestricted free agent. The Stars still can sign Hartman before the July 1 free agency period opens as they have his rights, but signs are pointing towards Hartman testing free agency waters.
If Hartman does make it to free agency, he would seemingly be a good low-cost winger for a team to acquire, given he had such a good history of play before the last season. Hartman is also 24 and signing him to a low-risk deal would certainly be a welcomed addition to a team like the Wild that is trying to get younger by the day.
[caption id=attachment_51902" align="alignnone" width="1712]

Hartman's past three seasons via Evolving-Hockey.com[/caption]
Hartman's 2018-19 chart looks much different from the one above, but you can't ignore he has been a decent driver of offense in this league since breaking in three years ago. He had 31 points in each of his first two full seasons in the league before dropping down to 26 last year between the Preds and Flyers. He would be a welcomed addition to the Wild's middle six if they came calling for some much-needed offense at 5-on-5.
[caption id=attachment_51904" align="alignnone" width="3315]

Would Ryan Hartman be a player Minnesota calls on when free agency opens? Credit: Eric Hartline-USA TODAY Sports[/caption]
Previous Team: Buffalo Sabres
Contract Projection: One year, $1,086,403 AAV
Now before you go off the reservation with this one, just look closely at Pominville. Next season will be his age 37 season -- turns 37 in November -- but the guy is still a good driver of offense in this league. He also was a good driver of offense at 5-on-5 on a Buffalo team that ended up finishing 24th in the NHL at goals for last year with 221.
[caption id=attachment_51901" align="alignnone" width="1720]

Pominville's 2018-19 season via Evolving-Hockey.com[/caption]
Yes, Pominville is widely remembered from his days with the Wild between 2013 and 2017 where he underperformed for the most part after signing a five-year extension that kicked in for the beginning of the 2014-15 season. But no doubt his best play during that contract in Minnesota came when he teamed up with Nino Niederreiter and Erik Haula on the team's third line and became a dominating force that helped the Wild recover from a horrible mid-season swoon and reach the postseason.
If given the chance again to be put on the third line, Pominville will no doubt be a good source of offense on a line that will no doubt need a spark despite his age. Again, no need for the power play for Pominville as the Wild has plenty of options ahead of him unless they get really desperate.
It seems like a long shot for a reunion here, but if you are looking for some decent value on a short deal, can't go wrong with making a call on Pominville.
Previous Team: Detroit Red Wings
Contract Projection: One year, $1,993,768
What's that sound? Wait, it's Thomas Vanek's music!
Again, it seems unlikely that the Wild would have a reunion with the former University of Minnesota forward, but he continues to put up points at 5-on-5 -- 25 this past season. From an analytics standpoint, Vanek was not overly great this past year on a terrible Detroit team, but he still was able to put up decent numbers given his age (35).
Over the past three seasons all-together, Vanek has been good offensively, which again, is an area the Wild need more of.
[caption id=attachment_51903" align="alignnone" width="1748]

Vanek's last three seasons via Evolving-Hockey.com[/caption]
Now yes, the knock on Vanek has been his defense, and he certainly is a black hole defensively. But if you are wanting offense and a right shot to plug into the middle six you could do a lot worse than Vanek. To reiterate, a reunion seems unlikely, but if the Wild get real desperate Vanek would be worth a call.
___
A common theme here with these four players, if you haven't noticed, is that they are all right shot players. The Wild are badly lacking in right shots, and are seemingly making it a priority in free agency with the exception of Anders Lee of whom they are targeting -- which is puzzling.
If Minnesota strikes out on the bigger name right shot forwards, they may have to tread into the cheaper area of free agency -- something they should be doing anyway if the goal truly is to get younger -- they would be best to try one of the four players above.
Stats and charts in this post courtesy of Hockey-Reference.com and Evolving-Hockey.com.
---
Never Miss an Episode of Giles & The Goalie!
http://zonecoverage.com/wp-content/uploads/2016/05/itunes.jpghttp://zonecoverage.com/wp-content/uploads/2017/05/Podcast-header-Image-City-1.jpg