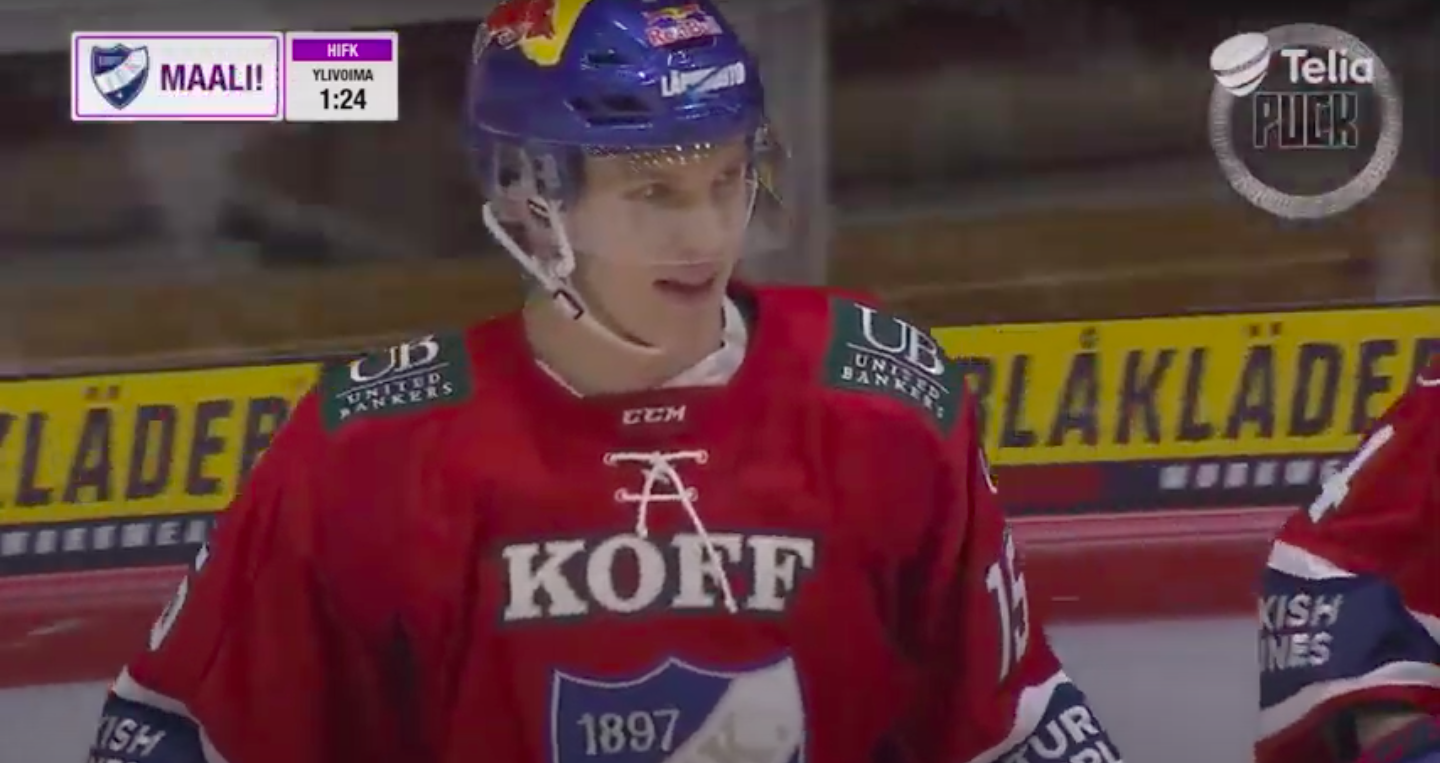 When your team goes up to the podium at the NHL Draft, you can feel the electricity in the air. The general manager, head scout and an entourage of staff prepare to announce the future of the franchise. Who is it going to be? You hold your breath, hoping your club will pick the next big star.
And the prospect your team picked? He'll be projected to be great by the experts. Most players will never have as much upside as they do at the draft, especially in the first round. They're all potential, they've got intriguing toolkits and you can dream big on just about anyone. It's hard to come away from a high pick without feeling the hype.
So what will happen when the Wild pick a center at ninth overall, and you don't hear the talking heads rave about their blistering shot, elite puck skills or high-end speed? What if you hear things like "Best Two-Way Center in the Draft" or "Not flashy, but strong in his own zone?"
Can you get excited about that?
You might have to try. Finnish center Anton Lundell is the best two-way player in the draft. He also figures to be available at the Minnesota Wild's ninth overall slot. But don't worry! There's plenty of reason to be excited if Bill Guerin calls Lundell's name.
Lundell Fits Minnesota's Prototype
When you look at draft histories, you can piece together a good look at what a team's scouts value. Some teams might fall in love with speed. Others might target puck skills, or perhaps strength.
It's not hard to see what Minnesota has historically valued. They want defensively responsible players with a high hockey IQ. Even when the team has targeted skilled players like Mikael Granlund or Matt Boldy, they always have a solid two-way element to their game.
To be fair, this approach has worked out a lot. Mikko Koivu is the best, most successful example of this. Koivu gave Minnesota a solid, dependable defensive game with enough offense to lock down a top-6 spot for over a decade. Other successes in targeting two-way players include Granlund, Jason Zucker, Jonas Brodin and several other solid role players.
But Minnesota has also been burned in valuing two-way play over highly skilled players. The prime example is 2015, when the Wild drafted Joel Eriksson Ek over offensive stars Sebastian Aho or Brock Boeser. This struck again in 2018, when the Wild drafted defense-first defenseman Filip Johansson.
By 2019, many fans were sickened by the mere sight of the "two-way" label, even if it came with as much skill as Boldy possesses. So a big question with Lundell is whether he can earn the buy-in of a fanbase skeptical of Minnesota's defense loving ways.
Where's the Upside?
It's true that there's not much flash to Lundell's game. That doesn't mean Lundell doesn't have offense.
Lundell has been very productive in Liiga, the highest level of Finnish hockey. He put up 10 goals and 28 points in 44 games while playing against men. In the past decade, the only players to put up more than Lundell's 0.64 points per game in their draft year are Sasha Barkov, Kappo Kakko, Patrik Laine and Artturi Lehkonen. Pretty strong company there.
The more you dig into Lundell, the more impressive he gets. Lundell got the bulk of his production at even strength, scoring 20 points. Here's the points per hour at even strength of every Liiga forward drafted in the top-10 since 2015:
Kakko (second overall, 2019): 2.12
Lundell (???, 2020): 2.03
Jesperi Kotkaniemi (third, 2018): 1.91
Laine (second, 2016): 1.80
Mikko Rantanen (ninth, 2015): 1.70
Jesse Puljujarvi (fourth, 2016): 1.61
Only Kakko finishes above Lundell. So clearly there has to be skill there. What does he do well offensively?
Some scouts swear by Lundell's wrist shot, citing its release and accuracy as particularly dangerous. A look at his 6.2 shooting percentage this season might make that evaluation seem ridiculous. But look at his highlight reel: When he beats goalies, you see what those scouts mean. He's not afraid to unleash it, either, shooting almost four times per game.
In truth, what makes Lundell so dangerous offensively is a combination of brawn and brains. Lundell knows where to be and knows how to get there. He can find soft spots in the offensive zone, or he can bulldoze his way to the scoring areas. He's impossible to knock off the puck, and knows how to knock opponents off the puck and create offense from turnovers. It's not jaw-dropping skill, but you can't deny the results.
Defense 2: Electric Koivuloo
And of course, there's Lundell's defense. Lundell's production alone should have him as a first-round prospect. Combine that with world-class defense and you have someone who is worthy of a top-10 selection.
Lundell's ability to drive play in Liiga as a teenager is absurd. He finished second in the league with a 61.9 Corsi (shot attempt) percentage. Not second on his team. Not second among teenagers. Second in the entire league.
That's simply unheard of. It blows away everyone from that earlier list. Remember that list of highly drafted Finns from earlier? Puljujarvi was the next-closest to Lundell, at 57.4%. He's far and away the best possession player of any draft eligible prospect Liiga has data for.
The things that make him so dangerous offensively, his positioning, his strength, his ability to find and take the puck at all times, translate perfectly to the defensive zone. From Future Considerations: "He closes on puck carriers and ensures that the puck stays to the outside. In his own end, he shows a willingness to engage physically along the boards and his ability to find the puck in a scrum is high-level…. He uses his stick to disrupt passing lanes."
When you hear Lundell compared to Koivu, this is why. Your choices as an attacking player are both bad: You can either get pushed to low-danger zones, or you can get your pocket picked.
And that's if they're lucky enough to get into Lundell's zone in the first place. Remember, 62% of the time he's on the ice, the puck is in the offensive end.
More Than a Safe Pick
The best example of what he brings may be his performance in the 2019 World Junior Championships. Here's Kakko scoring the Gold Medal-winning goal against Team USA.
https://www.youtube.com/watch?v=uJz9WFGUrR4
The announcers don't even bother to mention Lundell, but his fingerprints are all over the goal. First, Lundell wins the face-off cleanly, ensuring that Finland takes possession. Then when Henri Jokiharju shoots from the point, Lundell is able to find the puck in traffic and direct it to the net. Without Lundell, there's no rebound for Kakko to cash in, only a harmless puck bouncing towards the wall. Small contributions, but they add up to a win.
And let's not forget Lundell was the youngest player on the team, yet took this all-important faceoff with less than two minutes to go in a tied Gold Medal game. Again, the deeper you look, the more impressive Lundell gets.
It's not hard to figure out why the Wild would pick Lundell. Koivu is likely gone this offseason and Eric Staal's contract expires next year. All that will remain on the depth chart is Eriksson Ek, who is widely seen as a third-line center.
Minnesota needs top-six centers, and Lundell is as safe a bet as anyone to become that. His defense and possession game is already there, his offensive production is excellent and he went 53.5% in the face-off dot.
Some may chafe at the Wild going the "safe" route rather than targeting skill. But Lundell's high floor doesn't preclude him from having a high ceiling. Yes, his skill set is that of another Koivu. However, what happens if he cleans up his skating a bit and adds speed? What happens if his skills catch up to his brains?
Now that's a thought to be excited about.