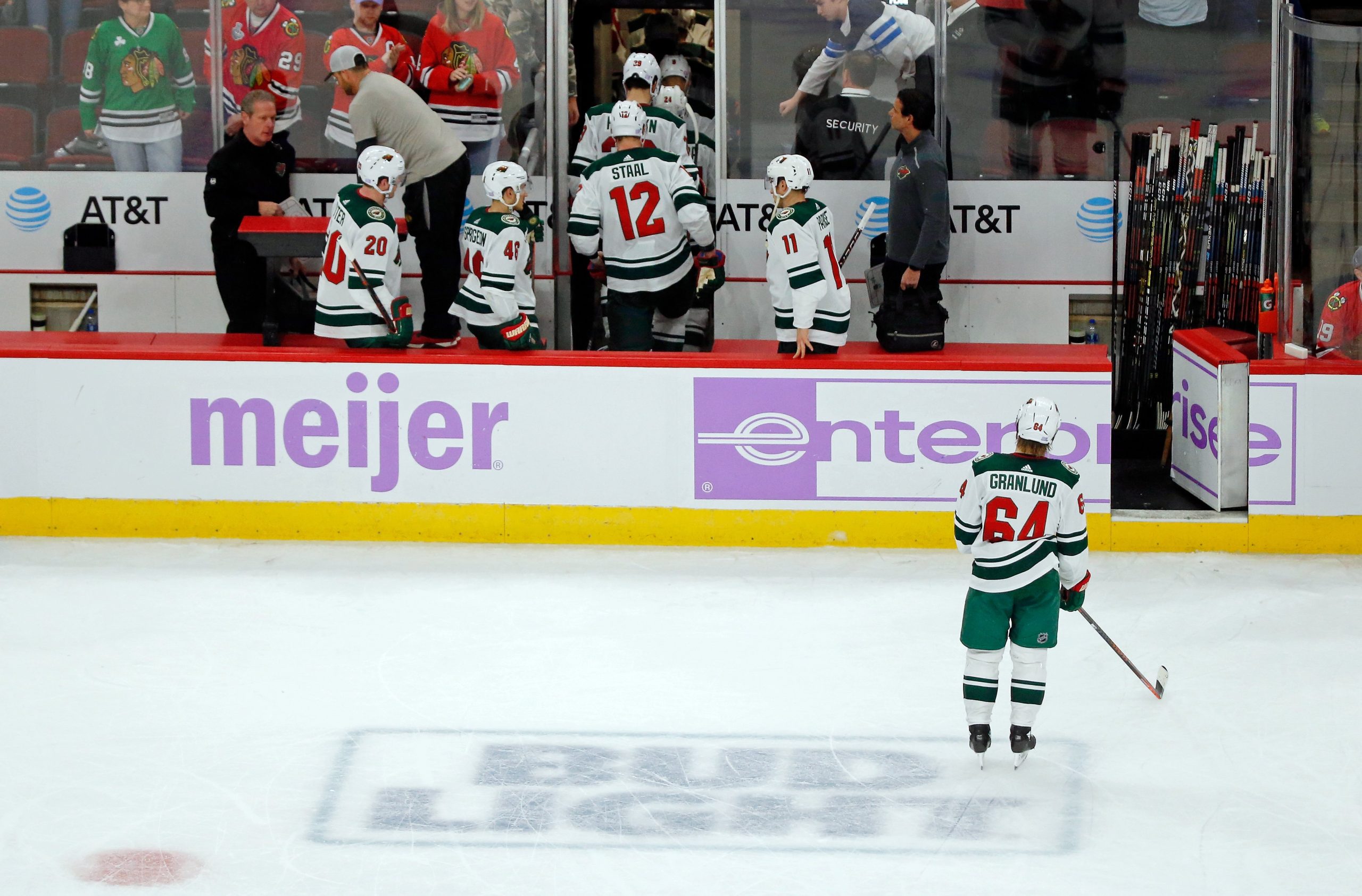 It was a long weekend for Minnesota sports, and the Wild were no exception. Let's go for a little three on three about what was good and not so good from their back to back losses.
The Good:
With a goal in both games over the weekend -- and now three of his last four games -- Zach Parise continues to put on a show and take us back in time. Parise is up to nine goals and nine assists in 20 games played. Included in those weekend goals was his Saturday marker that placed him first in league history for goals scored by a Minnesota-born player.
While the rest of the Wild offense went a bit dry against Buffalo and Chicago, Parise was still able to light the lamp and keep up his torrid pace to begin the season.
---
Speaking of an impressive pace this season, Mikko Koivu has also turned back the clock and is showing some youth in his game. The captain has tallied 12 points in his past eight games, including a pair of helpers over the weekend. Don't look now, but Koivu also has 18 points in 20 games this season which is just one off the team lead -- Granlund (19). He will probably tell you points are meaningless if you lose, but at the age of 35, it is definitely a good sign to see Koivu producing at this rate.
---
Matt Dumba fired his home his eighth goal of the season on Saturday against Buffalo, but the more memorable part of that goal was his celebration with Nino Niederreiter. The celebration was a handshake.
Niederreiter told The Athletic that this was planned a couple years ago, but the pair had forgotten about it until Dumba removed his glove following the goal. It was not a flashy celebration, but certainly a more unique one for Wild fans.
The Bad:
Two winnable games, zero points. Not a great weekend for the Wild as they could not bury the Buffalo Sabres on Saturday and then fell into a hole against a punchless Chicago Blackhawks team Sunday night.
No team is perfect, but the Wild dropping both games with nothing to show for it starts to raise the DEFCON level amongst an already angsty fan base. The Wild have Ottawa on Wednesday before having their first showdown with Winnipeg -- the team that ousted the Wild from the playoffs last season -- on Friday. Minnesota will have to bury their chances against Winnipeg because they will be few and far between.
---
Saturday night Bruce Boudreau sent a message to Joel Eriksson Ek by scratching him in favor of Matt Hendricks. The head coach told The Athletic, "Defensively, he's good. Effort-wise, he's awesome. Penalty-killing, really good. We just need to see a little more offensive pizzazz or whatever from him because we truly think that, and always have thought, that he could be at minimum a third-line center. But when other people retire or move out, then he'd be a second-line center."
To translate that paragraph from Boudreau: Koivu and Eric Staal don't have much time left here, and you are the only hope down the middle for the future. Please get your offensive game going, ASAP! Not much was cooking against Chicago Sunday night for Eriksson Ek -- just one shot on goal -- which leads one to wonder if that message was heard.
---
Ryan Suter and Matt Dumba did not have a great weekend -- outside of Dumba's goal -- and that can be best exemplified by Brandon Saad's goal on Sunday night which had the defense turned around.
Now suddenly Boudreau is contemplating splitting up this top pair, and the much heralded second pair of Jared Spurgeon and Jonas Brodin, to spark both players' game. The pairings, of course, would be Suter-Spurgeon and Brodin-Dumba. It's a gamble because both pairs have played so well for most of this season together, but both new pairings have a previous history with success, so that lessens the gamble.
At least that third pairing of Pateryn-Seeler is on lockdown!
---