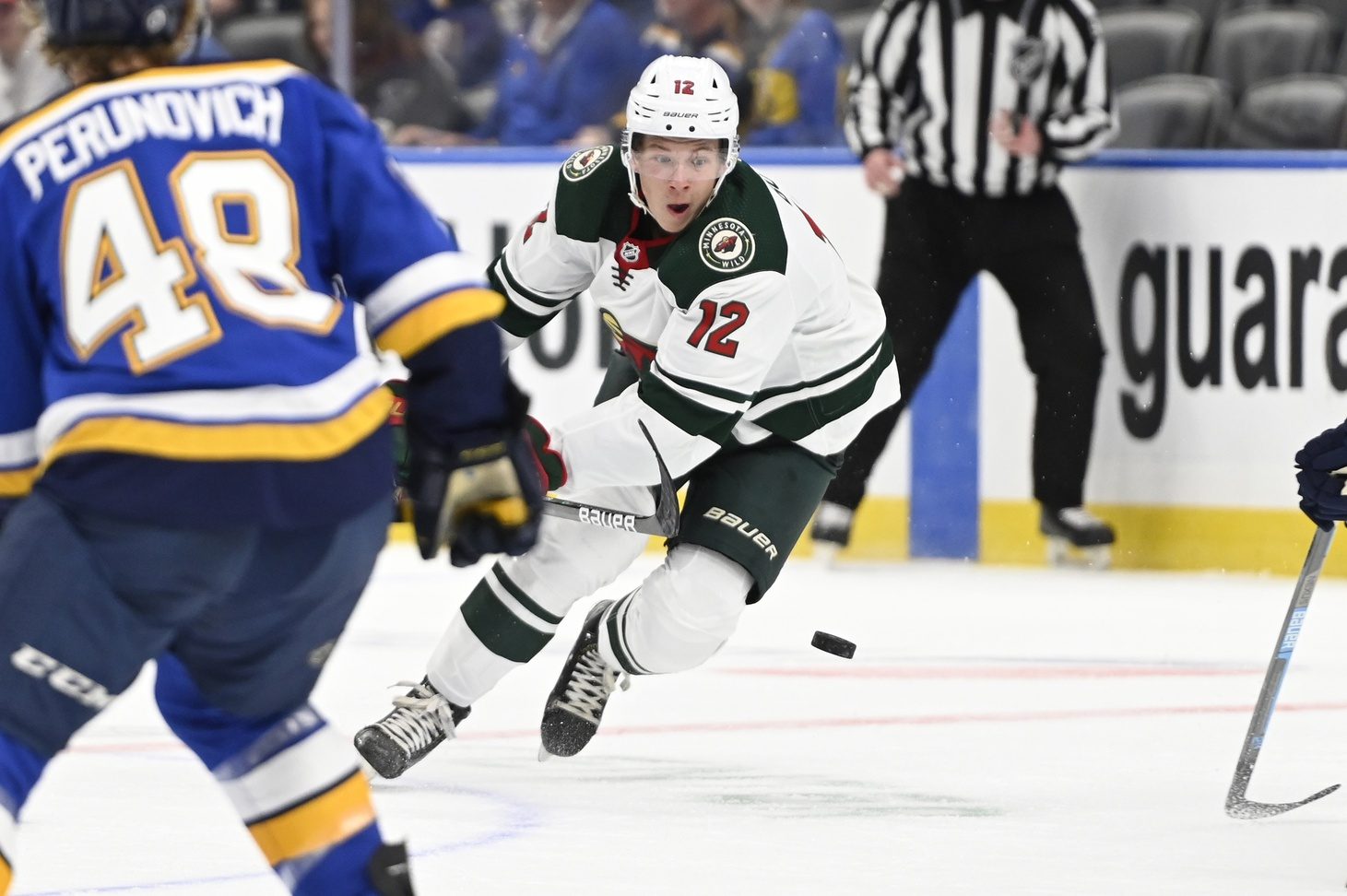 No one can say the Minnesota Wild are having trouble scoring goals. Their deep lineup makes for a scoring machine at 5-on-5, where they lead the league with 3.27 goals per hour. They've got 11 players with 10 or more points this season. Only the Florida Panthers have more. This is a team that can get on the board at any time, no matter who's on the ice.
All this changes whenever someone draws a penalty. There's no way to spin it; they've been terrible on the man advantage. They're 25th in the NHL with a 14.3% conversion rate. At 5-on-4 play, they're scoring 4.4 goals per hour, 27th in the league. It's over two goals per hour below league-average and barely one more than they score at 5-on-5!
Those numbers are dropping fast, too. After going scoreless on four opportunities against the Arizona Coyotes, Minnesota is 2-for-33 on the power play in their last 10 games. These issues aren't a blip on the radar, either. It's been consistent with this team going back a while.
Minnesota's leading scorer on the power play is Mats Zuccarello, with five points. With Kirill Kaprizov, Kevin Fiala, and Jared Spurgeon, there's too much talent for them to come up as empty as they do. But they are, with four, three, and two PP points, respectively. For context, Matt Boldy of Iowa Wild has three in only four games.
Fans will always get antsy whenever a top prospect is tearing up the minors, and make no mistake, Boldy's doing precisely that. Since returning from a broken ankle in the preseason, he already has six points in four games. That raises his AHL career total to 24 points in 18 games. His 1.33 points per game is one of the best showings this century by an Under-21 AHLer, somewhere in between Nikita Kucherov (1.41) and Jason Spezza (1.26).
That seeming readiness is at odds with Minnesota's determination to slow-roll his progression to the NHL. Unlike Marco Rossi's case, there are no service time benefits to delaying his NHL debut. The team genuinely seems to want to get him games to develop in Iowa. At the same time, the NHL version of the Wild's need is so great, and Boldy looks so good in Des Moines. It just seems destined that Boldy and the Wild power play are on a collision course sometime soon.
Can one rookie be that spark for Minnesota? It's possible that it won't. After all, Kaprizov won a Calder Trophy, and the net still seemed to shrink in half when the Wild had a power play. But Boldy has a fighting chance to do so because he's so versatile. He's filled whatever role required of him at every level he's been at, and sometimes multiple ones in the same shift.
Iowa's currently using him in a half-wall position, similar to what Fiala does for Minnesota now. Here's a shift where he shows off what he can do:
It's a long shift, and Boldy does a ton during it. He's constantly moving high to low, and back again, which lends a sense of unpredictability to him. He's constantly threatening a shot or dangerous pass, keeping opponents off-balance for multiple scoring chances. There's even a nifty play where at 1:33 where he evades a stick check by chipping the puck off the boards to himself. He uses that space to take a lane to the net for a shot. Seconds later, the puck's in the net.
Boldy can also take on a net-front role. Currently, that's almost exclusively handled by Joel Eriksson Ek, Minnesota's leader with four PP goals. Eriksson Ek's done well there, but outside of an occasional venture by Fiala, he's the only one at the net looking for rebounds and deflections.

Boldy would give Minnesota someone who can drift in towards the net and find loose pucks in the crease. He can use his hands and smarts to find the soft spots or use his 6'2" frame to power his way to crash opposing goalies. Even with Eriksson Ek filling that role, having Boldy be capable of switching there gives Minnesota options and makes their power play less predictable for defenders and goalies.
Boldy can also do something few on the Wild seem willing or able to do: Operate behind the net. Last month, Joe Bouley broke down the kind of confusion going behind the net causes. You can also see it on this goal (admittedly, scored 5-on-3) that Kaprizov scored on Nov. 10.
A good distributor (or two!) who can operate behind the net can wreak all kinds of havoc on a penalty kill. Boldy has a knack for this kind of play. Not only can he win board battles, but he's a wizard who makes nearly-impossible passes look easy. An issue with Minnesota's power play is that they have trouble getting their stars in space. Boldy doesn't just find space. He makes space.
Inserting Boldy into a full, deep, healthy Wild lineup has its issues. Who would Minnesota remove from the lineup? Is a trade necessary to accommodate Boldy? And whose place would Boldy take on the power play?
The first two questions will have to be addressed when this day comes, but the answer to the third almost doesn't matter. Minnesota's power play has underperformed for about 80 games now. Their second unit is mostly made of forwards who play hard but don't have the raw skill to fit as prototypical power play guys. Boldy could help both units, in a way. Playing him on the top unit allows the second to be deadlier for having a Zuccarello or Fiala on it.
With Minnesota one point behind first place in the Western Conference, they can afford to let Boldy get a few more games in Des Moines. But their 5-on-5 scoring is going to go through some lulls, and those power-play points will be crucial for weathering them. When that day comes, they're going to need Boldy, and that day feels more imminent with every 0-for-3 night on the man advantage.