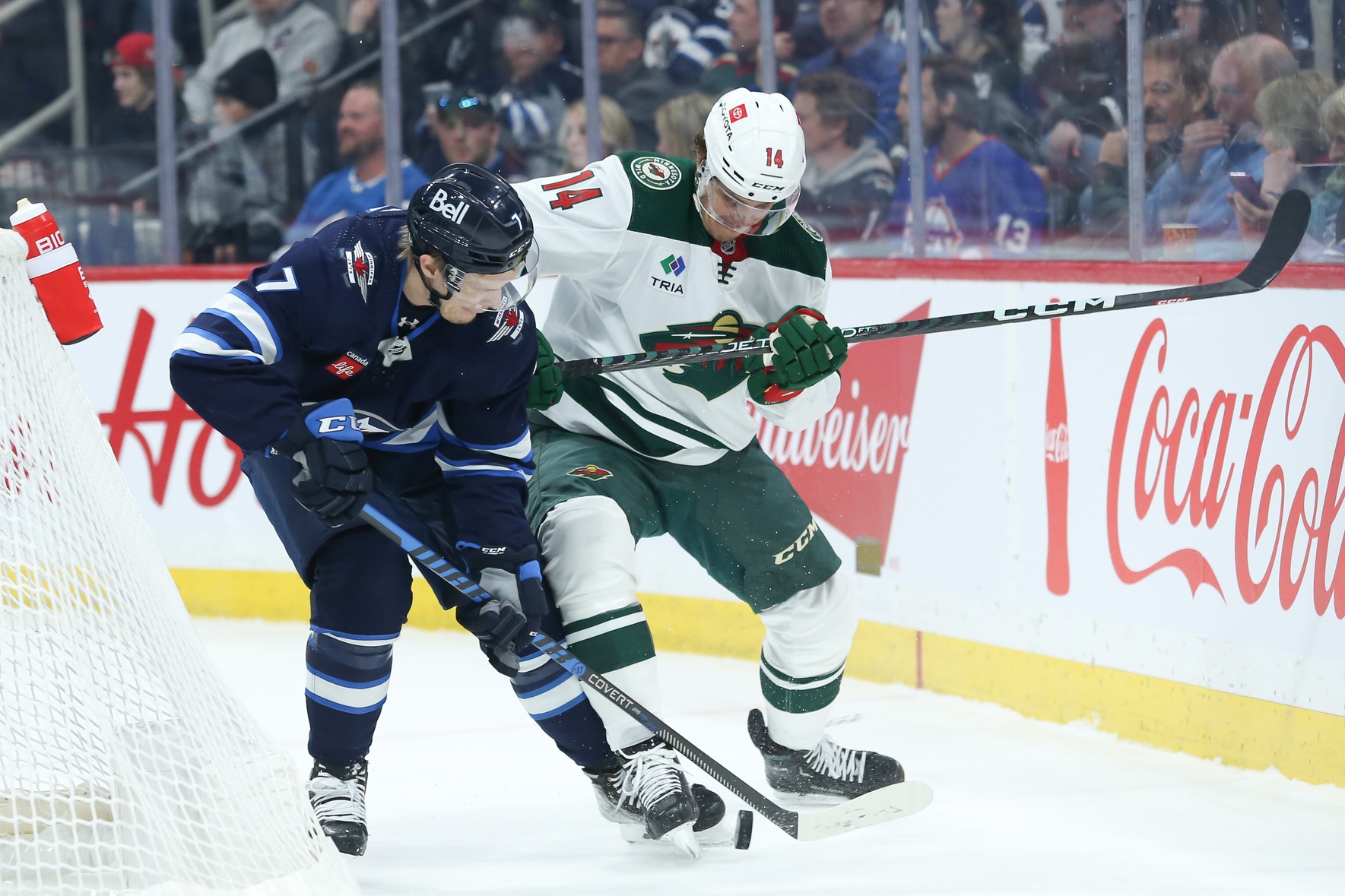 Image courtesy of Terrence Lee-USA TODAY Sports
There are plenty of uncertainties for the Minnesota Wild during the off-season. Will they make any significant trades? When will they finally sign Filip Gustavsson to his next contract? Which players will leave during free agency? The unknowns might last a while, but the Wild have one off-season advantage that might be unexpected.
The strong identity of the team.
The Wild have a strong identity. They are physical and gritty, unafraid of board battles or getting into the dirty areas. From the fourth-line grinders up to the team's superstar, everyone adheres to this identity and knows how they can contribute to it.
During an off-season when the salary cap crunch is at its worst, this identity forms a foundation for any and all changes. There isn't room in the budget for a small contract mistake, let alone a big one. Anyone who is going to sign or re-sign to the Wild needs to fit this identity. 
There are some who might mock the idea of an "identity" for a team being important. Why do coaches and staff make such a big deal about it? The proof is in the pudding. Every once in a while, the Wild have a span of games where they get away from their identity. They're trying to make pretty plays, passing when they should shoot, and depending on their skills instead of their physicality. Since they're a team built around grit, those games are often the ones they lose.
When Bill Guerin sent Marco Rossi back down to Iowa to work on his game last season, Rossi was told to get more "F- you" in his game. Guerin could see that Rossi was out of step with the identity and it was hurting Rossi's confidence and his game. But after only a short time in Iowa, Rossi's game has become a grittier, more physical style that should serve him well as he looks to make the big team right out of training camp again this summer.
After switching up the Iowa Wild coaching staff and moving Dean Evason's assistant coach Brett McLean into the head spot in Des Moines, Minnesota's gritty identity will extend to the AHL team. Most prospects will spend a few years in Iowa where they can get a taste of the physicality before moving up to the big club. Matching the style of play between the two teams will streamline the transition from the AHL to the NHL. 
Players who are looking to re-sign with Minnesota know the hard, physical game that they have to play to stay in the lineup. Players who are coming from other teams know exactly what they're walking into because of the league-wide identity. And the prospects down in Iowa and elsewhere can see the type of game that they need to improve on if they want to get to the big club. No one is going to walk in and be surprised that they're expected to grind.
The identity can also help players know which parts of their game need to be strengthened out. Smaller guys should focus on strength training to help play a grittier game. All players should work on board battles. The pretty plays don't need to be focused on as much because they are a smaller part of Minnesota's game. Being able to niche down training to the more important aspects help refine their game and fit the style of play.
A strong identity also helps when prospects are being scouted and drafted. The scouting staff knows which kinds of players will thrive and help move the team forward and which are better suited to a different style of play. Narrowing the prospect pool by looking at it through the lens of the Wild's identity leads to more effective scouting. Drafting prospects who fit that mold means that the overall pool stays consistent with the pipeline all the up to Minnesota.
But just because the Wild play a grit-first game, it doesn't mean they don't have skill. Kirill Kaprizov and Matt Boldy know how to score pretty goals and everyone's seen them do it. But the problems start when the goal-scorers like Kaprizov and Boldy are only looking to make highlight-reel plays. They're capable of making those amazing plays without sacrificing their identity.
Having a strong identity will help the Wild as they navigate the next few seasons, especially as other teams will be re-making their teams to a much bigger extent this offseason. Between the salary crunch and many players coming into free agency, having a foundation like the gritty identity of the team to start from will ensure that they give contracts and signing rights to the right kind of players. 
1